ZTE Geek is ready to hit the Chinese market on July 25th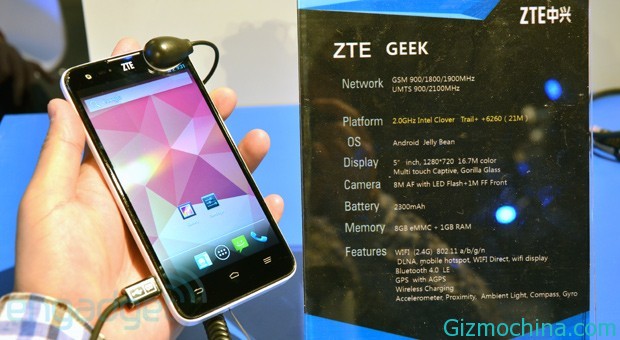 While we've ever covered the news about ZTE Geek, is now the phones is ready to hit Chinese market, the interesting point from this phone, this smartphone is powered by Intel CloverTrail 2Ghz.
For now, this phone preparing for Chinese market with 1888 yuan price or around $307 USD price tag, and ZTE is also offers this phone with the wireless charging pad for a bundling unit and offers only 2288 yuan or around $372 USD price. ZTE is cooperate with JD.com and ready to launch the ZTE Geek on July 25th. On that day, the ZTE Geek is only available on JD.com store exclusivelly.
As we've ever mention before, the ZTE Geek will powered by Intel CoverTrail+ dual core processor 2GHz, couple with 8 megapixel rear camera and 1 megapixel front facing camera along with 1 GB of RAM. Packs with 5 inch 1280 x 720 HD display, and running on Android Jelly Bean operating systems.