iPhone 5S screen and motherboard leaked out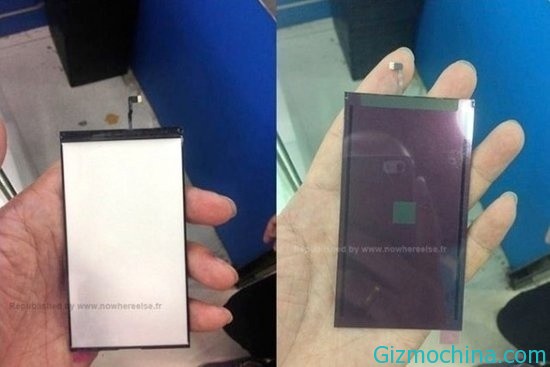 While most of us is waiting the new Apple iPhone or also known as iPhone 5S, is now we have a leaked picture of the screen and motherboard of the nextgeneration iPhone.
This leaked picture of Apple iPhone 5S components bring new information. Recently, the French technology website Nowhereelse.fr has been allegedly revealed several sheets of Apple iPhone 5S LCD and PCB circuit boards latest photos, and by comparing the findings with June exposed circuit board there are some differences.
According to the description of the person then broke the news, from the iPhone 5S backlit LCD screen view, the next generation iPhone will not using AMOLED technology, and the motherboard is very similar with iPhone 5's motherboard.
In addition, Nowhereelse also exposed through June compared motherboard also found that the exposure of the red part of the circle there are some differences. To this end, the French site after analysis, the explanation given is a different version of the model, differences may arise with the use of LTE communication technology related to the different mobile phone standard.
According to people familiar with the latest revelations, said the next generation iPhone is not iPhone 5S, whose official name for the Apple iPhone 6, has now been completed trial production, will start mass production in the network standard terms will continue to support GSM / WCDMA / CDMA / EVDO / FDD-LTE, but still will not support TDD. Apple's past practice under both projections, estimates that the iPhone 6 times the official release time in late September.
Coincidentally, the same as well as from foundry Foxconn news disclosed that the final name of the next generation iPhone will be iPhone 6. In the past, the exposure of the British operator Vodafone's internal data has also been revealed that the upcoming release of Apple's next iPhone is not the legendary iPhone 5S, but the iPhone 6.
he leaked information from the current point of view, this new machine will be equipped with 4.0 inches IGZO touch screen and built-in 1.2GHz quad-core processor to the A7 and the camera will be upgraded to 12 million pixels, and also bring fingerprint identification Unlock and NFC payment capabilities.
According to well-known sources techkiddy disclosure of sources, Apple will be officially released on September 18 cheap version iPhone, and then in the September 27 launch of the next generation iPhone.