Samsung ATIV Book 9 Ultrabook is ready to released this week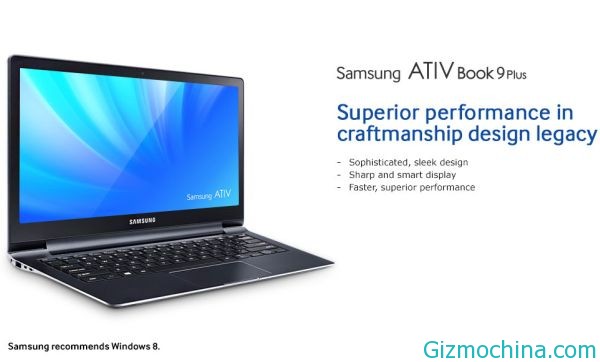 After unveiled the new SamsungATIV Tab 3 tablet device, Samsung is also  ready to released their new ultrabook products lineup through Samsung ATIV Book 9, according to rumor, this Ultrabook devices is also ready to released on September 9th.

The new Samsung ATIV 9 is the Ultrabook device with 13,6mm body thickness and 1,39kg of weight, the screen is packs with Gorilla Glass 13.3 inch that support for 10 multi-point of touchscreen with QHD+ display that has 3200×1800 pixel resolution, with the QHD+ technology, this tablet offers 2.8x more brightness and sharp than regular full HD screen.
Powered by Intel Haswell Core i5-4200U processors that running on 1,6GHz clock-speed that colaboration withh Intel HD Graphocs 4400 GPU Intel HD Graphics 4000 support and sports with 4GB of DDR3 1600 MHz memory module.
There is also 128GB of SSD, packs with couple of USB 3.0 port,  output micro-HDMI, mini VGA (through opsional cable), combo jack headphone/microphone 1.8mm, 3-in-1 card reader, webcam, microfon and integrated speaker, supoprt 802.11 a/b/g/n Wi-Fi, Bluetooth 4.0, WiFi, the battery can be used for 11 hours in one charge.
Samusng ATIV Book 9 is available with ash black mineral color and this tablet is ready to released on 19 August and offers with $1,399,99 USD price tag.