Review of NEO N003 Android smartphone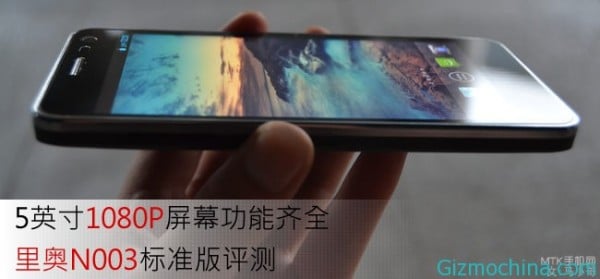 This year, smartphone manufacturer is built the new products with high-speed with multi-core processor, while the screen size is increasing dramatically, that's why there is a terms of "Phablet device".
Interestingly, the smartphone chipset is decrease the price but increase the ability, since MediaTek is produce chipset with affordable price, is now we have a lot of multi-core processor smartphone device on the market, the one of the smartphone is the NEO N003 Android smartphone.
NEO N003 is the first quad-core smartphone that packs with 5inch screen with 1920 x 1080 HD resolution display, this phone has been annouced before that begin using the FHD-level screen. After months of the annouced the new NEO N003 finally listed on market, currently the phone is only available in the official website and 360 Jing Dong Mall.
To following the market demmand, the NEO N003 will launch in two models, standard version and high version, the standard version come with 1GB of RAM and 4GB of ROM, while the high version came with 2GB of RAM and 32 GB of ROM more larger capacity combination, currently on sale are the standard edition, while the standard version is offers with 1080 yuan but we find the actually price is little higher 1299 yuan or around $212 USD price tag.
Processor MT6589T 1.5GHz quad-core
Screen     5.0 inches 1920 * 1080 IPS 441PPI
Memory     1G RAM +4 G ROM
Webcam     3 megapixel front and 13 megapixel rear (F2.2)
Battery 3000 mAh
System     Android 4.2 Jelly Bean
Size     142.5 x 71 x 10.5mm
Sensor     Gyroscope, electronic compass, light, distance, gravity sensor
Feature    MHL, OTG, W + G dual card, Yamaha amplifier
Selling price 1299 yuan (around $212 USD)
How about the Neo N003 performance?, is now we have a NEO N003 review that got from the MediaTek website.
The appearance
NEO N003 has full black body while the recent NEO smartphone came with blacn and white color, this NEO N003 has totally black with metal list on the rounded corner, the design is lool like a regular Android smartphone with candybar regular design, covered with a plastic body material the phone is came with 142.5 x 71 x 10.5mm body dimmension. While the screen frame is very narrow, it's make the screen look larger than the actual size.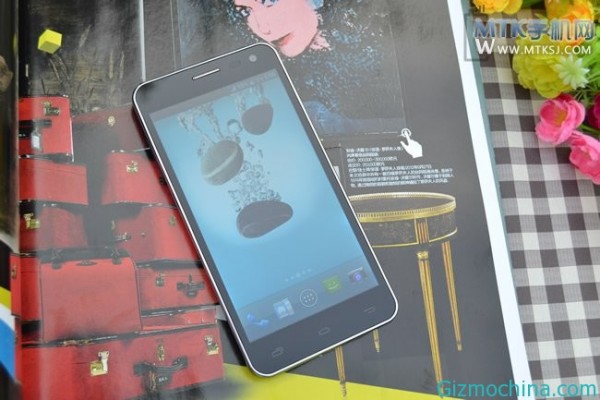 The NEO N003 is packs with 5 inch screen size, and this size larger than the regular smartphone, very comfort for reading the website or typing or writing. There is also a tree standar Android soft button below the screen (multitasking key, home key and back key), on the top of the screen, there is a sensor and front facing camera. The LED indicator in the upper right corner, this LED indicator will inform the status or notification for the user, such as recharging position, low battery or notification for unread message (SMS, e-mail, etc.). There is also a self timer functionality for 3 megapixel front facing camera.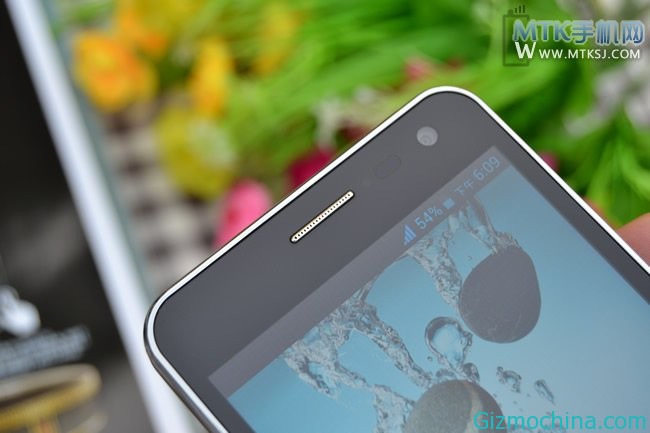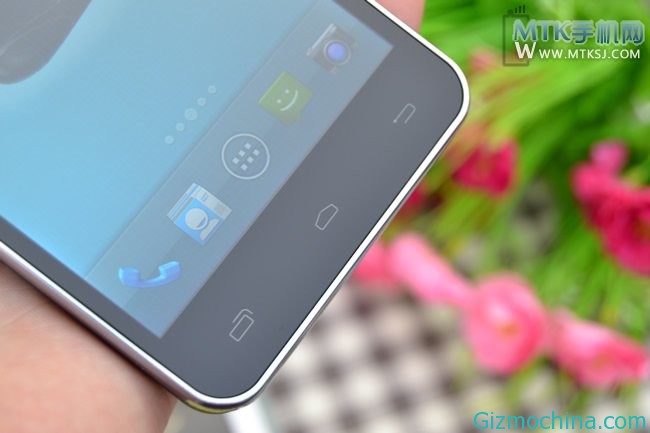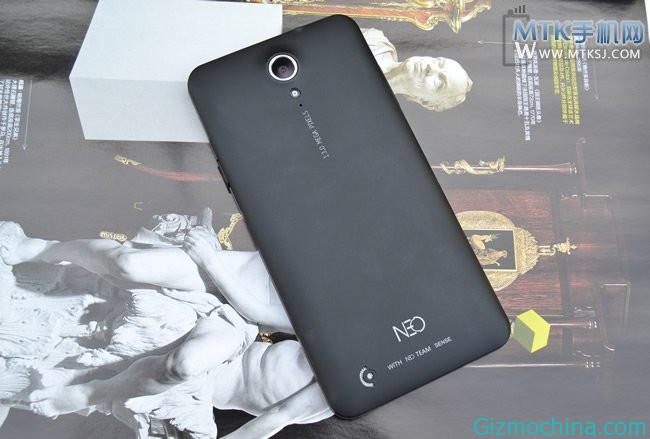 The back shell of NEO N003 follows the previous NEO smartphone generation (N002) the skin texture design is almost same with NEO N002, both prodcust has a beautiful texture, the smartphone is also has rounded corner design that make the phone look nice and very comfortable to grip. But the black body cover will leave the palm print so you can choose the white color to avoid this.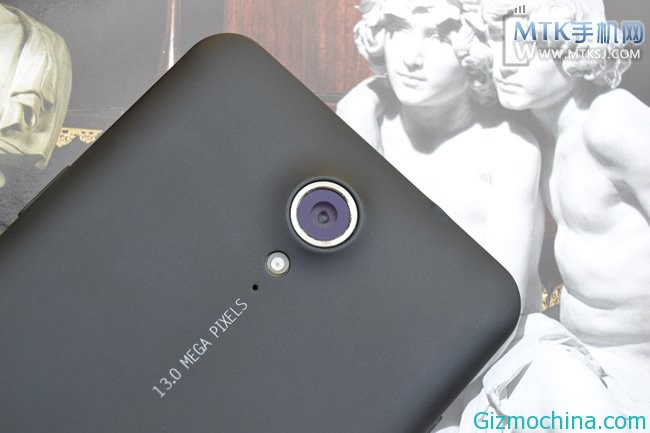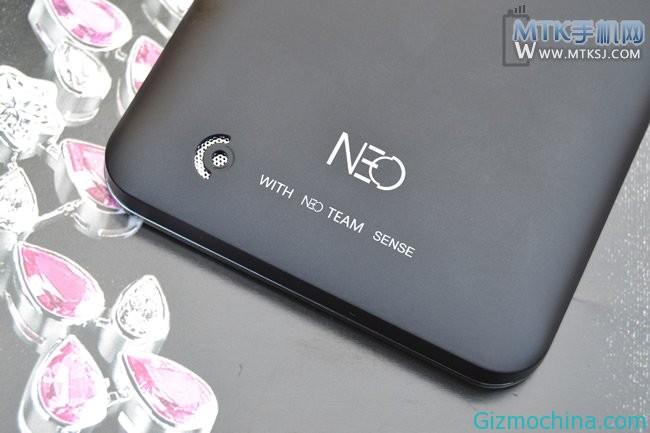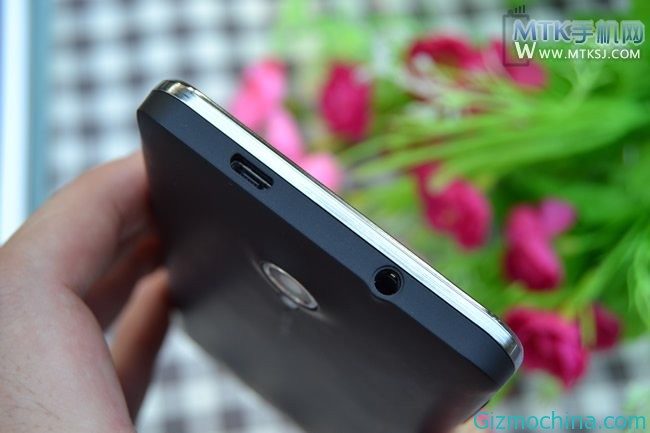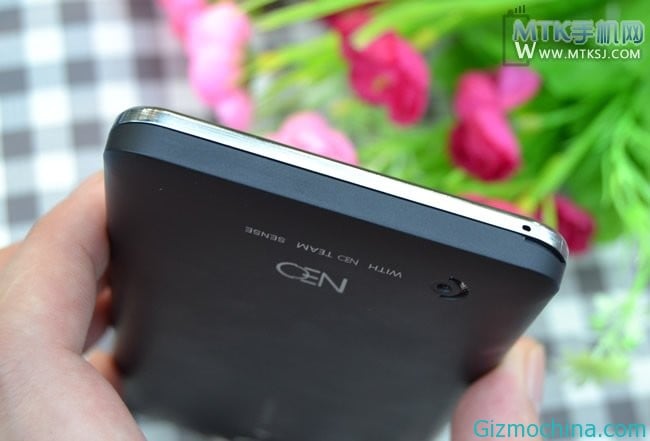 The power button locate on the right side of the fuselage and the volume button locate on the left side of the fuselage, this button position more comfortable to using with one handed operation.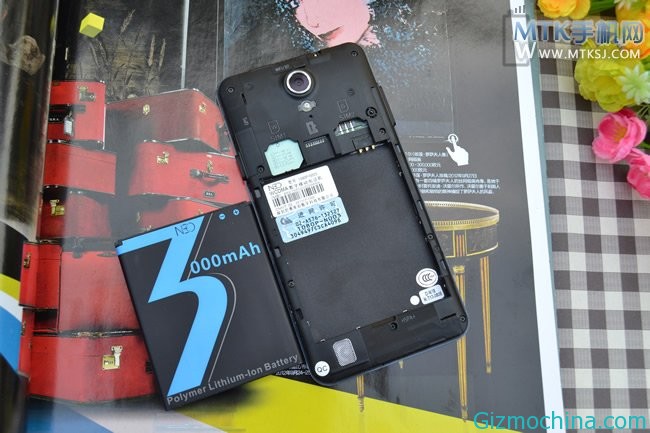 When you  open the battery cover, you'll find the two slot for SIM card, this phone has dual card dual standby and one slot for SD card memory to expand the storage capacity, while the battery capacity is large enough with 3000 mAh battery.
The Screen
While we've mentioned above, the NEO N003 screen is packs with 5 inch screen size, the screen is adopt 1080p with full  HD resolution with 1920 x 1080 pixel through nearly 441 ppi, the display is very sharp and ability to see on every angle.
NEO N003 using IPS wide viewing angle display technology, theoretical viewing angles up to 178 degrees, through different angles in different environments under test, N003 viewing angle performance is very good, even in the daytime outdoor environment also Good visual range and clear display.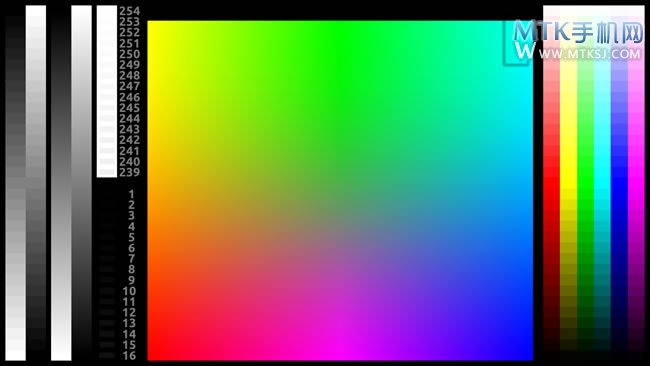 Screen display effect, Rio N003 uses 1920 * 1080 Full HD resolution 5-inch screen, nearly 441PPI high-density pixel display makes the machine more superior, through the tools of their respective color screen test shows, N003 in all standard accurate color reproduction, and no obvious color cast. In addition, through the figure can be found, N003 black saturation and white saturation test results is good, except the black bread and white bands 1-5 degrees lower saturation stage show after five incomplete, the other can be clearly displayed.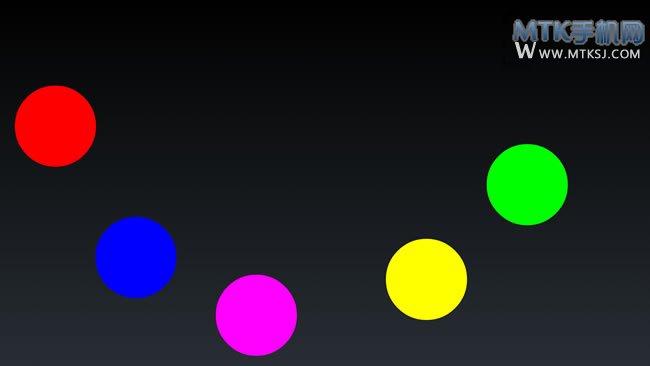 This article comes from MTK mobile phone network http://www.mtksj.com
As we are concerned about the screen pixel, light leakage and other issues, the above works, there was no addition reaction is very sensitive to touch and can support 5-point touch simultaneously.
Screen proofs: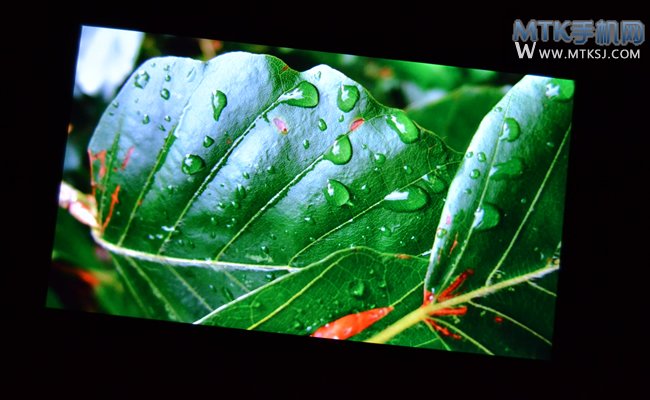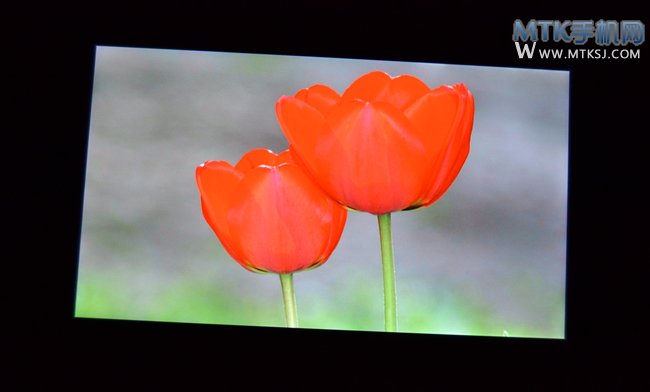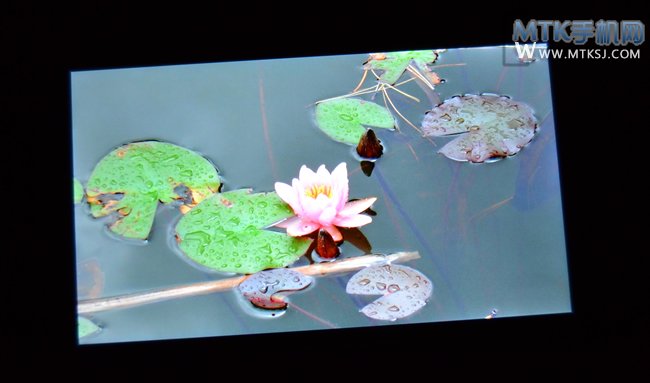 Above NEO N003 screen really making proofs to facilitate the display of the aircraft have a more intuitive understanding.
Screen Summary: By understanding, the aircraft did not "live up" 1080P-N003 this name, the display is praise indeed, accurate color reproduction, lifelike picture phone, and has a good viewing angle, the screen brightness is high enough, which is why many 1080P mobile phone users to pursue the important reasons, the screen effect is concerned, Rio N003 or praiseworthy.
Native Android operating system
NEON003 uses a native Android 4.21 OS version, the overall operation of the system with the Android 4.2 is not much difference, a small interface has been customized, added some practical small features. In addition to the official follow-up will be upgraded, it can also support other third-party music frogs OS ROM, enhanced playability.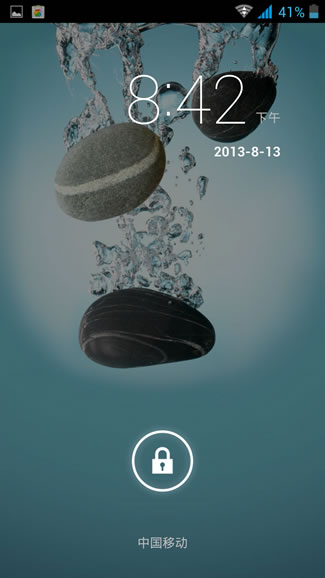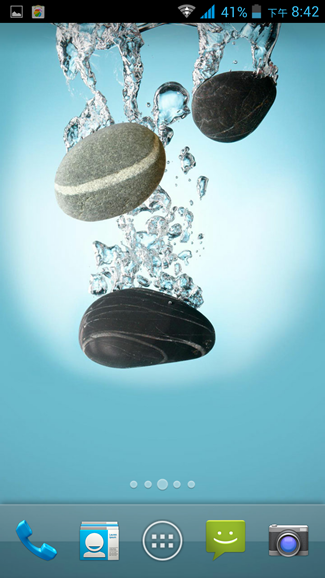 Unlock the interface with the native system generally goes, in addition to left draw directly into the camera, you can also customize their own more lock screen, such as adding text, clock and other shows. Main menu tray bottom of the screen after the second design, the focus of some commonly used functions, the background is also set to become translucent, even more beautiful and some of the.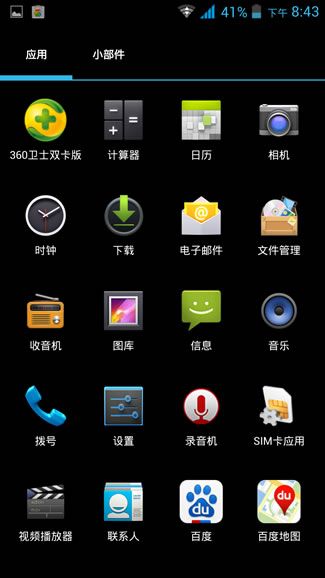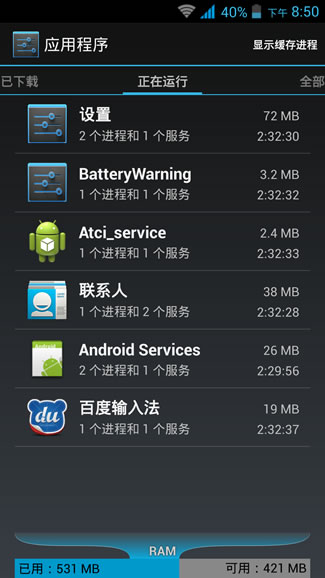 In addition to Android native applications, Rio N003 also comes with a number of commonly used applications, in addition to QQ, microblogging, Baidu and other applications, also built NEO Software Park, you can download some commonly used software, another point more humane changes Yes, the program will be installed automatically by the installation time to sort, so find the newly installed application more convenient. N003 has 1GB of memory to run, because there are too many background processes, so the machine available RAM after power has more than 400 M, is still relatively abundant.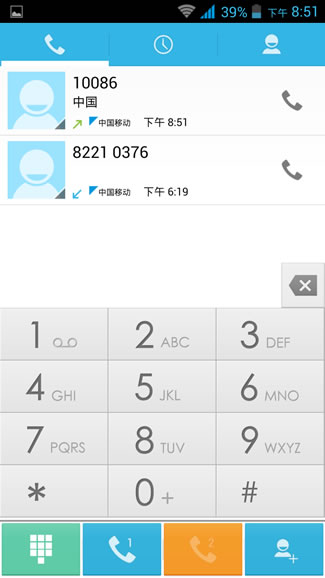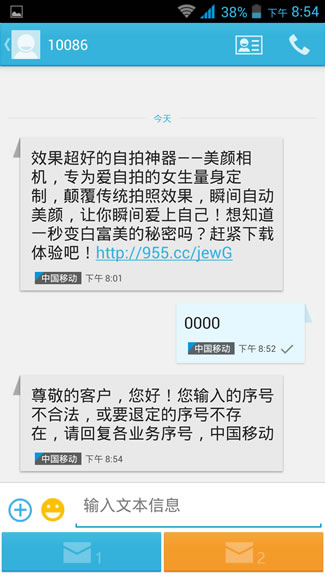 NEO N003 built-in dual-card version of the 360 ​​guards, as well as common messaging interface more dialing features dual card, SMS and phone calls are free to select the SIM card 1 or card 2 for communication, but also a call to come and go electric interface has been integrated display location function.
The Benchmark test running game
A highlight of this phone uses the MediaTek MT6589 upgraded version MT6589 Tubro, on the basis of performance in the MT6589 has improved significantly, GPU upgrade to better match 1080P Full HD screen, bring smoother operating experience. In addition there will be two different versions of memory, the standard version of the specification is more common, 1GB of RAM and 4GB storage space to run a combination of, first take a look at the machine and run sub-system information.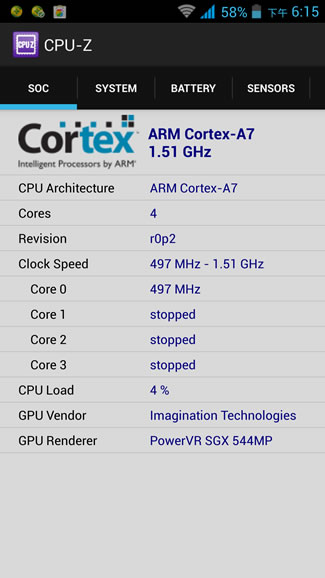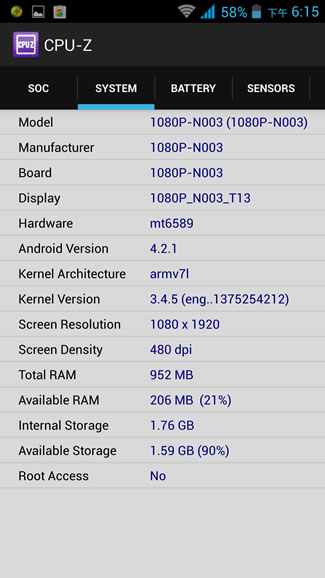 Old PC hardware information detection software CPU-Z detection system information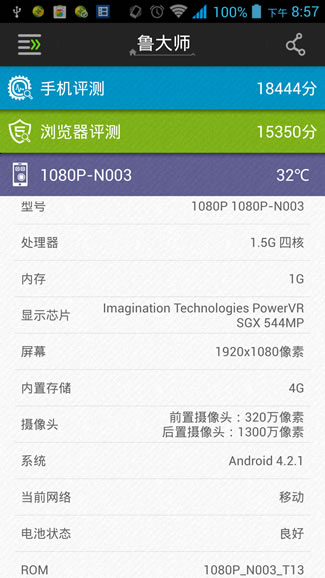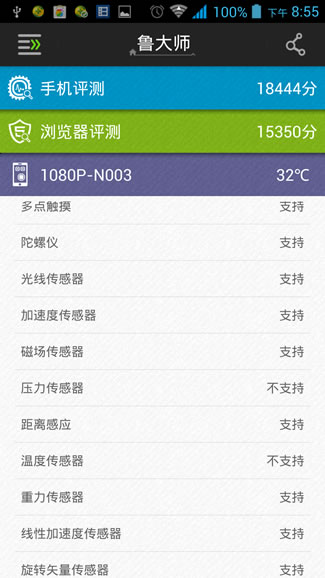 Master Lu System Information
Able to see the N003 processor main frequency up to 1.5GHz, the upgraded MT6589T clock frequency, built-in gyroscope, magnetometer, light, distance and gravity and other commonly used sensors, is particularly worth mentioning is the N003 also has MHL HD Output and OTG functionality, these extensions to further enhance the usefulness of the N003.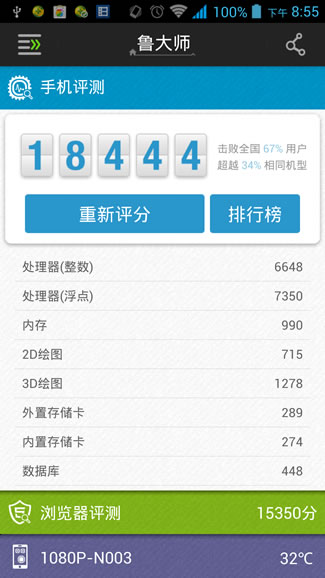 Master Lu Ann Bunny V3 and run sub-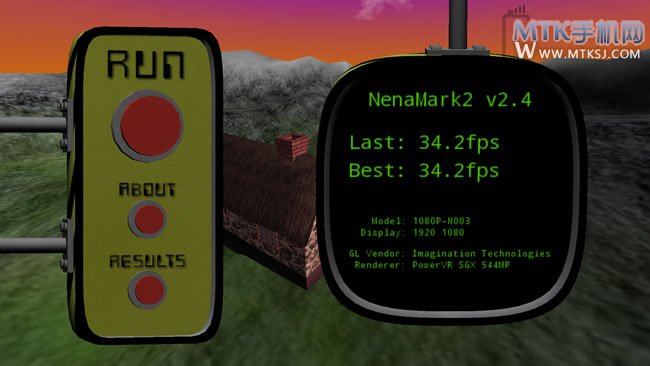 Nenamark 2 Benchmark test rsult
Aspects of running sub-N003 is not prominent, security Bunny composite score nearly 14,000 points, with many using MT6589T +1080 P screen models differ much, Master Lu ran into 18,444 points, while the provision of mobile graphics performance tests NenaMark 2.4 review 34.2, can be called average.
Thee game experience
Run points and do not represent the actual performance of a real phone, in the course of the operation to be fluent unimpeded reflect the real performance, such as playing games, were tested in this latest release of whitewater boats 2, fishing up two and killer 2, are the more popular games recently.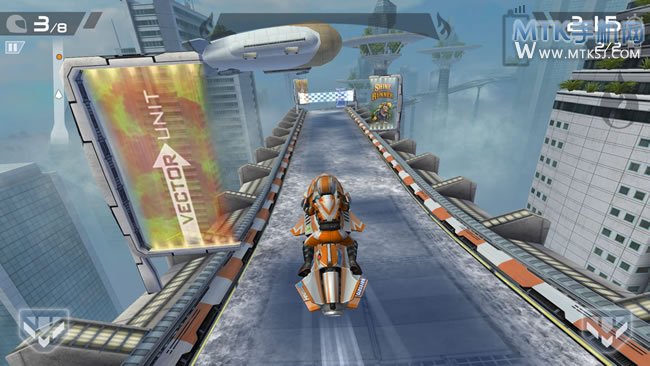 Whitewater boats 2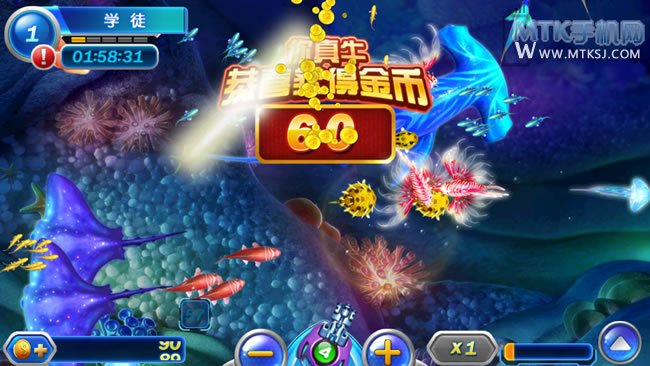 People fishing 2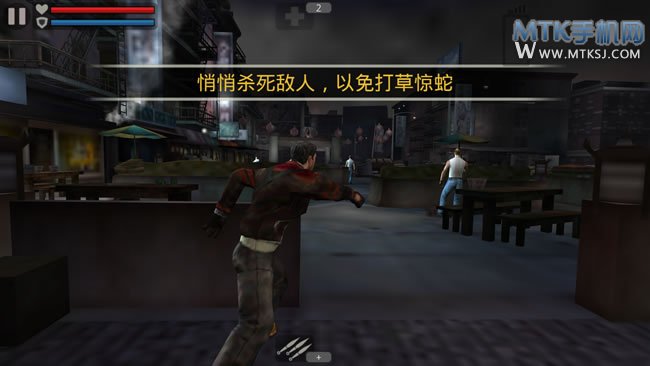 Killer 2
Recently released whitewater boats speed class 2 is a game for more than a generation mobile performance requirements, with many effects, another killer of two people fishing, and both games have a certain representation, N003 Run these games are very smooth. This article comes from MTK mobile phone network http://www.mtksj.com
System Performance Summary: For the native Android system everyone is familiar with, or even very familiar with the system interface so the machine does not brighten the place, but the good news is that the factory ROM optimization is also good, the overall smooth operation , multitasking runtime occasional small Caton phenomenon, subsequent upgrades should be optimized.
Audio-visual and entertainment experience
Video playback
1080P screen smartphone owners in watching movies, browsing the web and other daily use, you can get a better display, after upgrading to MT6589 Tubro, Rio N003 led 1080P screen is more handy and raise watch 1080P high-definition movie experience The 1080P is commonly used were tested MP4, MKV, AVI, and MOV formats: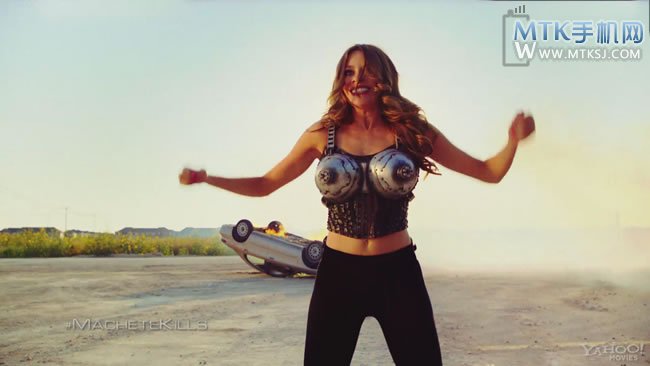 MP4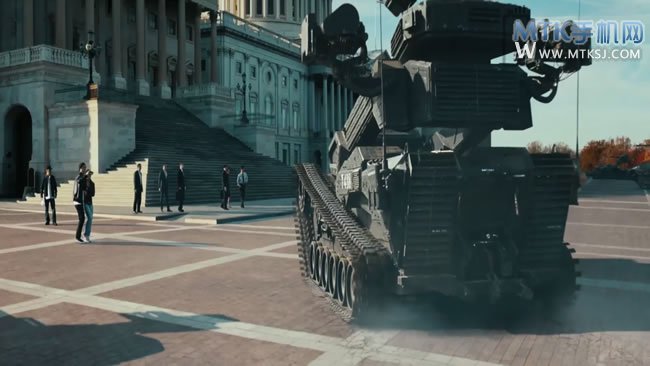 MOV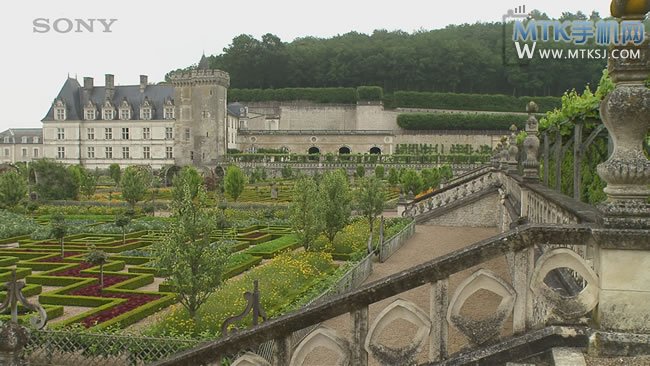 AVI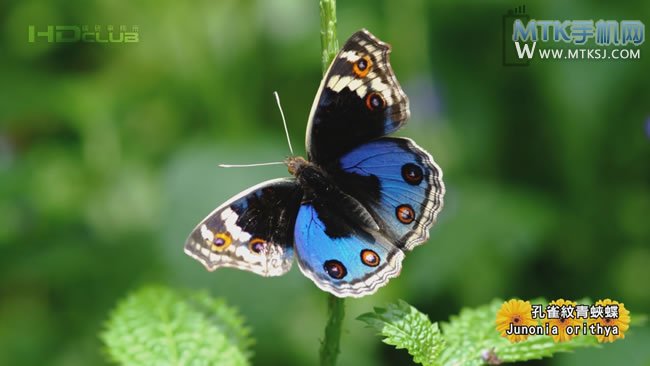 MKV
General common formats such as MP4 player comes decoding can be normal playback, and like RMVB, MOV and other formats need to use third-party player decoding, the impact is not big. Also playing a large rate, large volume 1080P Full HD movies the same smooth, fast-forward nor dilatory conduct exaggerated Caton.
Sound system
NEO N003 uses a Yamaha YAMAHA audio decoder chip supplemented cylindrical speaker design, curved sound chamber design also features, although with the main HIFI products can not be compared, but in terms of hardware equipment quad-core products in the congregation thousand Yuan has an advantage. Call regard the built-in dual MIC, to further improve call clarity.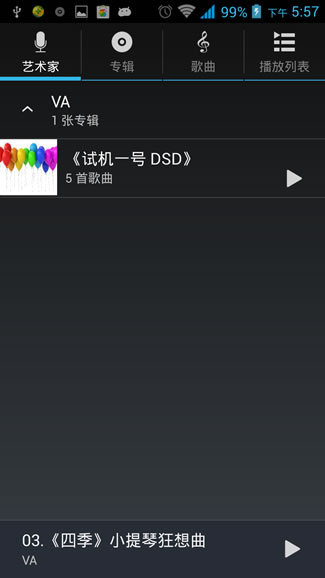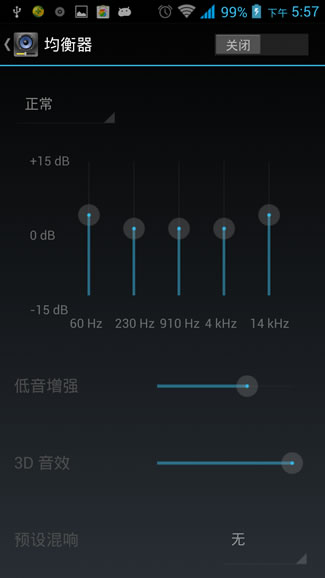 Rio N003 built-in Android native player, sound quality is surprisingly, the output is very good, rich and clear sound quality, the volume is moderate, without breaking the sound, noise and other phenomena, is one of many thousand Yuan four nuclei possess rare "good sound" products. Input and output during a call sounds are clear on these basic functions, Rio N003 do very place.
3, browsing the web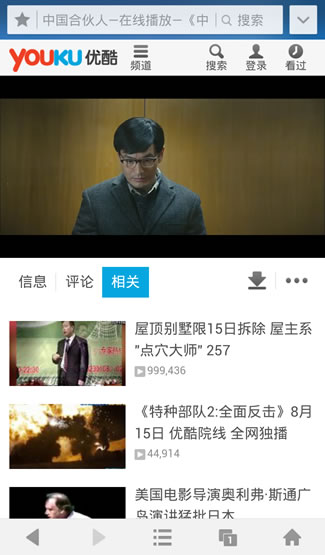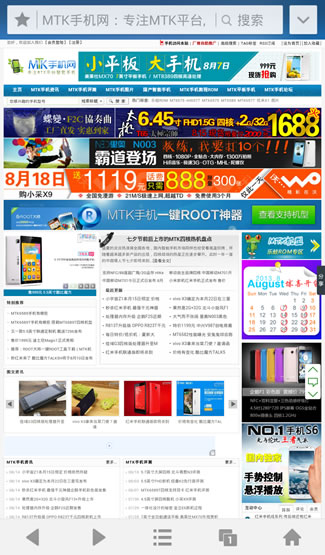 This article comes from MTK mobile phone network http://www.mtksj.com
N003 removes the native browser, built with the latest version of UC browser, WIFI to connect high speed, large volume page loading speed is also very fast, WIFI signal is good.
Audio and video Summary: As mentioned above, equipped with a 1080P Full HD screen to watch movies in Rio N003, online video, etc. bring superior visual enjoyment, other issues such as calls, music, and browsing the web and other commonly used functions are also no obvious "defect "Optimization of these basic functions directly affect the user experience, which a good overall performance N003.
Camera
Now smart phones in addition to increasing the screen resolution, megapixel camera is beginning to show up, but it does not mean that high-pixel high-imaging, a small cell phone camera can get high-quality photos in addition to pixels, the other as sensor, lens and iris also has a crucial role. NEO N003 has a 3 megapixel front-faicng camera and 13 megapixel rear camera that is used OV12830 module with F2.2 aperture, with a blue glass filter, maximum support 4160 x 3120 pixels, but the camera interface the same as the native Android interface, and no changes.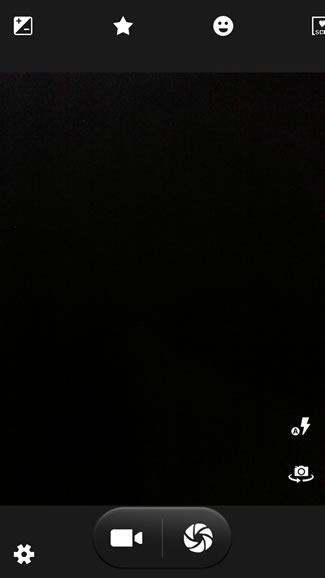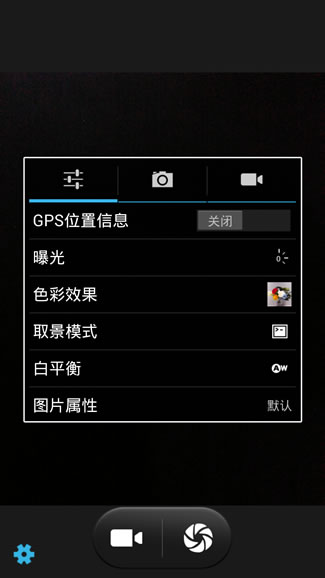 And most MTK quad-core smartphone, like Rio N003 can support a variety of camera modes such as panorama, face beautification, HDR, etc., can also support up to 99 continuous shooting, white balance and exposure can be adjusted independently extent.
Here are the example imagea, that taken with NEO N003 camera smartphone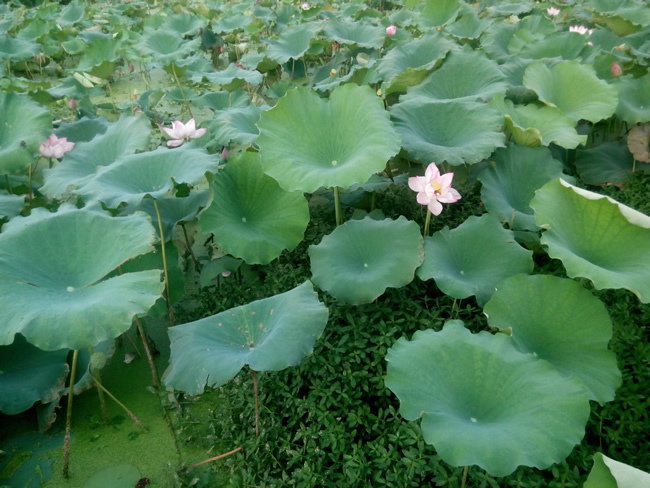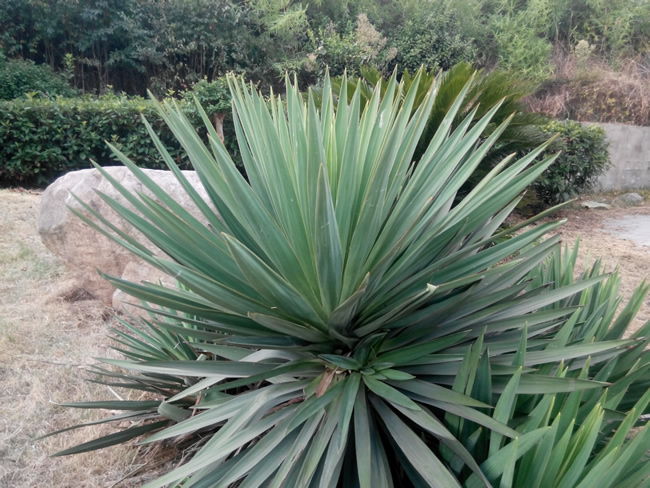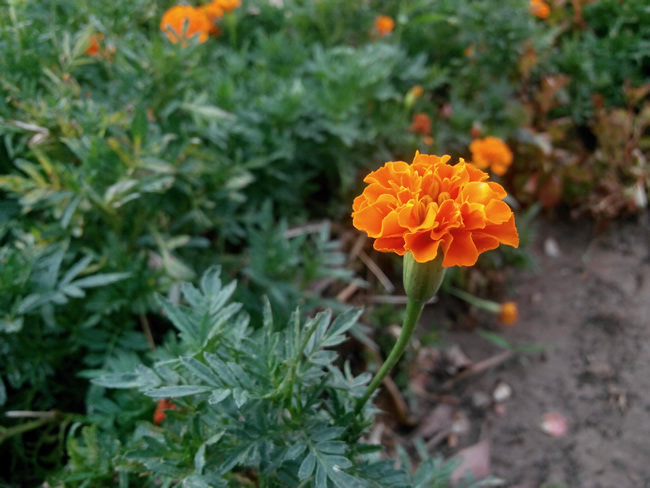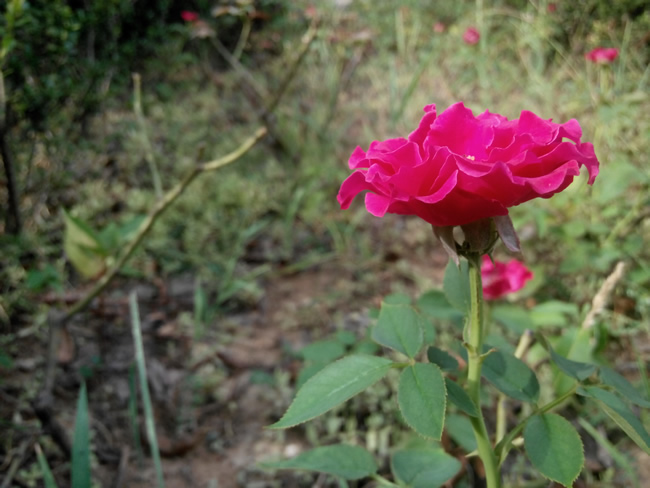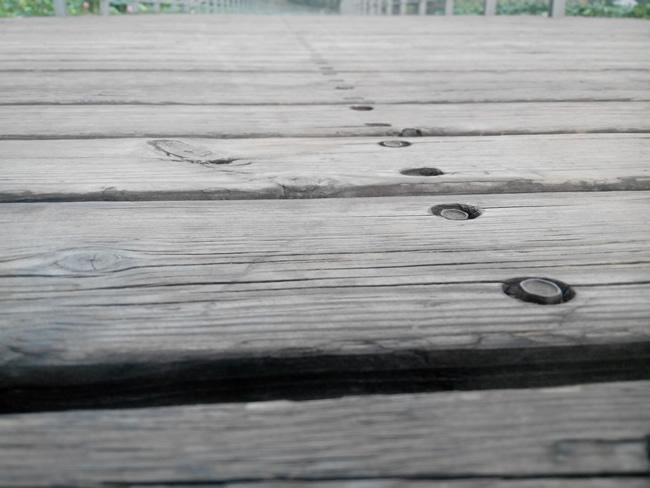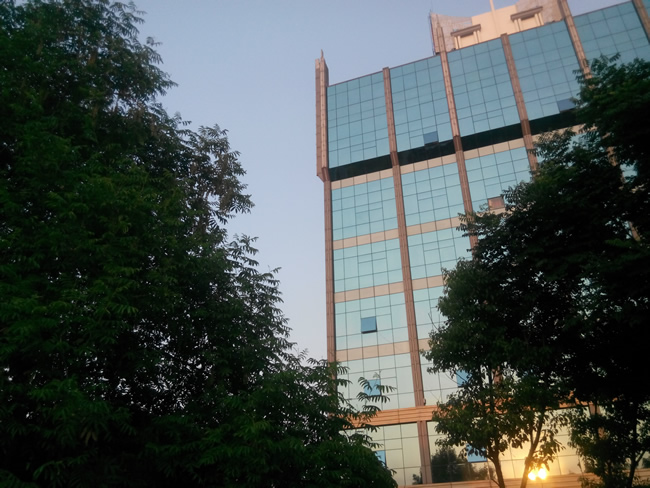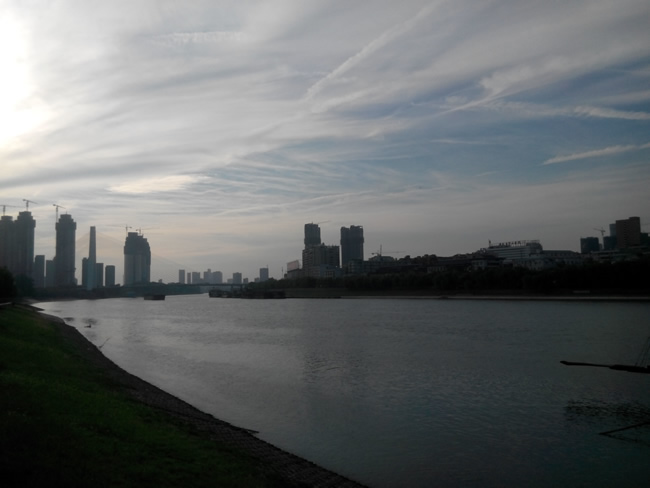 Physical pixel camera N003 up to 13 million of the overall performance of satisfactory quality, autofocus, and a high rate of contacts focus accurate color reproduction and exposure are also more accurate, outdoor camera imaging results are satisfactory, especially macro amazing performance , blur effect is very obvious, and rich layering. The only drawback is the low light conditions to be strengthened, the final sample taken close to the evening, a very serious loss of detail, accompanied underexposed phenomenon, the latter also continue to optimize the space.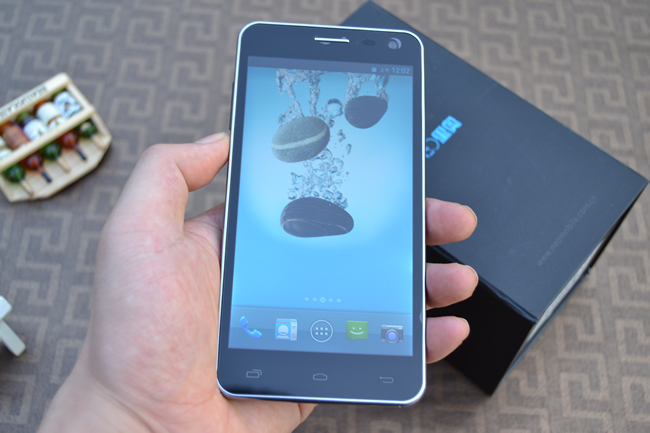 Summary: NEO N003 is the good smartphone in the market, nut this phone is not too popular,  after several days of trial, various aspects of this phone performance are remarkable, especially 1080P Full HD screen and the camera most of the performance of the two is more prominent, while system optimization was also good, although inevitably there are some shortcomings, but these are post-optimization can make up. The appearacne of NEO N003 as identical with N002 compared to the overall work.