NEO N003 High version will be sports with 2GB of RAM and Android 4.2 system
The rumor about NEO N003 smartphone has been spreading on the Internet but, on that time, the information is very limited and now we have a new rendering picture and new information about the specification of NEO N003 Android smartphone.

The new NEO N003 design is different with the previous leaked, the design is changed dramatically, there is no curve design since the new N003 design has more slim and ltra narow border, while the body is covered by white-silver combination make this phone look gorgeous.
Here are the specs of the new NEO N003 Android smartphone:
Processor MTK MT6589 1.2GHz quad-core
Memory Standard: 1GB of RAM + 8GB of ROM / High version: 2GB of RAM + 32 GB of ROM
Screen     5-inch IPS wide viewing angle + Corning Gorilla Glass second-generation, OGS full fitting touch screen
Resolution Standard: 1280 x 720 / High : 1920 x 1080
Battery 3000 mAh
System     Android 4.2
Camera     3 MPx + 13 MPx Sony camera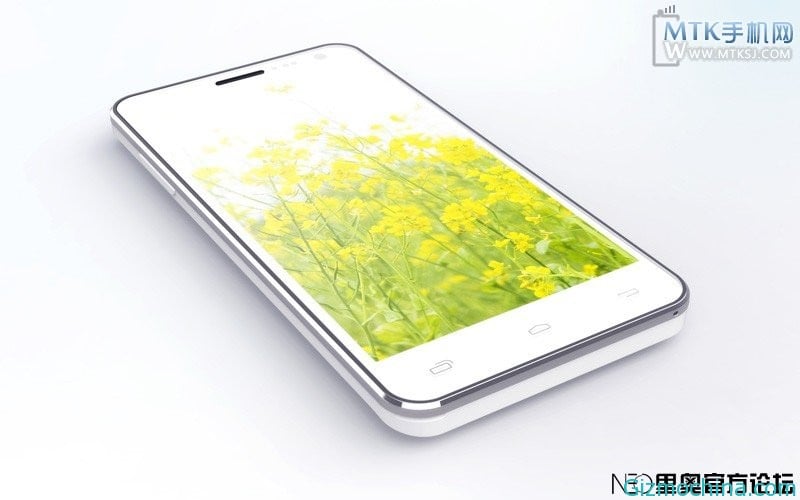 Many users concerned about the Neo N003 also because of the opportunity with a variety of useful features, including high-definition HDMI output, USB OTG function, in addition to the aircraft in order to enhance the sound quality Yamaha speakers and configuration of a gravity sensor, light sensor, proximity sensor, compass as well as other commonly used gyroscope sensor.
Official sources said about the priced at 899 yuan -1499 yuan ($145 USD – $240 USD), while the High version with  2GB of RAM will be has 1,299 yuan price or about $208 USD, but late this price may still declined, then the low-equipped version priced at $145 USD is very affordable price but this information is just speculation, there is no official price for a while now. NEO N003 smartphone will be available on the market on April, both Standard version and High version will be available on the April this year.