OUKI OK A50 Android smartphone, powered by 5000 mAh battery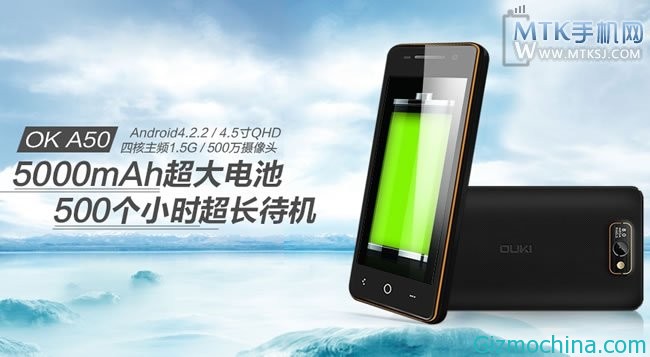 While some Android smartphone came with standard battery capacity, only few smartphone manufacturer is packing their products with higher battery capacity, Motorolla Max HD is one of high battery capacity in the market but now the one of Chinese smartphone is came with high capacity battery.
The one of Chinese smartphone maker is OUKI which built the OUKI OK A50 which powered their products with 5000 mAh battery capacity. This phone has 4.5 inch screen size with  QHD 960 x 540 pixel screen, while the processor is using quad-core MT6589T that has 1.5GHz clock speed.
The phone is running Android 4.2.2 Jelly Bean operating system, but we don't have the exact information about the price.