Xiaomi will held the confecerence in September 5th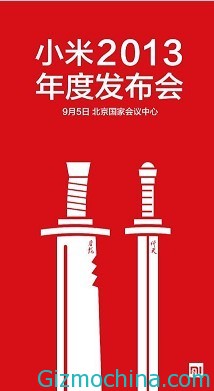 While for now we've get the informationthat Xiaomi is preparing the big converence for launching their new products, and now we  got the official confirmation from the Xiaomi executive that the converence will be held on September 5th.
Lei Jun as a Xiaomi CEO has been confirm on their microblogging account that he said: "Xiaomi 2013 annual conference is coming, September 5, Beijing National Convention Center." Another microblogging account says : "September 5, National Convention Centre, Xiaomi2013 annual Juxian : Heavenly Sword? Tulong Dao? "
Xiaomi did not follow the convention in the August 16 press conference held in its own annual industry conference, there are rumors that date will be postponed to September 5. The Xiaomi 2013 annual conference, in addition to the time change, the venue also go from the 798 Art District in Beijing National Convention Center, the venue can accommodate more spectators.
As mentioned in the microblogging Lei Jun's "Heavenly Sword, Dragon Sword", the industry speculated that in this conference, Xiaomi technology in addition to the launch of "M3" smart phones, the long-rumored Xiaomi TV also is likely to be unveiled.
In addition, according to informed sources, the 2013 annual conference will be announced Xiaomi 2S and 2A related sales data, while intended for Tencent Holdings Xiaomi technology companies through DST rumors, announced details of a new round of financial reports.