TCL N3 Android smartphone is ready to hit the market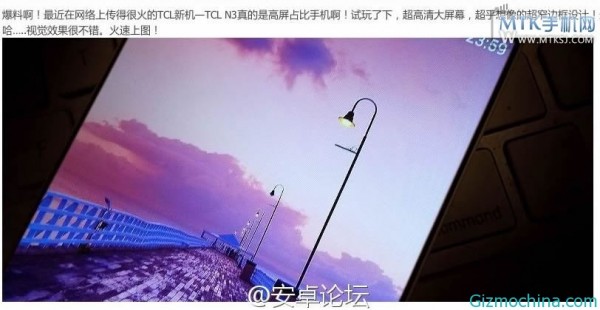 Chinese smartphone maker, TCL is also known as the owner of Alcatel brand is ready to released the new TCL N3 Android phone, this phone is packs with apparently have a nearly borderless, edge-to-edge screen as you can see from the leaked image above.
According to the news, the TCL N3 is reached the trial production, as a proportion of an important part of screen, N3 border to narrow indeed amazing, but careful observation will found that the width of the screen left and right sides seem incongruous, authenticity is also in doubt.
Roadside agency sources said TCL N3 smartphones will be the one of flagship smartphone. The rumor goes on suggesting this unit will rock a full HD 1080p display, 2GB of RAM, and MediaTek's quad- or perhaps 8-core core processor. The screen size is still a mystery though some sources suggest we're talking about a phablet that could come with a 5.7-inch panel.
In addition TCL had no N series products, currently sold belong Star / You / JOY / PLAY four product lines, should the existence of N3 is true, then the N series may be formed mainly of a new series of high-end products.