Short review: Teclas P89 Mini Android tablet device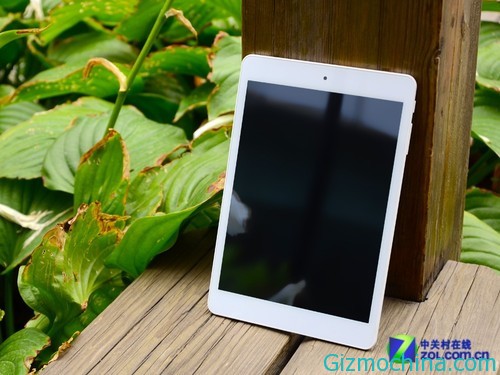 Teclas P89 Mini i one of the tablet device, after we've covered this device recently, is now we have short review about Teclas P89 Mini, this tablet compete with Apple iPad and other tablet device on the market since has a nice feature and support for USB OTG and larger battery capacity.
This Android tablet with Intel core from its release date, attention has become one of the highest domestic flat. It is equipped with an ARM platform gave many quad-core Intel lost face strong core multi-threaded processor Intel Z2580, with excellent hardware performance and 60 days long standby capacity, and also a collection of the most popular contemporary 7.85 inches IPS screen and ultra-thin body design, the overall configuration is completely beyond the previous sections of the same level of domestic small-size plates. Now this made ​​"super board" engineering test machine has been the first to come to ZOL Tablet PC channel, the next period of time, we will conduct a test on the P89 mini length all aspects of analysis, and today's topic is the P89 mini The design and function display. Tell me, we go from it.
Overall appearance

In the current domestic flat-panel industry, almost all brands have launched a 7.85 inches screen-level models, although each claim their mini Pad reached with the iPad Mini as thin figure, but really do, but only so several countries product licensing models, Taipower P88s Mini is one of them. This time is also 7.85 inches screen P89 mini also continued P88s mini sophistication posture, white and silver with cool looks quite nice.

Facade

Only 6 mm width narrow border

Side looks pretty slim
P89 mini ultra-narrow border is a major characteristic appearance, the vertical sides of the screen narrow frame design users can easily single hand held body, for the small hands of my friends about 6 mm width of the border when gripping enough thumb resting on the top and does not touch the touch screen . Utility and aesthetics to achieve better balance.

Depression angles watch shape

Rounded rectangle corner treatment

Full body without a screw
In the fuselage structure, P89 mini chose relatively safe triplex structure sandwiched between front and rear panels circle of white hard plastic, as is the engineering test machine, in particular when the seams will find traces of disassemble I believe the official version would not be such a problem. The author notes that while P89 mini screw whole body did not appear a figure, from that point is also reflected in the product manufacturing process Taipower has reached a relatively high level.
Product: P89 Mini Taipower Tablet PC
Material is more skillful use of materials
Material Performance
Today, although the use of white domestic flat-panel touch panel is quite common, but transparency and color purity can be done with the Apple iPad is still not as good as the models appeared, and different domestic flat panel effect on the white Because the materials used differ, and some even have significant side effects of ash. P89 Mini white front panel is less than the same hue iPad is so warm, but it can be considered a positive tone compare, contrast is not put together with the iPad is not easy to see the difference.

Relatively smooth surface touch screen

White panel color temperature slightly colder

White panel detail close-up
Believe used iPad, Nexus series models such big friends are on their surface smooth touch panel experience fresh, while P89 mini on this experience is not fully copied, but the difference is not too big, not will affect the play Fruit Ninja on the screen so requires repeated paddling action gaming experience. But the drawback is that the screen surface is very easy to leave greasy fingerprints, and can not as easily as the big tablet can be wiped clean.

Back View List

Taipower LOGO
P89 mini aluminum alloy back panel using the panel, performance coated with a layer of silver paint matte texture, delicate feel quite comfortable, but also have a very good stabilizing effect. Probably because of the internal structure is relatively compact and panels with solid materials, I press hard on the back panel does not appear obvious distortion, I believe the internal components of the back plate on the protective effect is quite good.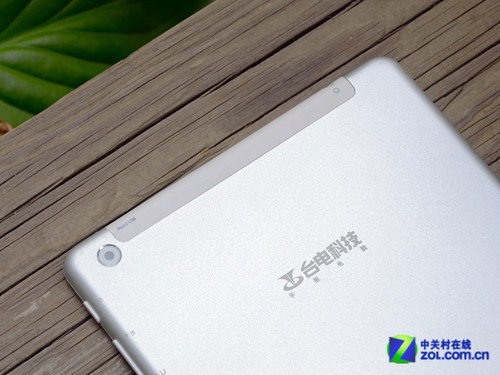 White plastic body bonding with nature
Taipower P89 mini back to top specially designed a white plastic case, which is to avoid the metal back on the impact of the WiFi signal reception. But surrounded by some of my friends think this affects the P89 mini overall visual effect, but from my personal point of view, as long as able to handle the distance gap with metal panels and plastic smooth and detailed some of you can do, and have done Taipower P89 mini .
Product: P89 Mini Taipower Tablet PC
Configuring basic functions of rational
Functional details
Here are some details on the appearance of functions to parse, P89 Mini 's front camera is located in front of one of the short sides of the middle position, the user can accurately against the self-timer or avatar video chat. Then set the camera position is in the back left corner, simple and low-key, as detailed in the future we will also take effect the official version of the model tests specifically mentioned.

Front camera

Side of the physical buttons

Rear camera
Entity key part P89 mini tablet, like with most 7.85 inches designed power button and two volume control keys, since this a few buttons in daily use hit frequency is high, so the keys feel also appears quite important. P89 mini performance in this area is good, the key process design reasonable and moderate hardness, feel satisfactory.

Exterior side of the fuselage

Headset Interface
Interface Configuration situation has largely decided by the product expansion capabilities, P89 mini in terms of interface, rich slightly less mainstream domestic flat level, which does not carry a HDMI HD video output capability. But fortunately as Intel core models can be synchronized via WiDi wireless display the content, compared to cable transmission, or to be more flexible.

Rear dual speakers

Speaker close-up
Finally it said P89 mini speaker has shown its dual speaker design, can bring more obvious stereo sound effects, but unfortunately the landscape screen to watch movies when sound is sent from one side, by a little practical impact. But even taking into account the iPad Mini is such a design approach, we also seem to have nothing to complain about.
Summary
Maybe just look at the exterior design, P89 mini size with other domestic flat with little difference, but in fact from the user experience, the appearance of many of the details are handled has a critical influence, P89 mini in many ways compared to the previous domestic Tablet to have some more carefully designed, such as the fuselage structure is more compact and more precise, material and texture of the materials used and other more reasonable. As for the practical application of the machine hardware performance and other aspects of performance, so stay tuned Zhongguancun Online Tablet PC channel next series of articles it.