The leaked picture of Samsung Galaxy Gear is exposed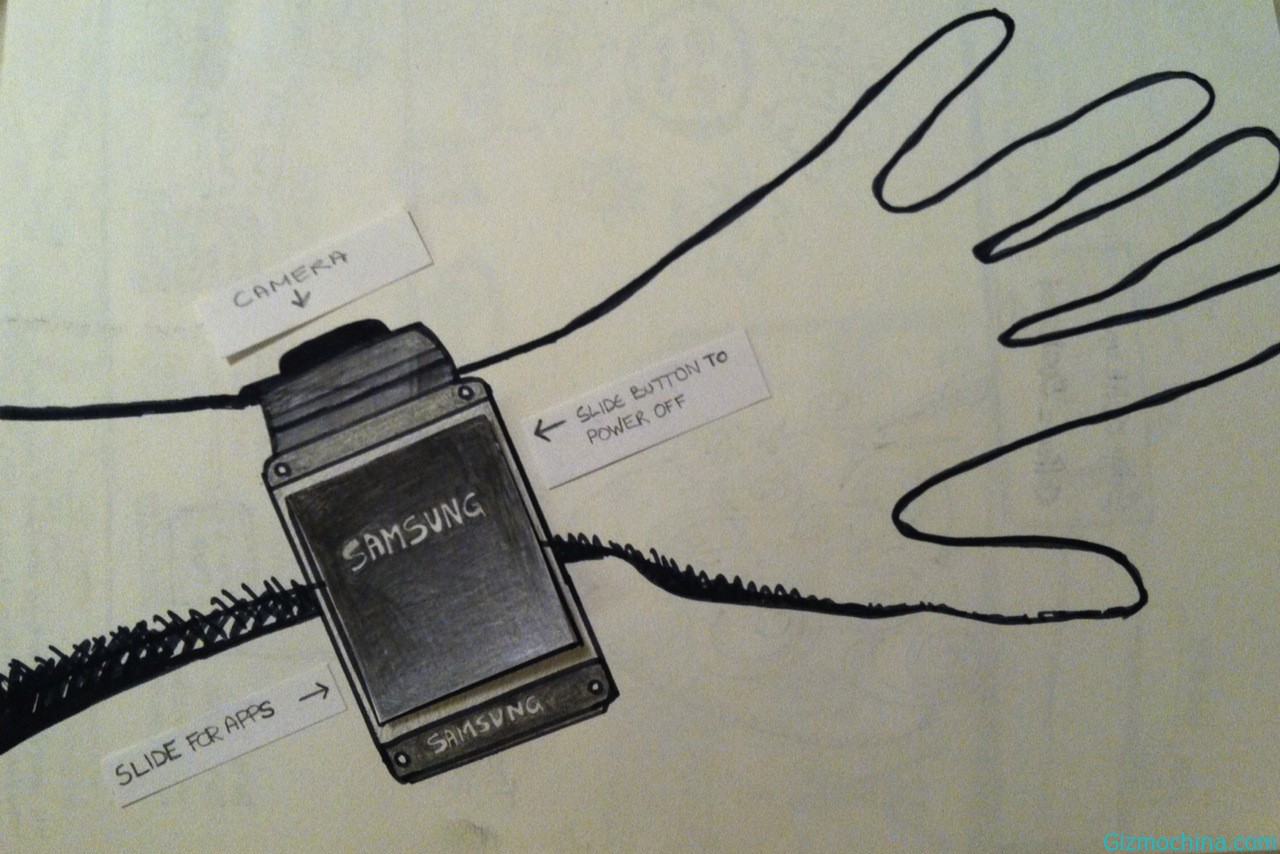 While Samsung is preparing the launch of Samsung Galaxy Note 3 on IFA in Berlin, along with that launch Samsung is also ready to unveiled the long awaited device, the Samsung Galaxy Gear, but  now we have a coupled leaked picture of Samsung Galaxy Gear smartwatch.
The picture is appear from venture Beat website, those picture is taking from a video since the media didn't allow to taking the real picture directly. According to the picture, the Galaxy Gear will packs with 3 inch of OLED screen and will be sports with speaker alongside on the top and bottom of the screen.
At about 3 inches diagonally, the Samsung Galaxy Gear smartwatch is quite large. Although its screen is square, large bezels on the top and bottom give it a chunky, rectangular shape, with rounded corners.
The color is fairly basic — dark black and grey, although it may be enhanced in the final version. The wristband is clunky and masculine, large enough to hold speakers in the clasp. It's not heavy to hold, but it dwarfed my tiny lady wrists when I tried it on. Women may instead opt for a Misfit Shine, which isn't a watch but is a small jewel-like button.
The smartwatch prototype has Bluetooth to connect with the Galaxy S family of smartphones and tablets, although it may also connect to all Android devices. It also has Wi-Fi for Internet access, including e-mail, even when it's not connected to a smartphone, but I didn't see that in action.
There is a 4 MP camera at the top to record the images as well as health data. There are shades of healthcare software installed and can be used to determine the nutrient content of a food.
Samsung Galaxy Gear can accept voice commands with S Voice application. Also available Bluetooth and wifi to communicate with other gadgets that can synchronize to a call from a smartphone smartwatch. Integration of media networks Twitter and Facebook are also available.
As known earlier, the Galaxy Gear battery can last for 10 hours. Unknown battery capacity used, but from the pictures it can be seen that the size is quite large.
In addition, here are some of the smartwatch's specs:
Samsung S Voice for voice commands
Preloaded with Android apps for social media, health tracking, etc.
Integration with a companion Galaxy S phone or tablet
An easy-to-use swipe function to access apps, the built-in camera, and the photo gallery
Call logs (A cool use-case: You can initiate a call from the watch to a Samsung smartphone device)
Internet access
Power button on the side
Social media integration — you can share to your Facebook or Twitter account from the watch
10+ hours battery life
And a few potential use-cases for fitness junkies:
While you're at the gym working out, the smartwatch can track your health data, including steps, heart rate, calorie intake.
You can measure your heart rate at any time via a built-in heart rate monitor.
The watch will help you devise the perfect workout — one of the first apps devised for the watch suggests workouts to help you lose weight, gain energy or tone up, for instance.
Track your food intake by taking photos of your meals — plenty of apps are already on the market that help you keep a food diary of sorts. What would be truly innovative is if Samsung could detect the nutritional value of food, based on a smartwatch photograph.
Here are some picture of Samsung Galaxy Gear, courtesy of Venture Beat: