HTC One Max leaked picture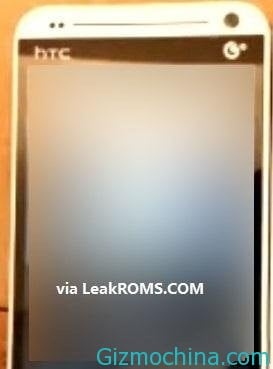 We've got the leaked picture of HTC One Max, this phone is enter the phablet category since has large screen size, this picture is posted by LeaksROM. it seems the HTC One Max is preparing for China Mobile and China Unicom subscriber, and support forfingerprint capability.
Mobile Spy Shots
Before this, the HTC One Max already has a real machine exposure, so this mobile version leaked is naturally the most attractive places in the top right of the screen moves G3 logo, which can not only prove the identity of the aircraft mobile version, but also a guide to future licensed three networks together and the rumors are not groundless. Simultaneously with Unicom customized version, mobile version of HTC One Max will also support dual sim dual standby function, and the ability to remove the rear cover and support for memory card expansion, but the battery was designed with a built-in, so users can not be replaced.

It is noteworthy that, according to the latest extracted ROM users information display, Mobile and China Unicom versions will also support the fingerprint recognition, but there is no more information on the functional aspects of fingerprint identification information is disclosed.
Equipped with Android4.3 system
Prior to this, the exposure of HTC One Max Unicom version control options in the drop-down shortcut to a "fingerprint" function, confirmed the existence of fingerprint recognition. In addition, through microblogging client test also confirmed the aircraft will be equipped with the latest version Android4.3 system, and also introduce a new version of HTC Sense 5.5 interface and added touch pen function, while the upper right corner on the shortcut control options, also increased the notebook button, users can edit their own content and order quickly.
As for the HTC One Max's hardware configuration, the rumor that the opportunity to have 2GB of RAM memory and equipped with 2.3GHz frequency Qualcomm Snapdragon 800 processors. As the camera is equipped with UltraPixel technical aspects and adding optical image stabilization, while the front lens compared with 2.1 million pixels, and added a two-way shooting.
In late September release
HTC One Max mobile version of the model TC 8088, rumors will be equipped with 5.9 inches FHD Full HD SuperLCD3 touch screen and has 3300 mA battery, and HTC is developing a protective sleeve, it will load 1250 mA battery. According to earlier disclosure statement, HTC One Max will have multiple versions for different markets. Among them, the aircraft's mainland licensed version will be launched for the three major domestic carriers, a common feature is support for dual card dual standby and memory card expansion capabilities.
Although it is unclear HTC One Max's exact release date, but according to foreign websites Mobile Geeks previously quoted informed sources disclosed that the news, HTC plans to launch in late September this year, this is called "Queen HTC One" cross- sector new machine.