Alcatel unveiled the new Pico projector dock for Alcatel smartphone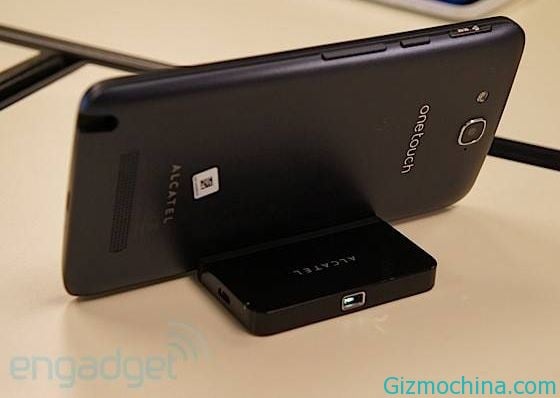 This week is a busy week for Alcatel. Since there is range series of new products introduced by the Alcatel. While there is a range of smartphone products, they are now also introducing additional accessories for Alcatel Android devices. The one of Alcatel accessories is a Alcatel Pico Projector Dock for Alcatel One Touch Hero smartphone.
By using the Pico projector, the Alcatel smartphone users can watch videos with a much larger display. 12 lumen pico projector is capable of displaying video or images at sizes up to 70 inches. With such a large size, most likely the displayed image will appear blurred.
That might work if you're sitting in the living room watching home videos or showing off vacation photos, but a brighter projector might come in handy for folks interested in giving business presentations on the go. Like the E Ink screen, the projector is designed to work with the 6 inch Alcatel One Touch Hero smartphone.
Unfortunately, these devices are still in a prototype. Alcatel has not yet decided whether they will release this pico projector on the market or not. And of course they also have not determined the price of this one.