The First Samsung Galaxy Note 3 Knock-off Arrive Earlier Than Original Phone
by Shine Wong Sep 8, 2013 8:35 am0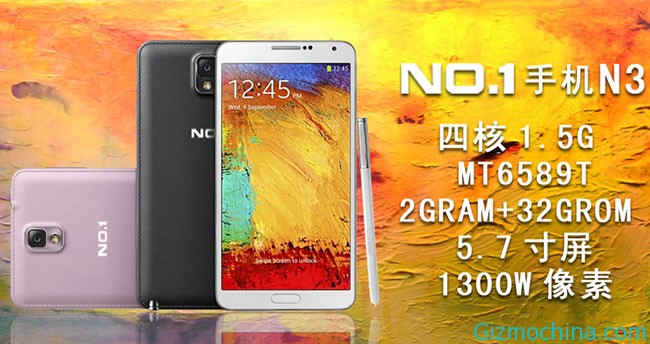 NO.1 N3 is the first Samsung Galaxy Note 3 copy phone, the factory unveiled the specification before the original phone launching. We have gotten news about the No.1 N3 phone's arrival date: NO.1 N3 will come at end of September, earlier than the original phone.
NO.1 N3 has same size like the original Samsung Galaxy Note 3 phone, it may share with original phone on battery, back cover, and all cases. This phone powered 1.5GHz MTK MT6589T quad-core processor, 2GB RAM, 32GB ROM, 5.7 inch screen, and 13-megapixel rear camera. The specification although is not good with original phone, but it is enough for almost all application, even some big games.
No.1 N3 is ready for pre-order on anybuying.com, only $249.99 with free shipping.