Motorola Moto X Developers Edition is available in two model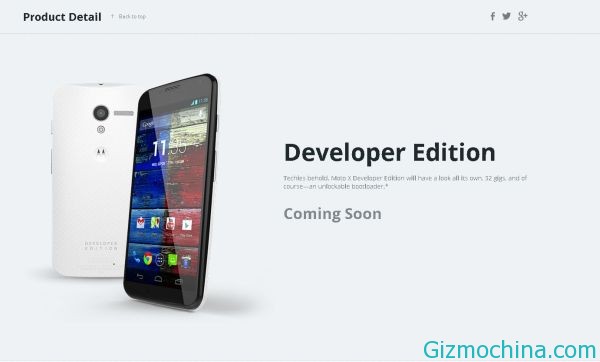 Along with the new Motorola DROID MAXX, Motorola Mobility reportedly also helped bring a special edition flagship smartphone, MOTO X Android smartphone for the developers aimed for the Motorola MOTO X Developer Edition.

As same as DROID Maxx Developer Edition, the new Motorola Moto X Developer Edition this also provides easy bootloader unlock ideal for a variety of developers development purposes. This is certainly not contrary to the statements of the previous Sprint ever mentions that Motorola Moto X there will be no issue of the developer.
This phone is also packs with the Super AMOLED capacitive touch screen that has 4.7-inch HD (1280 × 720 pixels) and a scratch-resistant coating protected Corning Gorilla Glass, while in the performance of the system performance is pounded looked rested on reliability dual-core processor Qualcomm Snapdragon ™ S4 MSM8960 1.7GHz Pro integrated with Adreno 320 GPU and 2GB of RAM.
Additionally, this smartphone running on Android 4.2.2 Jelly Bean has also been packed with 32GB of internal memory, and a 2200mAh Li-Ion battery that can offer durability up to 24 hours for single charges.
Motorola Moto X Developer EditionIndeed is available in 2 models. The first is a model that is marketed for Verizon starting today through Motorola's official online shop for $650 USD price per unit, while the second model is a GSM variant is still a "Coming Soon" and will go on sale tomorrow.