CarPad T6 phablet series brings 6 inch screen and 7.6mm body thickness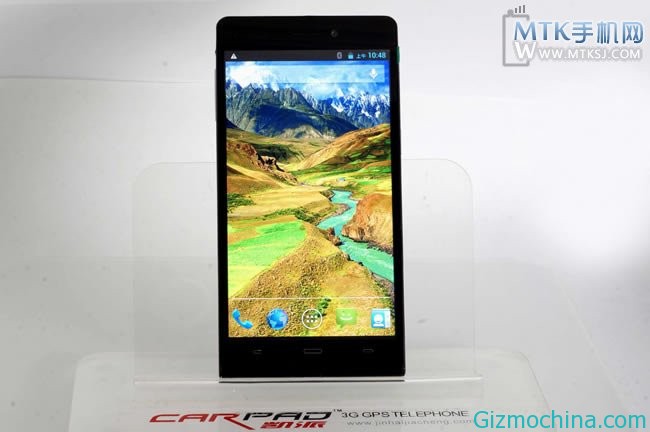 CardPad has unveiled their new CarPad T series smartphone, the new CarPad T6 smartphone is entering phablet device since packs with 6 inch screen size, while CarPad is also already releas 6 inch large screen Taichi series, CarPad sent recently released a new series of thin titanium TAB , namely CarPad sent T6/T6 S/T6 MAX and Kay sent T5 / T5 MAX, these two new products are equally take the big-screen, T5 series of screens up to 5 inches, while the T6 series has 6.0 inches screen size. Because both were using a variety of platforms evolved multiple versions for a total of five versions of smartphones.
CardPad titanium series has some biggest change in the appearance of process improvements, this machine uses tough shape, supplemented by metal frame, internal frame for the magnesium alloy material, the nice texture. Of particular concern is the two products with an impressive thickness, and support for removable battery, the T5 Series packs with 5-inch screen size and has body thickness is only 6.7 mm, using 2000 mAh removable battery, while the larger screen was packs with 7.6 inch screen size in the T6 Series, and the battery is 2800 mAh capacity.
Another T6 and T5 series has equipped MediaTek new quad-core MT6582 processor, and upcoming eight-core MT6592 processor, T6 and MT6589T quad-core version. Wahile the CarPad T5 is powered by MTK MT6582 1.3GHz quad-core processor, 5 inches 720P resolution full-fit screen, 1G RAM +16 GB of ROM, coupled with 5 megapixel front faing camera and 8 megapixel rear facing camera, the battery capacity is 2000 mAh. Evolved out of the T5 and T5 MAX is powered by MTK MT6592 eight-core processor, 2GB + 16 G RAM, upgrade to FHD resolution level, increasing the NFC and electronic compass.
CarPad T6 is using same MTK6582 quad-core processor, 720P screen, the memory is 1GB of RAM + 16 GB ROM combinations, there is also 2 megapixel front facing camera and 8 megapixel rear facing camera with dual speakers. Like T5, T6 and T6 S derived T6 MAX higher specification, T6 S is powered by MTK6589T quad-core processor, while T6 MAX is using MTK6592 eight cores processor, two versions are FHD levels, 2G RAM +32 G ROM memory, has dual camera, supports NFC, electronic compass, and Hall switch.
Here are a picture of CardPad T series Android phablet :