Short Review OPPO N1 smartphone with 13 megaixel rotating camera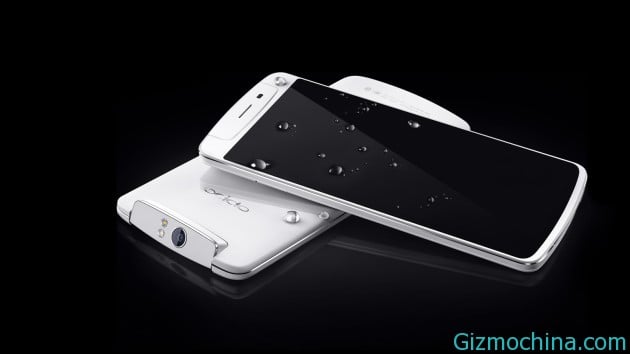 Last night, OPPO has been officially held the big event in Beijing, they has released its new flagship OPPO N1, the biggest highlight of the smartphone that equipped with a 13 megapixel rotating lens, which can support up to 206 degrees of rotation.
In addition it has 5,9 inch 1080P screen and powered by Qualcomm Snapdragon 600 processors. The back of the touch panel is also its innovation, but also introduced a O-Click portable remote control, and finally brought the Color OS, giving users a new experience. After the conference, PC Online has got the phone and make a short review about the phone.
Here are the brief specs of OPPO N1 Android smartphone :
OPPO N1 parameter

CPU
Qualcomm Xiaolong 600 1.7GHz Quad-Core
RAM
2GB
ROM
16GB/32GB does not support memory card expansion
Screen
5.9 inches IPS Retina screen 1080p
Capacitive screen, multi-touch, the back four-way touch (O-Touch)
Webcam
13 million pixels rotating lens (with pre-shared) F2.0 Aperture ordinary, panoramic, high-speed continuous shooting
OPPO jointly developed with Fujitsu chip ISP
Operating system
The Color OS based on Android 4.2
Battery
3610mAh (not removable)
Price
16GB: 3498 元
Configuration, N1 with a 5.9-inch 1080p screen and quad-core 1.7GHz Qualcomm APQ8064 processor, memory, 2GB RAM +16 GB/32GB combination storage space, equipped with a 5.9-inch 1080p screen (377 ppi), providing 3610mAh capacity battery. Although we can not say that is the top, but it has reached the mainstream high-end level, the performance is sufficient for the time being the new features and support for N1 to make it the basis for better experience.
Appearance – giant screen technology
OPPO N1 exterior design is taking the giant screen on the route, which has a 5.9 inches screen of the front cover basic through narrow frame technology, as far as possible in a certain area of ​​the body under control.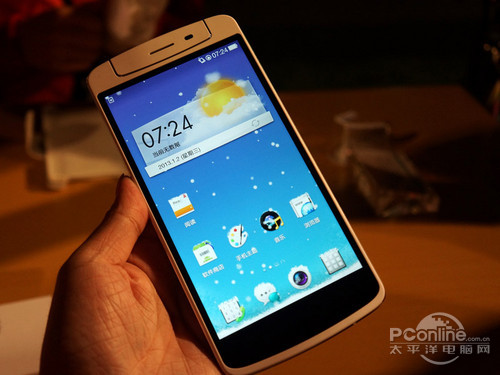 OPPO N1 is N-Lens first product (body thickness of 9mm, the machine weighs about 213g), although the screen is bigger, but the thickness of its operation a good grip to help.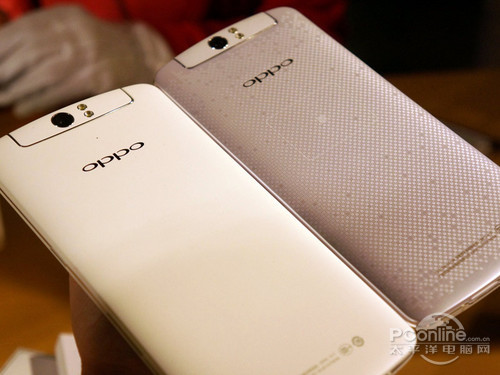 OPPO N1 panda color matching, the back is white, and the black front panel is wrapped with a white border. The back of the material for OPPO Find 5 classes on the use of the plastic skin texture, feel good. Also has another version of diverse textures.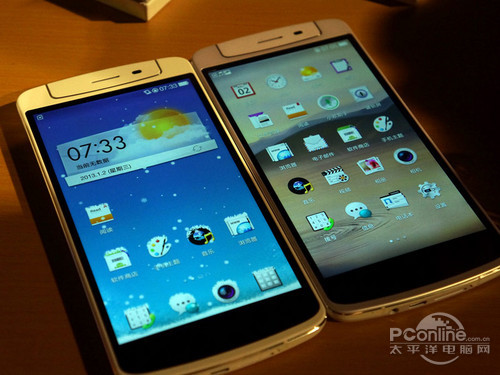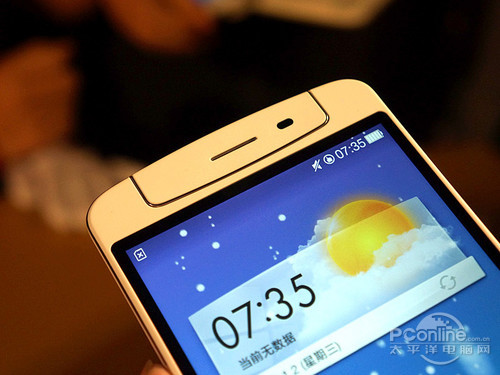 Can be seen, the top of the earpiece and the front panel is divided in this series of sensors, the actual top edge of the module gold silver is rotatable, which is the focus on OPPO N1 rotatable camera.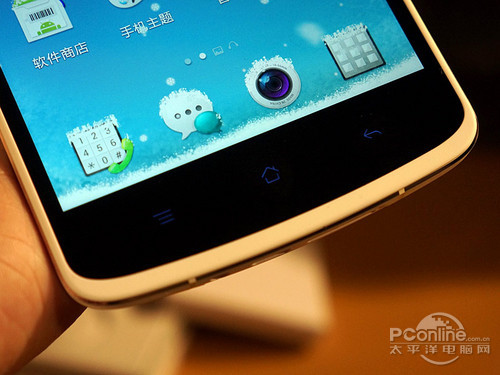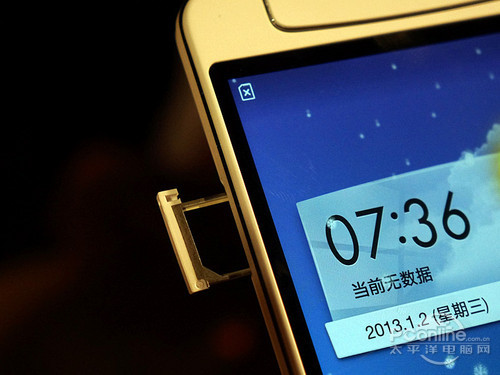 Using Micro SIM card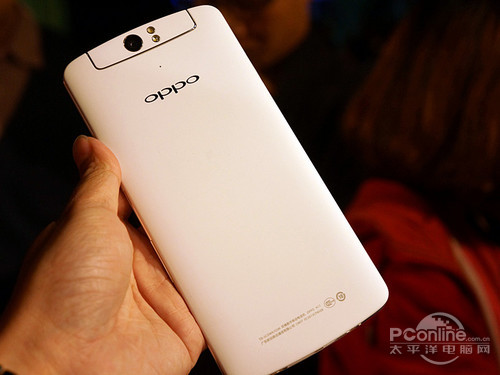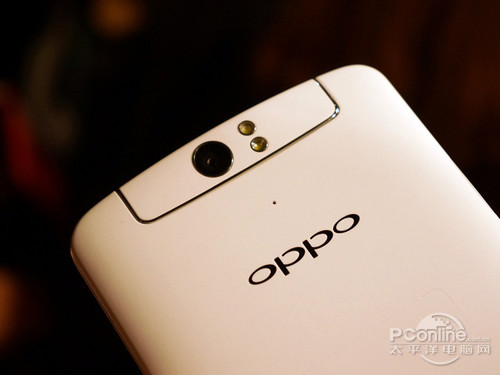 OPPO N1 is a big selling point is the camera, its built-in 13 million pixel rotating camera (front and rear rotating 206 degrees continuous rotation through 100 000 times tests), the aperture of f/2.2 Find 5 from the previous upgrade to f/2.0, the lens increases to 6, with 8 seconds slow shutter (0.6 seconds speed start the camera), built-in 3.0 and soft light beauty.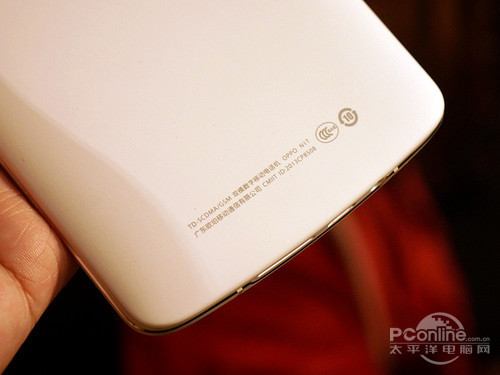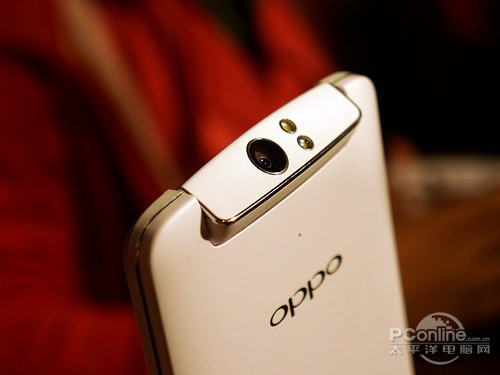 Camera module can be rotated, which can support up to 206 degree rotation, easy adjustment of camera angles, in addition to rotating the lens can also act as front camera function, this design appear more on the digital camera.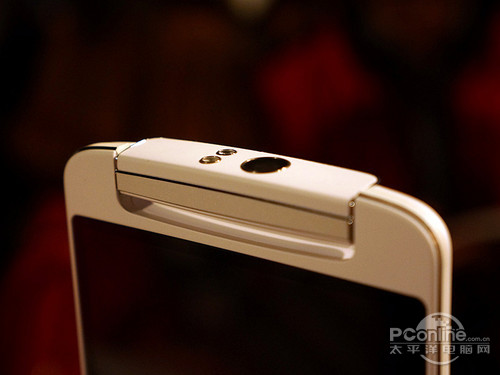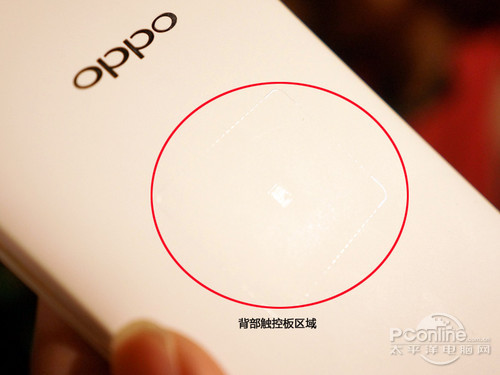 OPPO N1 solutions in the large-screen phone, the innovative design of the back of the touch. To allow users one-hand operation with 5.9-inch screen, N1, back adds a touch pad, called O-Touch, look books and other operations of its support, while the API interface would be open to developers, can be expected in the future there will be more and more applications to support the back-touch operation.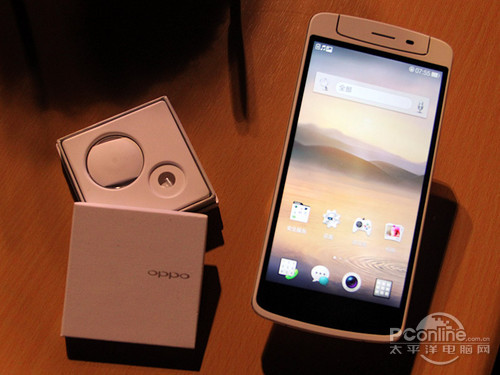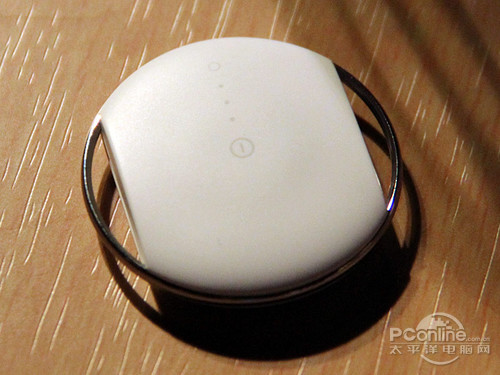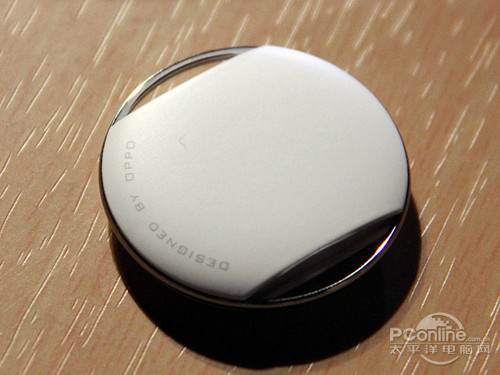 Conference, OPPO also introduced a soap shape of parts, which is called the O-Click portable remote control, and N1 connection, you can control the phone remotely, in addition it also supports more than 5 meters from the phone alarm functions.
Compare with OPPO Find 5
OPPO N1 has a 5.9 inches large screen, and is therefore the same door OPPO Find 5 (5 inches) comparison, is still a big circle. Width may not vary that much, mainly in length, N1 and Find 5 differences more obvious.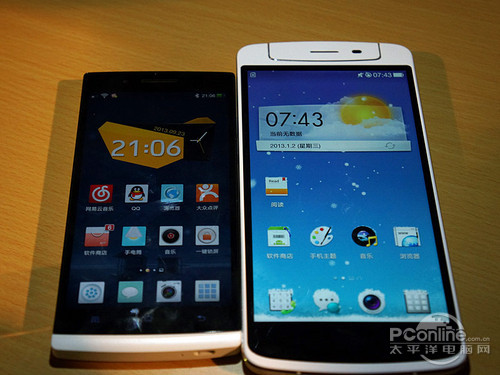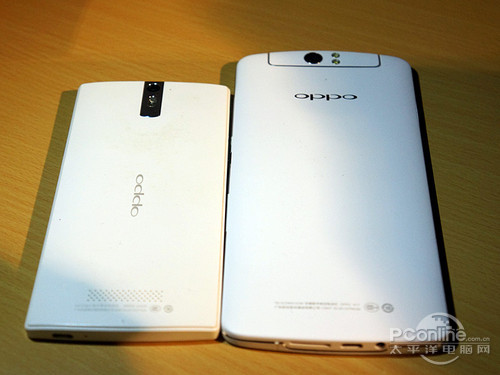 Back similar material
Both in the design of the back there are similarities, proximity to materials used, but also has a curved design makes users more comfortable grip.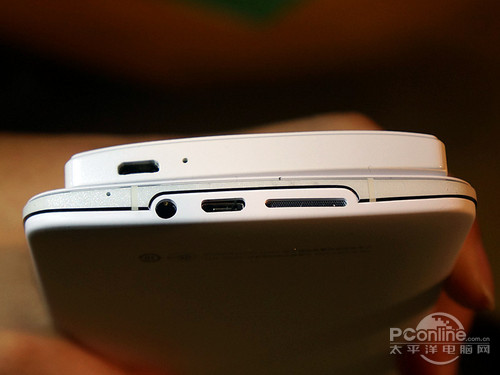 OPPO N1 interface basic distribution at the bottom, left to right 3.5mm audio interface, Micro USB interface with the long shape of the loud speaker.
Screen – 5.9 inches 1080P
Now more and more smart phone screen ,5-6 inches has become very common, while consumer demand for large-screen phone has become increasingly strong. OPPO N1 equipped with a 5.9-inch IPS screen with a resolution of 1920×1080 pixels current top, 16:9 screen ratio, PPI up to 373.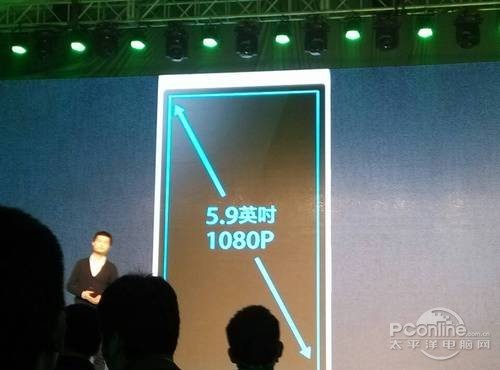 At first glance, huge screen full of our eye, with a strong visual impact. However, due to habit, we still see the N1 black edges and bottom of the screen virtual key area doing a little bit wide, invisible in the phone's overall size increases.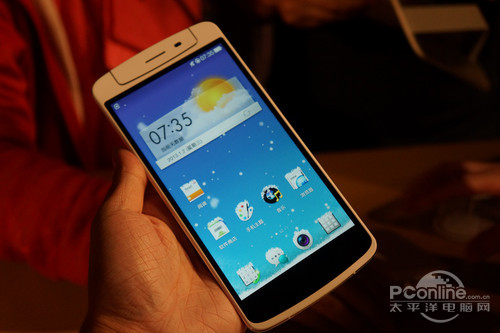 We took two OPPO N1 for the screen contrast, show effects are very natural and delicate, soft colors. Meanwhile, N1 at a low angle under low luminance and also achieved better screen viewing angle.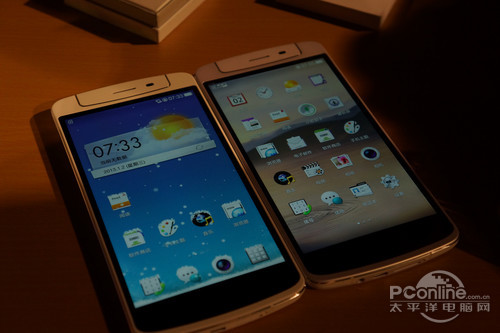 Of course, compared with the OPPO Find 5 because 1080P resolution are used, but the N1 screen than OPPO Find 5 full large 0.9 inches, pixels per inch a little something, in theory, the N1 screen does not OPPO Find 5 Fine . However, they are beyond the retina screen standards, it is difficult to distinguish visually almost out.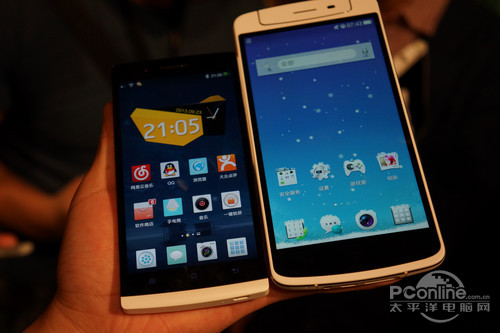 Color temperature, because the scene time reasons, we do not use pure white for testing, it is difficult to determine what is the difference between the color temperature of the screen. However, for particularly sensitive screen requires the user can try to replace the phone in the theme wallpaper, the background color through the wallpaper on the screen to make the appropriate amendments, the following black background and blue background is a very sharp contrast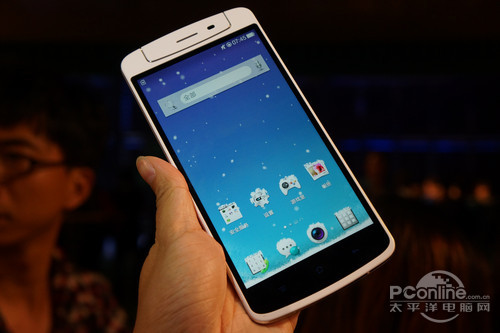 Overall, our OPPO N1-screen effect is very commendable, especially with the latest Color OS theme and design, but also enhance the visual effect of a grade. More like color reproduction, finesse, view pictures video screen test, please close look PConline mobile channel the first time offer a detailed evaluation of the real machine.
3 OPPO N1: Color OS Android 4.2 Top
System – Android 4.2 Color OS
According OPPO official said, OPPO is the only permitted access to CM ROM developers, CM is also personally responsible to the conference site friendship to help out. CM is the world's most famous a company focused on the system customization, Color OS lot of the design concept comes from the CM.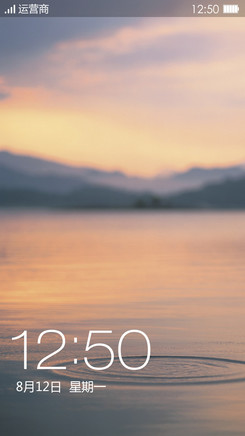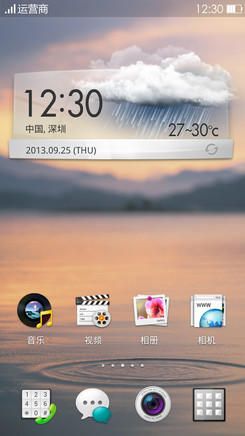 Back in OPPO Find 5 times, Color OS has been in the X909, R809T carried out on a number of models and beta closed beta, players get a lot of enthusiastic response. Today, OPPO N1 equipped with the new Color OS on stage.
This is equipped with Color OS should be named the official version, you can see the whole interface is more fresh and simple, a lot of icons redesigned. As can be seen, however, with the current flat style is different, Color OS still firmly take the materialized.
Color OS on the mood hit albums and music interface has also been preserved intact, which is different from other ROM, this ROM special, almost as OPPO's classic design.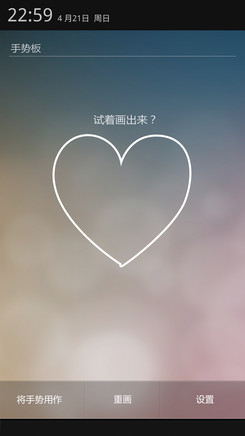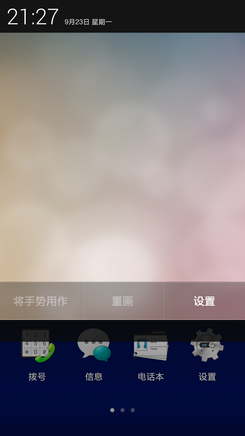 The system supports a number of gestures, of course, can use a password to operate, they are working in parallel, and without fear of painting is not accurate.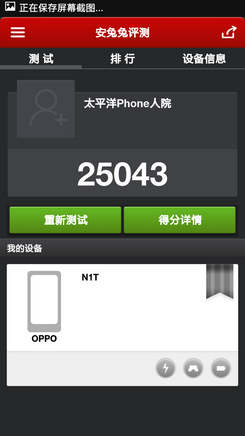 OPPO N1 Xiaolong 600 uses 1.7GHz quad-core processor, with 2GB RAM, 5.9 Inch 1080P screen with 13 million pixels around one camera, the overall configuration is still powerful. After our field testing, OPPO N1 in Ann Bunny evaluation version 4.0 to get a good score 25,043 points.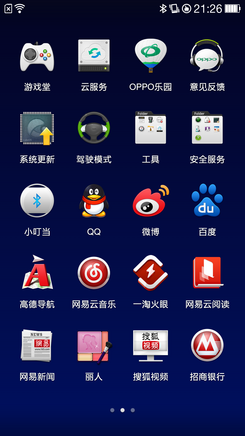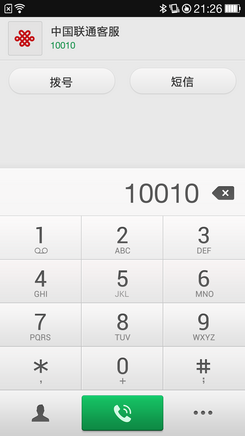 Of course, the new Color OS functionality features far more than those described above, such as the back of the touch function, yet to be real machine evaluation detailed answers for everybody again, or see our special introduction. Overall, we are on the materialized Color OS icon indicates very appreciated, in flattening the flying today, Color OS on the materialized unique.
4 OPPO N1: Official proofs Appreciation | Summary Top
Official proofs
Due to time reasons, yet the ability to conduct a detailed picture of N1 trial and evaluation, take a look at the official proofs temporarily until after the evaluation machine to take pictures we will conduct a detailed evaluation.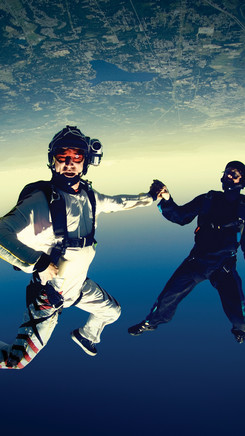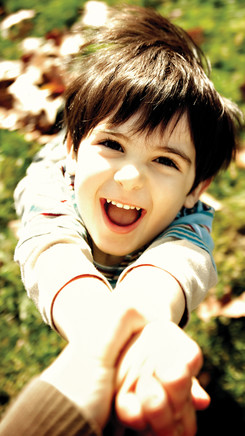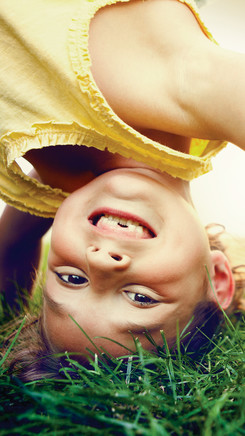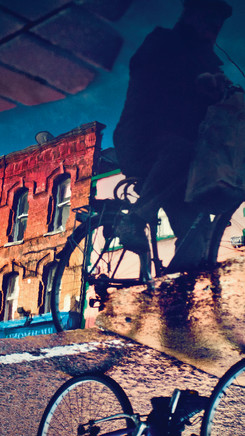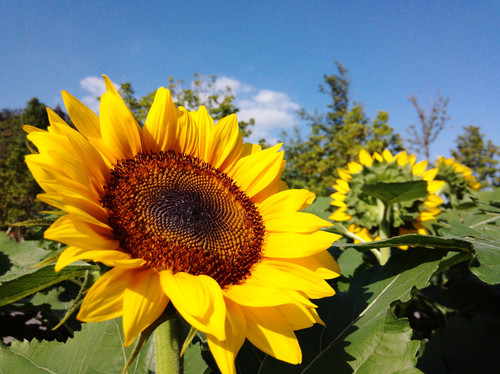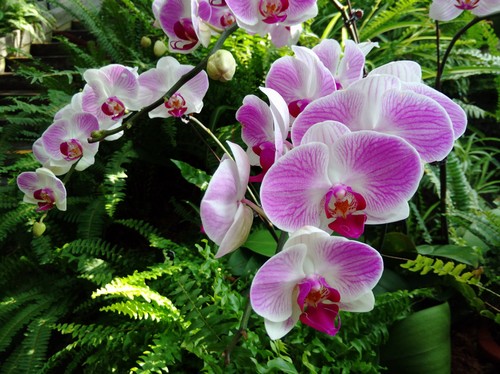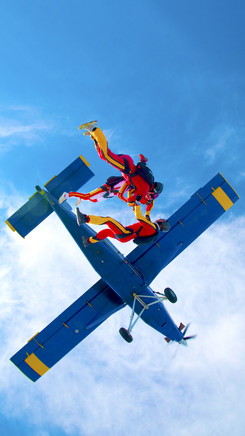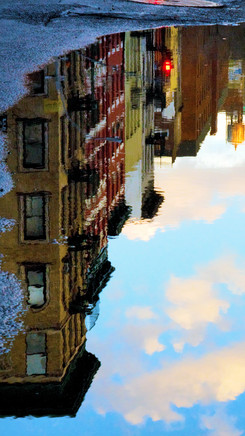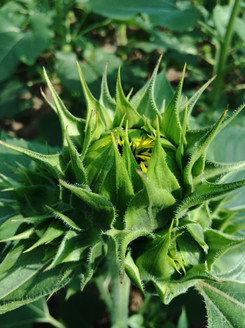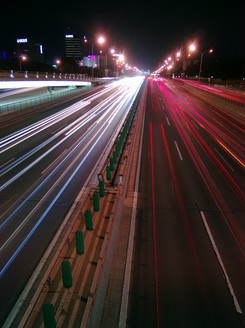 Summary
OPPO camp in the domestic mobile phone has been doing that do not follow the rotation of the camera can be described as its innovative location, and joined the back of the touch design, etc., which are declared with the OPPO focus on the user experience. We will arrive at OPPO N1 commenced after detailed evaluation room evaluation, interested friends continue to monitor.
You can choose the two kind of OPPO N1 smartphone for 16GB version or 32GB version of OPPO N1 Android smartphone.