OPPO: creative play + excellent quality = perfect "imaging system"
Today, there is many smatphone that embed with camera functionality, while OPPO is the one of domestic manufacturer is trying to compete in this area, since OPPO launch the new OPPO N1 Android smartphone as the one of camera-centric smartphone that ready to camera-phone debut this year.
We can found the smartphone products with camera-centric capability, HTC One as the first Android phone that packs with UltraPixel camera, while Samsung is also enter the camera phone market through Samsung Galaxy Zoom and Samsung Galaxy Camera, there is also Nokia 1020 and now we have OPPO N1 that came from Chinese manufacturer
This camera phone OPPO popular middle play into the hands of dedicated camera phones, OPPO also launched a flagship of the N-lens camera series, the first model OPPO N1 ; although N1 has pioneered many of the highlights features, but the price and other reasons, or We caught this product 's curiosity, so we have an exclusive interview after the conference from the OPPO product architect Miss Li Jie and OPPO N1 Product Manager Party magnificent lady.
Since most people are concerned about the problem is that price, naturally asked the first interview is the price issue; OPPO N1 price only beyond the last year as much as $ Find 5 500, also broke the domestic mobile phone called 3000 yuan gap . In fact, the author, the current domestic manufacturers of intelligent machines many excellent products, both from the process or system availability aspects of quality, even innovation, not weaker than first-tier international manufacturers. However, subject to long-stick people thinking that these products are always cultivate outstanding international manufacturers can not afford that kind of bargaining power.
Although the hardware is not a major component of the cost of OPPO N1, but N1 unique nano-injection + + Highlight C angle electrophoretic light edge technology, high-strength aluminum alloy + plastic PPS in the box to ensure the robustness of the overall product costs while also caused no a small pressure, so 14 Although it is impossible to achieve complex processes such as performance to attract the eye, but it is to ensure long-term stability of cell phone use backing.
Is it necessary to adopt outsole
HTC One from the beginning to the just released iPhone 5S are emphasizing outsole – that is, large CMOS problems, simply increase the number of pixels compared to a single pixel area increases to bring better picture quality. But this did not adopt this idea N1, still with a 3 megapixel Sony Exmor RS stacked 1/3.06 inch CMOS, this OPPO that their force in creating a complete "affect" from the lens, image sensor, image processor and so on all aspects of seeking balanced; though less large backing, but the software algorithms, ISP and lens, an update to a large extent comparable to the effect of the outsole.
For example OPPO mentioned N1 6P use of light into the lens can be increased from 90% to 98% improved, unique engine technology PI original painting on a lot in the algorithm optimized to obtain unparalleled color uniformity, make color reproduction more true and accurate.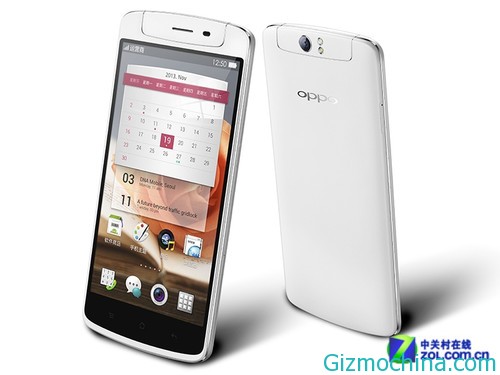 Subsequent N-lens series models Aspect
The as N-lens series, the first model, N1 rotating camera has let us shines on the series of subsequent models Aspect, OPPO also said they would follow the consumer's needs to continue to introduce image areas with innovative models; and does not rule out like Samsung S4 Zoom kind of high-powered optical zoom models.
Listed on the version and the problem
Our experience in the field to see the machines are TD version, for which we have learned from the OPPO aspects, OPPO N1 will compare the accident to the TD standard models listed first, followed by WCDMA version will be in about a month after the time listed. OPPO official website today with Tencent micro-channel version of the machine cooperation open early adopters reservation service, the official version of the model listed also need to wait for some time.