Baidu TV Stick first impression: Do not toss across screen integration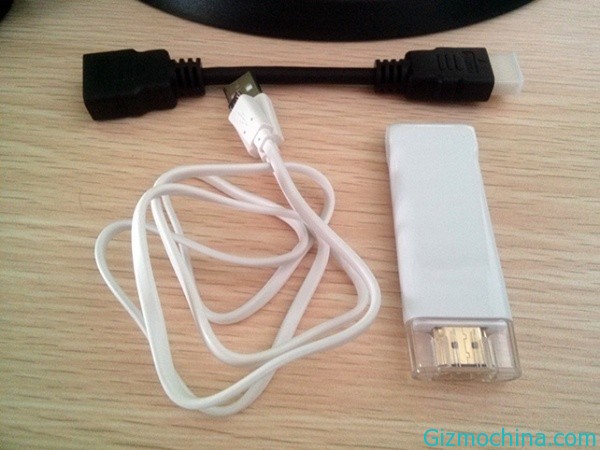 Baidu has been officially announced its Chromecast-like TV Stick Product Baidu shadow stick, Baidu shadow stick engineering prototype has been tested, the following article is showing the Baidu shadow stick on the preliminary evaluation. Overall, can be characterized as: simple and convenient and practical, but the function is to be extended.
In the prototype sent contains a Baidu shadow stick, an HDMI extension cable, a USB power cord. Jingdong Mall first official version of the package should also these things.
From the looks of it, Baidu shadow stick design glance, people will be able to see the product positioning, the body is only a HDMI port and a MicroUSB port. Like Chromcast as Baidu shadow stick can not be powered via HDMI, meaning that if you do not have a USB port on your TV, then use Baidu shadow stick will also be required to prepare a more power 5v 0.5A USB-powered devices (ie cell phone charger device).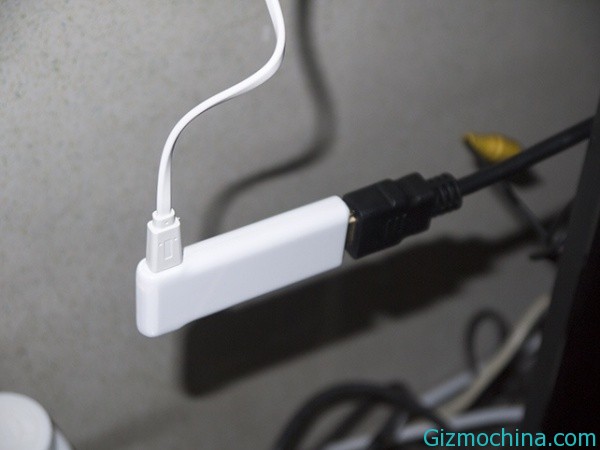 As presented HDMI extension cable is because most of the TV's HDMI ports are placed in the design of the edge of the RGB interface, RGB interface shadow projections would block the normal rod insertion.
Therefore, Xiao Bian home TV movie rods inserted Baidu look about like this. If so that it is not placed directly in appearance, but fortunately you can use these beam splitter behind a bunch of stuff tied to the TV.
Connect the USB cable on the power supply, the Baidu shadow stick will automatically boot, boot state power indicator, etc. will always appear white. After testing, even in the absence of plug HDMI port, your phone can still connect to Baidu shadow stick.
Had noted that the editors get only Baidu shadow stick is engineering prototype, so the appearance may differ from the official version there is a certain gap.
Manipulation interface articles & papers
Interface and manipulation is TV Stick \ STBs very important one design, at this point Baidu shadow rod system used determines the Baidu do not need to spend too much effort in this regard.
Because, Baidu shadow stick almost nothing "interface" or "control" at all. Baidu shadow manipulation rod completely relying on the phone side of Baidu App to manipulate video from video resources search, on-demand, volume adjustment and drag and drop movie schedule is in the mobile terminal or terminal Pad completed.
After plugging in Baidu shadow stick, Baidu shadow stick will automatically boot (no switch), boot time is about 30 seconds. After power on, the TV will be showing an interface that requires the user to download the mobile client Baidu video App. The download is complete you can manipulate Baidu shadow stick through the phone.
In other words, and set-top box products and selling on Taobao cottage TV stick, Baidu shadow stick in the end there is no independent television guides interface, all operations are inherited Baidu Video App own operations. Baidu Video App, the search is complete, if the phone is already connected with Baidu shadow stick, it will automatically start playing on the television, the phone will no longer display video contents.
In video playback, the phone can switch to another program shop and other things, in the switch back to Baidu Video App, they can stick through the top right corner of the icon quick access Baidu shadow shadow stick remote control interface, remote control interface can drag movie schedule, the volume can be adjusted, easy to operate even older white users can easily use.
In addition, Baidu shadow stick the first time you use it, the user will be asked to enter using a mobile phone near the WIFI password. After input finished, Baidu shadow stick will automatically connect home router. Baidu shadow stick with the phone connected, the phone is connected to WIFI hotspot Baidu shadow stick, but you can still switch to other applications normally access. Internet data should transit through Baidu shadow stick a bit, it will ensure the user can always manipulate shadow stick, but also in the process of watching films online brush microblogging.
Play online resources, as long as TV side to start playing, even if the phone is turned off you can continue playing. If you are playing local video phone, you need to phone or tablet with Baidu shadow stick always stay connected.
Although Baidu shadow stick to the official propaganda based on the Android system, but in practice did not see the shadow of Android can not be directly used to install the application or the Internet. Android should only exist as the underlying operating system, the upper has been completely customized to Baidu shadow stick proprietary services.
Resource articles & Play papers
Speaking of television, the content is the core of the problem. Xiao Bian is one that has at least five years is not how people watched television, the main reason is that the TV does not want to see the content.
Has been said before, Baidu shadow stick operation is fully relying on Baidu Video App, so Baidu shadow stick resource = Baidu Video App resources. And other various video sites each doing different, Baidu Video App is actually a video search engine, background, relying on the Baidu search, not only be able to search their own content source love Fantastic Art content on Youku potatoes, Sohu, music television, Tencent , CNTV able to search the contents of all of the.
Shadow stick on the connection Baidu, Baidu Video App will be more of a shadow on the rod channel, the contents of which are suitable for the TV screen high-definition video, and loading speed are good.
Directly from the Internet to search for other content source video quality by the content source's own server speed and quality of good and bad. For example, the "Covered day family", for example, small test network environment that Beijing Unicom 100M optical fiber. From the music, as the source of genuine watch this film, the picture quality is very low in the 42-inch 1080P TV is basically a full-screen mosaic, but there is a very serious Caton. But the same episode content, but also be able to find high quality and smooth playback of other sources.
Pictured on official sources, the next picture shows the wild source, this figure can click to enlarge
Overall, the various exclusive drama are required to have various members of the site to see the video HD, so genuine source of loading speed and picture quality is generally lost to piracy sources.
Miscellaneous

I do not know the reasons for the engineering prototype, shadow rod heat a little bit big, but fortunately not the phone is not held by the hand so nothing.
Local video playing time, if the phone and shadow stick farther away from the phone itself or WIFI communication module may have resulted in poor quality Caton, in the process of playing basic phone does not heat.
Before Propaganda as described in "offline download" function does not now appear in the Baidu Video App, Baidu Video App, the existing "offline download" function refers to video download to your phone rather than downloading to a shadow stick li. But this should only stage software also did not follow up, otherwise the built-in 4G ROM can not be used to.
Since the built-in 4G memory, shadow stick is Android system, might as well stick in the built-in movie chase drama feature. Mobile client wants to chase drama set to update automatically download the user home directly see the effect is not better?
Overall, Baidu shadow stick is still a very useful extension does not toss the fourth screen hardware, and found the chip artifact Baidu Video App combined with the depth it can have plenty of video resources without having to worry about looking for the user with a data cable, transmitted to the memory card, above. For Xiaobian want to download this lazy film on the big screen otaku is very appropriate. In addition, if the family elders are already using smart phones, but do not want to teach them to use the same smart appliances, then Baidu shadow stick is also very appropriate. If you can not toss a basis, and then add some user-friendly features (such as offline chase drama) would be more perfect.