The new ZTE Geek come with Tegra 4 processor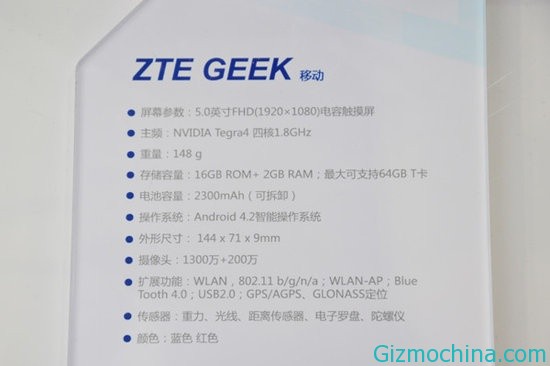 Back to July this year, there is the events of China International Communications Exhibition, on that events, ZTE has officially released the new TD smartphone ZTE U988S. And two months later, ZTE is released the Unicom WCDMA version, ZTE Geek.

The new ZTE Geek is comes with Tegra 4 processor, and the ZTE Geek in appearance did not change too much, it still uses Android phone design, the rear part of the use of metal sandblasting process to create and use a one-piece design, the phone completely wrapped around the edges, But at the same time can be achieved demolished to facilitate the user to replace the battery.
Compared to the previous equipped with Intel ATOM Z2580 Unicom version of the dual-core processor, the mobile version of ZTE Geek replacing the latest Nvidia Tegra 4 quad-core processor speeds up to 1.8GHz, Cortex-A15 architecture based on 28nm process technology, and featuring a new generation of new graphics processor.
In addition, ZTE Geek upgrade version is packs with 5 inches screen with 1920×1080 pixel full high-definition screen, equipped with a more powerful 13 megapixels F2.2 large aperture main camera and a 2.0 megapixel front facing camera. The system is based on Android 4.2 Jelly Bean operating system.
As the first NVIDIA Tegra 4 processor equipped in mobile phones, ZTE Geek is offers with more affordable price and cheaper than Xiaomi, the ZTE Geek is offers with only 1,888 yuan or around $308 USD. It is reported that the smartphone will be available in Jingdong Mall.