Xiaomi is ready to release new smartphone on October 15th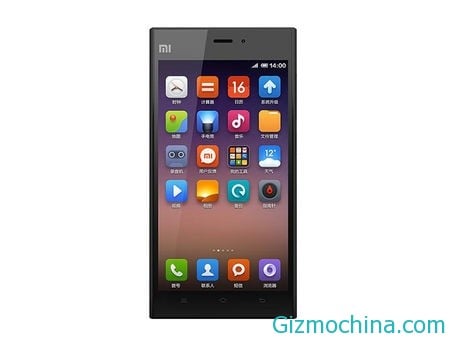 Xiaomi Mi3 smartphone and Xiaomi TV will be determined prior to the first round on October 15 open purchase. However, the bad news is that Xiaomi will not using Snapdragon 800 processor yet, perhaps looking forward to China Unicom and China Telecom version makes users feel disappointed.
October 15 open to buy
Xiaomi Mi3 smartphone previous officially released although of concern, but the official did not announce the specific aircraft market. And now, co-founder of Xiaomi Liwan Jiang is released microblogging confirmed with Xiaomi mi3 and Xiaomi TV together, in the first round on October 15 open purchase.
However, Liwan Jiang did not disclose in the first round of microblogging Xiaomi Mi3 and Xiaomi TV open purchase a specific number. But based on past experience, the number should not be many, this means that users like Xiaomi 3 when they need to buy a way to buy their favorite handset.
Snapdragon 800 version has not yet mass production
It is worth mentioning that, for the users questioned Xiaomi 3 is the first release with Qualcomm Snapdragon 800 processor, but the facts are not listed. Xiaomi, co-founder and vice president Zhou Guangping in the microblogging responded, according to his statement: "Qualcomm 800 is chip series, there are several on the market today with a Qualcomm 800 cell phone is Qualcomm 8974 chip, followed by has its upgraded version 8974AB (once called 8974Pro). Millet decided to simplify the product, give up 8974, directly on the 8974AB, please carefully read through the contents of millet three conference currently Qualcomm 8974AB not mass production, so a small meter through 800 mobile phone nor mass production. "
Thus, in the mass production of high-pass 8974AB not yet the case, with the processor Unicom and China Telecom version of Xiaomi phone 3 listed for sale nature of the question, and also to some extent, also indicates that these two versions may be later than We expect that the time-to-market. It is reported that Qualcomm 8974AB Qualcomm's GPU performance compared to a significant improvement in 8974, especially the reach 158.4 GFLOPS performance is beyond the same level of product from other manufacturers.
The latest early next year
According to informed sources previously cited from Xiaomi microblogging internal sources said, China Unicom and China Telecom version of Xiaomi 3 will be on sale in November, it is expected that it will also adopt a limited approach to sales. However, insiders disclosed that Snapdragon 800 processor with Xiaomi 3 capacity may be limited, the real mass production probably have to wait until early next year.
Therefore, the combination of millet official had been confirmed by the processor Qualcomm 8974AB saying mass production yet, which means the telecommunications network to support China Unicom and millet 3 rumors in November than our market much later, but does not rule out the sale and the use of early millet limited possibility for preheating means.
Currently, Xiaomi 3 phone has a Qualcomm Snapdragon 800 and NVIDIA Tegra 4 versions of the two processors, the former support China Unicom's WCDMA and China Telecom's CDMA2000 network, and Tegra 4 versions of the exclusive China Mobile's TD-SCDMA network. It is reported, 16GB version of Xiaomi 3 price is still 1999 yuan or $326 USD, while the 64GB version is priced at 2,499 yuan or $408 USD.