Short review of TCL Hero N3 Android smartphone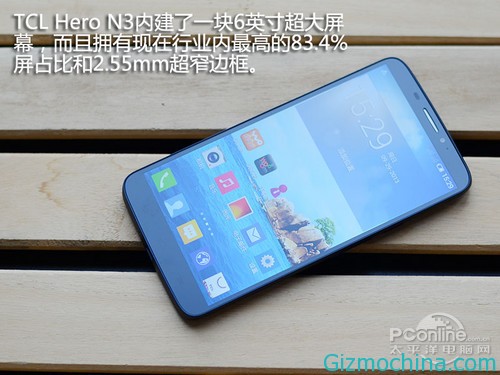 TCL is the one of Chinese phone that reecntly release the new flagship smartphone for domestic market, this phone has good design and eye-cathing through the latest release of its flagship quad-core phone TCL Hero N3.

While the TCL Hero N3 has been appear since last August, but TCL is now ready to officially released to the market with ships 300 million unit for the first batch.
TCL Hero N3 hardware configurations are basically using the existing mobile phone top-level configuration. TCL Hero N3 powered by MediaTek MT6589T quad-core 1.5GHz processor with 2GB of RAM and 16GB of ROM, this phone is not support for memory expansion.
The screen is 6-inch with 1080P Full HD display, as you can see on the picture,the six inch screen si the biggest screen size for smartphone and this phone entering the phablet category which reaching 83.4% is the display but the this phone is also has ultra narrow design with only 2.55mm frame, this phone is also packs with 3,400 mAh battery capacity and support for dual card dual standby.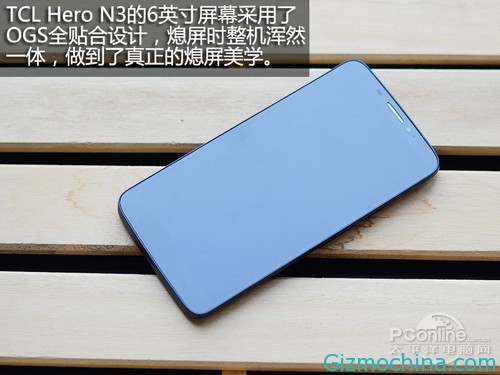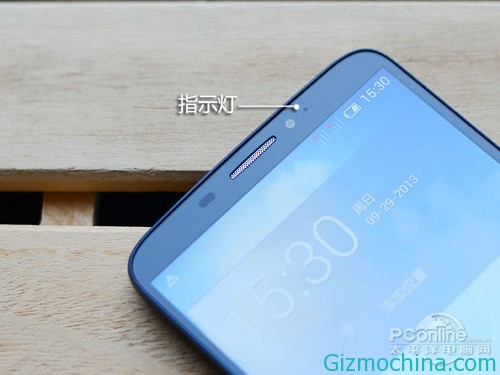 The TCL Hero N3 bright spot is that the overall appearance of the screen. TCL Hero N3 uses a 6-inch screen, using a 2.55 mm ultra-narrow frame design, the whole matter is left, or up and down the border are designed to be very narrow, so the screen can be achieved now the industry accounted for the most outstanding 83.4% than the present one another ultra-narrow border design of LG G2 accounted for 81.9% of the screen is even higher, on the border but also narrow lot. So the whole perception of good, and the screen also features a full-bonding treatment OGS, put out the black screen when the machine was seamless, texture looks extraordinary. High proportion of the body panel in one-handed operation will be more easy, does not seem particularly large.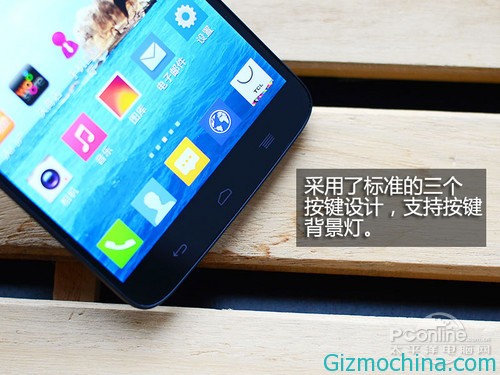 I believe that a large-screen smart phone users love and hate it. Advantage is the ability to bring more outstanding visual experience, but also operability hit a discount. The TCL Hero N3 built a 6-inch screen, coupled with ultra-narrow frame, visual perception is very good, but then the phone one-handed operation, the pressure is still very large, finger cover only half the diagonal screen, I believe both hands experience will be even better, fingers can also be liberated.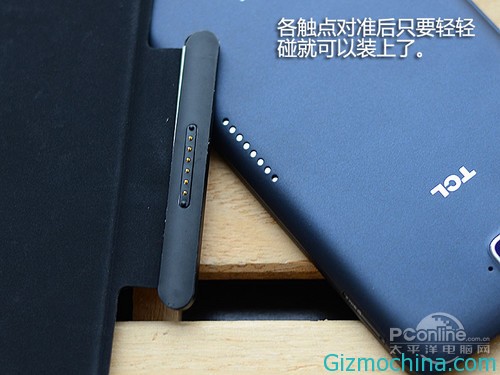 This is the connector between Smartphone and flip covere accessories that can be displaying the information through the cover
In addition there is two powerful holster outside, TCL Hero N3 also equipped with a TCL BP60 Bluetooth phone, the role of the Bluetooth phones and HTC Butterfly mini is basically same, and connect your phone via Bluetooth, you can use TCL BP60 to make phone calls, send text messages and so on.
TCL BP60 whole body is very small, very convenient to carry, if you feel TCL Hero N3 body too large, with TCL BP60 to operate the mobile phone is also a very good choice. The shape is like a traditional device, equipped with a 1.8-inch LCD screen, with a squared keyboard.
To pairing this device is very simple, you can just press the pairing button and both device will connect automatically. Through this device, you can making a call, send SMS, access to contact list and music player, TCL BP60 can used as a remote or companion device for TCL Hero N3 Android smartphone.
6 inches 1080P screen
On the screen, TCL Hero N3 reached the current top-level configuration. Built a size 6 inch IPS screen, using a 1920×1080 pixel full HD resolution, but also uses a single glass all OGS lamination technique, 2.55 ultra-narrow frame, accounting for the entire screen, the top level now , up to 83.4%.
Reduction in the RGB color display, TCL Hero N3 also showed a high level, the three colors are very accurate, color is not obvious.
In the above can be seen in front of the display, with full HD resolution and full-fitting design of the TCL Hero N3 usual screen performance is excellent vivid colors, the color transition is very natural, and high-resolution screen is also characterized by fine manifested.
In viewing angles, TCL Hero N3 performance is very eye-catching, side look at the screen brightness is sufficient, each angle viewing screen is also no obvious color cast, color and positive restored as accurate as the viewing angle is very large.
Zoom in 100% detail can be seen in the figure, with a 1080P screen, 367PPI the TCL Hero N3 is also very obvious advantages, the edges of the text is fine, there was no obvious jagged sense, the text display is very delicate, the general view, then, perception is very good.
In addition to excellent offscreen, TCL Hero N3 hardware is up to the level of domestic flagship smartphone. MT6589T equipped with a quad-core 1.5GHz processor, also equipped with a mainstream 2GB of RAM and 16GB of ROM.

TCL Hero N3 hardware information

Master Lu run sub 17680,15533 points

An Bunny ran sub 14 812 points

Vellamo 1491/595 min, 5-point touch screen support

Linpack 69/123MFLOPS
Nenamark1 57.5fps
Nenamark2 28.1fps
From the above situation, running points, TCL Hero N3 actual hardware performance is relatively good, the flagship now reached the level of domestic quad-core phone, whether it is everyday applications, or large games and software, TCL Hero N3 are all up and running handy.