Review of OPPO N1 with 206 degree rotating camera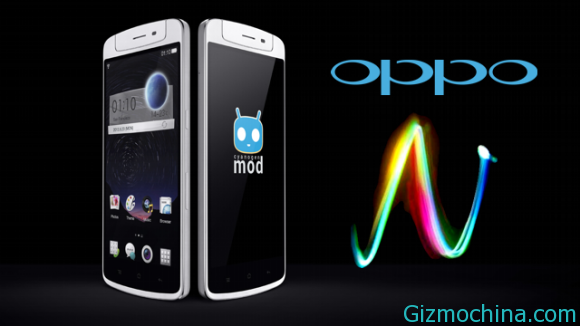 Today smartphone is not only using for makeing a call, few smartphone manufacturer is now built the camera-centric smartphone, in 2013 we can find the smartphone that embed with high-quality camera on smartphone, such as Sony and Nokia that offers the 41 megapixel camera and 10 times zoom, the one of Chinese smartphone maker, OPPO is also entering this market through OPPO N1 camera-centric smartphone but the interesting point is the camera is very unique since has 206 degree rotating camera in the top of th screen.
While some smartphone manufacturer is embed their products with two camera module, in front and rear body, the new OPPO N1 has one camera but those camera can rotate and used as front facing camera or rear facing camera as you wish. The OPPO N1 camera can freely rotate for multi-angle shot.

The OPPO N1 is also built with Color OS, their own OS for interface, the smartphone back cover or rear body can be used as touch operation or we called as trackpad. While this phone is also packs with O-Click remote control for operating the smartphone including to take a picture as shutter button, this accessories can be use as remote cotrol to playing several games, this accessories is the unique device for OPPO N1 and good selling point for consumer.
OPPO N1 (16GB mobile version)
The main screen size
5.9英寸
The main screen resolution
1920×1080像素
Phone Size
170.7×82.6x9mm
Operating system
Color OS(基于Android 4.2)
CPU Model
高通 骁龙Snapdragon APQ8064
GPU model
高通 Adreno320
RAM capacity
2GB
ROM capacity
32GB
Battery capacity
3610mAh
Pixel rear camera
1300万像素
Aperture
f/2.0
Photo effects
美颜3.0,美淘,美妆,慢速快门,全景拍摄
5.9 inches super slim body design
OPPO N1 is packs with 5,9 inch screen size, although the body is only has 6,7 inch thicknes. While some smartphone manufacturer is built the large screen smartphone, Samsung Galaxy Mega, Sony Xperia Z Ultra and ViVo Xplay, the OPPO N1 offers the 5.9 inch screen, this size is the ideal size for most smartphone that fit in the hands and pocket.

OPPO N1 smartphone

OPPO N1 using  5.9-inch large screen size, with 1080p resolution and IPS technology
Compariosn the OPPO N1 Android smartphone with several other mainstream six inches screen smartphone:
| | | | | | |
| --- | --- | --- | --- | --- | --- |
| Product Name | Samsung Galaxy Mega 6.3 | Samsung Galaxy Mega 5.8 | Sony XL39h | HTC One MAX | OPPO N1 |
| The main screen size | 6.3 inches | 5.8 inches | 6.44 inches | 5.9 inches | 5.9 inches |
| Phone Size | 167.6x88x8mm | 162.6×82.4x9mm | 179x92x6.5mm | 164.5×82.57×10.29mm | 170.7×82.6x9mm |
| Phone Weight | 199g | 182g | 212g | 217g | 213g |
| Battery capacity | 3200mAh | 2600mAh | 3000mAh | 3300mAh | 3610mAh |
Aluminum body
In addition to the screen, OPPO N1 covered with bone material as the battery cover unibody design and the battery is non-removable, but the body is slightly curvature that fit in the palm and also has good design; particularly worth mentioning is that similar to the matte texture of the material is still very smooth. To keep the body strong OPPO N1 also uses a high-strength aluminum alloy frame connecting the screen and the battery cover, while the middle of the board to form a protective; The silver material in the midle of body is look elegant and make the design look awesome.

OPPO N1 is using unibody deisgn and non-removable battery


Power button and volume button

OPPO N1 body with two Aspect, of course, this is also directly related to its function; first is the 206 degree flip camera, this is the first Android smartphone that packs ith single rotating camera.
Furthermore, in order to facilitate large screen one-handed operation, OPPO N1 3x4cm opened up in the back of the touch area, finger click on this slide or long press can quickly open applications, cameras , slide pages and other functions
While on the bottom of the body is speakers, microUSB port and 3.5 mm headphone jack and microphone.
As we mention before, the OPPO N1 smartphone is packs with O-Click as accessories, this is the remote device for smartphone that can be operate in 50 meter away from main device.
While this O-Click accessories is the small stuff but  this device is very brilliant, you can control the phone while you take a picture, wtaching the movie or playing the games
Dynamic full of the materialized Color OS
The OPPO N1 is using Color OS, this is the software inside the device above the Android operating system, the Color OS bring new visual design, that very intuitive and user friendly, this COlor OS can offers the basic fundtion to interact between user and the device.
The default lock screen to flip, of course, in the "My Theme" which is free to choose other ways or online lock screen style.

OPPO N1 notification bar

Color OS is still quite Aspect top notification bar, it will notify the original column into two, down from the left will open a brand new feature "gesture panel", and fell from the right side will open the familiar Android notification bar . "Gesture board" similar to a fast start screen, pull down the screen after drawing a custom gesture can open the relevant application. If your application too much, or the icon is not good to read, this is definitely a convenient way to open the common good of APP.
The right half of the Android notification bar touches with the native system is not much difference, of course, in addition to the five permanent fast switching, the drop-down slider can also open more choices.
As for the icon design or biased in favor of quasi-physical style, which is also native for many applications were re-drawn icons, such as the commonly used microblogging site.

Color OS redraw third party APP icon
OPPO N1 which added a lot of dynamic effects, such as the weather in the main screen interface, the SMS interface, and an interface such as alarm clock is also designed to become a turntable way, inside and outside are used to switch the hours and minutes; background transform is used to match with your desire/mood.
In addition to pre-installed third-party applications, OPPO N1 also built a lot of their own proprietary applications, such as OPPO Find 5 will have a "driving mode" to upgrade to carry the tachograph application; while NFC capabilities with numerous payment applications combination is one of the highlights, the content we will also open up at a later review article for a special trial experience.
Touch and gesture

"Big screen" is something people happy and worry, there are many pros and cons about the large screen smartphone. In addition to the original "one-handed mode" idea, the OPPO N1 is using the different approach.

Back of the touch area
The secret is in the back of the 3x4cm touch area on the rear body, when the finger touches here, you can start the touch operation. You can double-click this area to open the camera (or other applications), left and right slide switch tabs, slide up and down to scroll the list.
You can setup how to operate the phone using the touc area in option setting.
Video formats
Multimedia is the one of OPPO's strengths for selling point, whether it is produced in high-end OPPO Blu-ray player or recent exposure of flat headphones are illustrated with the advantage that it will be ported to the phone 's ability. OPPO N1 has DTS-HD and Dolby Digital Plus (DolbyDigital Plus) sound technology, although only at the bottom of the fuselage single speaker, but to create a surround sound effect is quite shocking.


OPPO N1 external speakers
OPPO N1 of Color OS uses a white vinyl music player interface, the main buttons with a white minimalist design, dynamic visual interface record good results. Resources is also integrated Baidu online music, it is worth mentioning that provides Baidu Music VIP users can have high-definition area.

OPPO N1 and online music player interface
The music player is using sliding interface designed for interact with user, you  can switch to the song being played from the list; the upper right corner represent a small function keys showing the information about the music and artist.

Music recognition feature and sliding interactive music
OPPO N1 also integrates Sohu video as video online content providers, combined with the local video; For Sohu video content we will not introduce more in the local decoding tests, the OPPO N1 can playing 1080p video quality without problem.
OPPO N1 Multimedia is offers a nice video experience
OPPO N1 206 degree flip camera resolution
The OPPO N1 camera is the great camera to take a picture or video, since this phone lense is packs with 13 megapixel CMOS sensor from Sony
OPPO N1 uses Sony's 13 million stack CMOS sensor, CMOS size 1/3.06 inch; This lenses is great for taking a picture in low-light environment or taking under bright ambient light surrounding the emergence of violet effect; This lens is also line with the resolution of 2300, compared with 2100 on OPPO Find 5.
206 degrees of freedom to stop rotating camera

Through the rotating camera on OPPO N1, this feature offers the flexibility to take a picture, no matter with front or rear position, this camera is offers the same resolution for user.
However, the use of the evaluation machine we got there a little lack of focus, just open the moment the camera can autofocus camera, and turn the framing process can not auto focus, you need to manually re-focus. When the camera turned into a front angled self-timer mode the moment, but also to turn on the AF – that is such a lack of continuous recovery coke during the rotation function.

Soft light / video beauty Support
OPPO N1 has upgrade the camera from previous model, the flash has also added more innovation

OPPO N1 beauty mode / slow shutter function
In addition, N1 is also has a slow motion to tkaing a picture, this means that this phone is offers the DSLR camera ability, and you can take a light picture or we called as "light grafitti" picture using Creative Light shooting mode.
13 megapixel camera

Here are some example picture that taking by OPPO N1 camera.

Focal Length: 5mm Aperture: f/2.0 ISO Sensitivity: 83
Exposure time: 1/20 Exposure Compensation: 0EV White Balance: Auto

Focal Length: 5mm Aperture: f/2.0 ISO Sensitivity: 78
Exposure time: 1/20 Exposure Compensation: 0EV White Balance: Auto

Focal Length: 5mm Aperture: f/2.0 ISO Sensitivity: 66
Exposure time: 1/33 Exposure Compensation: 0EV White Balance: Auto

Focal Length: 5mm Aperture: f/2.0 ISO Sensitivity: 52
Exposure time: 1/20 Exposure Compensation: 0EV White Balance: Auto

Focal Length: 5mm Aperture: f/2.0 ISO Sensitivity: 50
Exposure time: 1/250 Exposure Compensation: 0EV White Balance: Auto

Focal Length: 5mm Aperture: f/2.0 ISO Sensitivity: 60
Exposure time: 1/111 Exposure Compensation: 0EV White Balance: Auto

Focal Length: 5mm Aperture: f/2.0 ISO Sensitivity: 52
Exposure time: 1/111 Exposure Compensation: 0EV White Balance: Auto

Focal Length: 5mm Aperture: f/2.0 ISO Sensitivity: 50
Exposure time: 1/1000 Exposure Compensation: 0EV White Balance: Auto
OPPO N1 is sports with Qualcomm Snapdragon 600 quadcore processor that running on 1.7 GHz clock speed, packs with 2GB of RAM and 16GB of internal storage.

Snapdragon 600 SoC architecture (images from Qualcomm's official website)
Performance tests from appendix which can be drawn, OPPO N1 got 20,005 score points
Review summary:
OPPO N1 is definitely a fantastic device as it becomes the first smartphone/phablet comes with a rotating camera. The OPPO N1 is a thin and huge device with a special rotatable camera that on par with most of the leading phablet on the market.
The rotating camera of OPPO N1 is wonderful but it will turn into a woeful camera. The OPPO N1 is a flagship smartphone but its processor isn't the best in the market. The Snapdragon 600 is a good processor but Snapdragon 800 and Tegra 4 are even better. Just wonder how come OPPO Mobile did not use either one in the OPPO N1.
The OPPO N1 has a 5.9-inch full HD 1080p display with 373 ppi. It is powered by 1.7GHz Snapdragon 600 quad-core processor, Adreno 320 GPU and 2GB of RAM. The camera of Oppo N1 is a 13-megapixel shooter with with dedicated ISP. It has a dual LED flash that ensures the device able to perform well under low light condition.
OPPO N1 supports GSM frequencies of 850/900/1800/1900MHz as well as WCDMA frequencies of 850/900/1700/1900/2100MHz. Sorry, no LTE connection for the OPPO N1. Other notable features and specs of OPPO N1 include Bluetooth 4.0, USB OTG, WiFi, GPS, 3.5mm audio jack, MicroUSB port and others.
OPPO N1 measures at 170.7 x 82.6 x 9 mm and weighted at 213g. OPPO N1 is available in white comes with a 3,610mAh of the battery. The volume rockers are placed on the rear-side of the device like the LG G2.
Let's go forward into the camera of OPPO N1. The 13-megapixel camera shooter is rotatable over 206 degrees. This is able to transform the camera into a front-facing camera or a rear-facing camera anytime. This makes the OPPO N1 the first of its kind.
Comprehensive performance testing –
AnTuTu Benchmark
AnTuTu Benchmark is a dedicated tool for test the Android devices , test hardware and  software and give the result in score points, the test through memory performance, CPU integer performance, CPU floating point performance, 2D and 3D graphics performance, database I/O, SD card read and write speed and many other performance tests, and the phone's overall and individual hardware performance score. Also upload your score and see the device in the world rankings.
Basemark OS
BasemarkOS is a tools for measuring the overall performance of the system including system test (in accordance with standard applications, messaging services, Java, file operations, storage, database, compression and decompression, Bluetooth, dialers, etc.); Graphics test (2D imaging, graphics scaling, JPEG, PNG and GIF encoding and decoding, 3D game test); Example test (calendar, contacts, etc.).
Quadrant Advanced Edition
Developed by the Aurora Softworks, Quadrant is a veteran of the mobile device performance testing tool, it tests include 12 CPU test, a memory test, four I / O test, a 2D graphics tests, three 3D graphics test items, and finally a feedback device under test integrated results. GPU unit is not equipped with a device can not run the software. Theoretically, the higher the score, on behalf of the comprehensive performance test equipment hardware stronger.
Quadrant total including Standard, Advanced, Professional three versions, Advanced version in addition to providing final test results, but also provides an offline browser and advanced settings. Professional and Advanced there is no difference in functionality, but the former turn right for business users (such as agents, handset manufacturers), software prices higher only. Our test selection: Quadrant Advanced Edition.
CPU Performance Test –
AndEbench (divided AndEMark Native and AndEMark Java)
AndEBench is release on 2012, which provides a way to evaluate the performance of the Android platform, to test CPU and Dalvik (Dalvik is the virtual machine in Android system is responsible for an Android device running the application software equipment, Android therefore the main part of the whole) performance, and compare the different devices in different local and Java performance. The test software can also prove a platform for multi-threaded performance, its final run sub-divided into a pre-installed application for local execution efficiency (AndEMark Native) and separately install third-party applications for the execution efficiency (AndEMark Java) two aspects.
RAM performance testing –
Memory (Stream)
Memory (Stream) is a memory test software, through which the Copy (data replication), Scale (capacity), Add (add) and Triad (integrated) and the consolidated results of several sub-test scores can understand the level of the phone memory management performance level, the higher the score, prove that the better the performance of the device's memory management.
Linpack
Linpack in the international arena has become the most popular high-performance computer systems for testing floating point performance benchmark. Through the use of high-performance computers, using Gaussian elimination method for solving one yuan N times dense linear algebraic equations test, evaluate high-performance computers floating point performance.
Attachment: professional software to run sub-test 2
GPU graphics tests –
3DMark
Futuremark's 3DMark is the PC side introduced a special measure graphics performance of the software, desktop platform 3DMark There are three different load scenarios, which is designed for high-end graphics cards based on DirectX11 product design FireStrike, mainstream hardware supports DirectX10 The CloudGate DirectX9 equipment as well as entry-level build IceStorm. In the Android version and iOS version, only IceStorm a scenario.
IceStorm Extreme used for testing the graphics tool that using varying complexity test, but the content is the same. First two graphics tests animation major test of the device's GPU performance, including reducing the pixel graphics test a load, while more emphasis on vertex shader; Graphics Test 2 Test the focus is biased in favor pixel rendering and post-processing, test animation than the number of vertices and triangle graphics test 1, a substantial reduction, while the number of pixels is increased dramatically. Third paragraph of the physical tests to minimize the impact of GPU, and effect to the main test of CPU 's physical properties.
Basemark X
Basemark X is a cross-platform software tool for test the iOS, Android and Windows Phone 8 devices gaming graphics performance and support for cross-platform comparison.
Basemark X The software is divided into Basemark X Free Edition and Basemark X Professional full version. The main difference is that the latter can change the anti-aliasing settings and you can adjust the resolution of the test. Perform part mainly contains two modes: namely, Test and Demo.
Basemark ES 2.0 Taiji

Basemark ES 2.0 Taiji is a graphical test software, which uses a pre-designed screen scene girls play ball to the three-dimensional graphics performance test equipment, test equipment which can be understood in the context of the game and the graphics speed of execution more quickly.
GLBenchmark 2.7 (Eygpt & HD + On / Off Screen, totaling four parts of the test)

GLBenchmark2.7 is a graphical test software, which contains more than 30 benchmark test project. GLBenchmark 2.7 based on the GLBenchmark 2.1 optimized for high-definition equipment, mainly including high quality 3D scenes, there is a new HD version of the Egyptian scene and the general version of the two. HD version of the test items before Egypt for the upgrade, the picture is more complex, the use of more high-resolution maps, and the device has been optimized for the 1080P.
Browser Test –
Sunspider1.0.1
Sunspider1.0.1 browser testing for the project, through the device built-in browser on a variety of data, including graphics and other display speed of the browser to consider the pros and cons, including the test project is very tedious, through 3d, access , bitops, math, string, and so arrive at a project test scores, scores in milliseconds (ms) record, and ultimately lower the value, the shorter the time, the better the performance proved that browser.
Vellamo
Vellamo by Qualcomm (Qualcomm) developed a benchmark application (like Neocore), which lets your phone browser test in stability, including performance as Java script, rendering, networking and user interface. The tool also includes the results of multiple sub-items, but we just take the total score, the higher the score indicates that mobile phone browsers higher degree of optimization, web browsing experience is better.
Vellamo as a mobile web Ruler tool, has now expanded to include two major modules. HTML5 module is used to test the performance of the mobile Web browser.
HTML5 test –

Fishbowl (set to 50 fish)
Fishbowl literally "fishbowl", by definition, is through the web which a fish tank filled with pictures to HTML5 performance test.
HTML5 is the next major revision, it is still in the development stage. Its main benefit is to strengthen the performance of a Web site's performance and provide better search engine optimization, web development based on HTML5 APP has a shorter start-up time, faster networking speeds, especially for mobile users with better Image and animations.