Changhong HONPhone H1 has powered with 10,000 mAh battery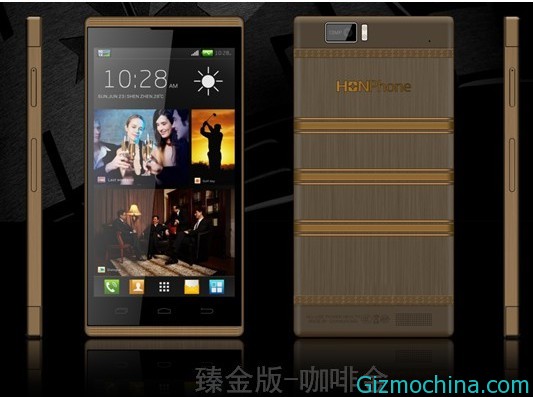 MediaTek is now becoming the new "hype" for smarpthone manufacturer, since MediaTek has already release their new MT6592 true octa-core smartphone, and one of Chinese smartphone manufacturer, Changhong is now releas the new flagship smartphone, Changhong HONPhone H1 that powered by MT6592 chipset.

The interesting about the Changhong HONPhone H1 is the 3,400 mAh large capacity baterry, this battery is larger than the LG G Pro Lite and Lenovo P770, and this phone is also has a back cover that packs with 7,000 mAh backup battery so this phone has totally 10,500 mAh battery capacity, this is the largest battery capacity for smartphone device on the market today.
The HONPhone H1 is packs with 5,5 inch screen size IPS screen display (1920 x 1080 pixel resolution) In addition to powered by MT6592 quad-core processor, this phone is also coupled with 2GB of RAM and 32GB of internal storage.
The phone is also has dual camera, 8 megapixel front-facing camera and 13 megapixel rear facing camera with Flash LED light. Support for USB OTG, Micro USB 2.0, GPS, MicroSD card slot for expansion the storage, Bluetooth connectivity, and working with GSM, WCDMA and TD-SCDMA network, this phone will works with China Mobile and China Unicom provider.
The phone is running Android 4.2.2 Jelly Bean operating system, and covered with exclusive gold color cover and white cover with gold strip elements that's make the HONPhone H1 looking pricey.