The picture of Meitu 1S smartphone with a nice packaging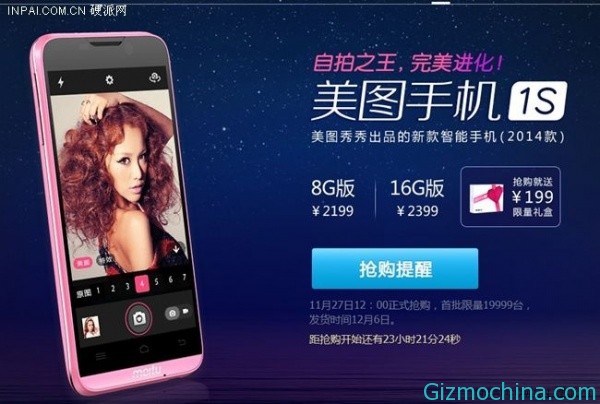 Meitu 1S is the one of Chinese smartphone that offers with very nice design and color, is now we have a couples picture of Meitu 1S pink edition smartphone.

Meitu 1S is one of flagship smartphone that already release today, covered eith ppink color make this phone look girly and stylish, the packaging is also very nice looking.
The phone is powered by MediaTek MT6589T for 16GB storage version while the other 8GB version is powered by MT6589 processor. The phone is packs with 4.5 inch screen size with IPS screen display that has 1280 × 720 pixel resolution.
Coupled with 1GB of RAM and available in two version 8GB/16GB. There is also 8 megapixel front-facing camera, powered by 1800 mAh battery capacity and this phone running Android 4.2 Jelly Bean operating system. The 8GB version is offers with 2,199 yuan ($360 USD) price tagand the 16GB version is 2,399 yuan ($393 USD) price.