OPPO N1 available on December 10th with Color OS or CyanogenMOD ROM option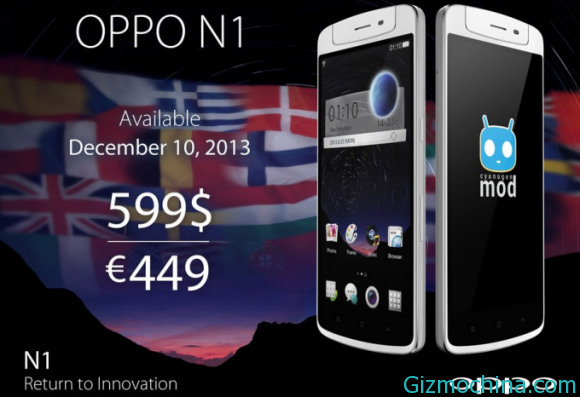 OPPO N1 is the on of flagship smartphone from OPPO, and now they also ready to release it's camera centric smartphone on December 10th to global market, and the interesting point is the phone will be available in Color OS or CyanogenMod ROM version as an option for the user.

OPPO N1 will be suggest reatail price for $599 USD, the price may too higher for some user but this phone is very worthed to buy since has high-end specification and packing with new innovation in the hardware that makes the price very relevance.
As same as the domestic version, the new OPPO N1 smartphone will packs with 5,9 inch screen size and support for 1080p resolution, power by 1.7GHz Qualcomm Snapdragon 600 quad0core processor, sports with 2GB of RAM and embed 2ith 13 megapixel rotating camera and the back body has touch capablity to navigate the phone and available in 16GB or 32GB internal sotrage version.
If you want to switch from ColorOS to CyanogenMOD ROM, you need to download an application to achieve. As a great complement and optimize native of Android. Specific topics include adjustments, FLAC audio encoder support, CPU overclocking, more convenient pull-down notification menu, and application permissions management.
You can buyOPPO N1 through our partner site and get the special price for you.