Huawei Honor 3C benchmark test, beat the LG Nexus 4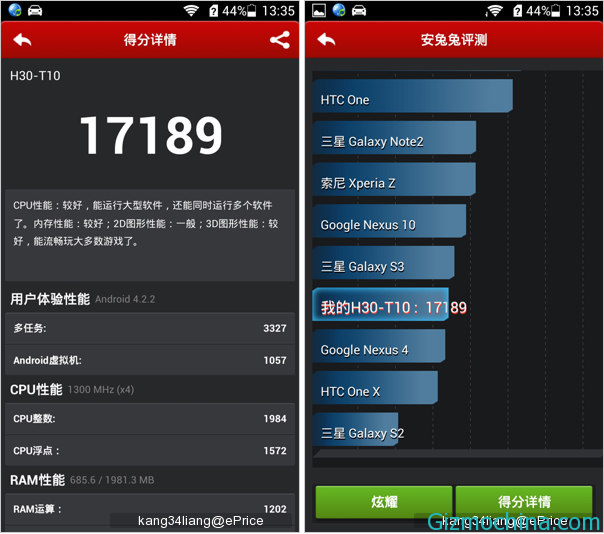 Huawei Honor 3C is the cheap smartphone that offers with very affordable price, but to prove that, we have a benchmark test of AnTuTu, Quadrant, NenaMark, BaseMark and Vellamo test result.

According to AnTuTu Benchmark test, the Huawei honor 3C is got the 17,189 score points, while the phone is only powered by MediaTek MT6582 quad-core processor. The Huawei Honor 3C is beat teh LG nexus 4 smartphone but slighty lower than Galaxy S3 from Samsung.
The Quadrant Benchmark has been test for the Huawei Honor 3C and the phone has got 3,163 score points. And the Nenamark2 Benchmarkhas show the result of 47.2fps for Honor 3C while the perfect score is 60fps. The other test us Basemark Benchmark that revealed that the Honor 3C got 20.83fps and the last test using Vellamo Benchmark that show 1,927 points on HTML5 test while 590 points on Metal test
This phone is very impresive for us, since the phone is offers with very affordable price and this isn't bad, so what do you think?