Here is the inside component ZTE Nubia Z5S Mini and Nubia Z5S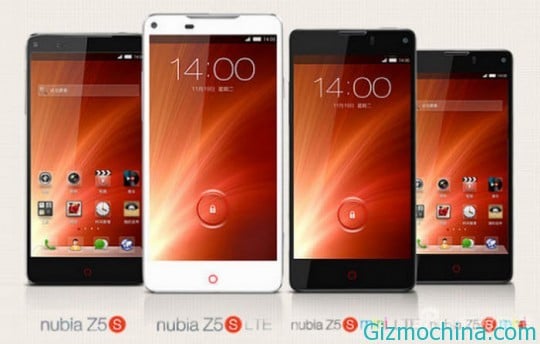 ZTE has been launched the Nubia Z5S and Z5S Mini, you can guess that both phones has similar type, while the Mini version is packs with smaller screen size. Among them, as the flagship model of Z5S has 137.7 × 68.8 × 7.6mm body dimension, and 126g of weight, packs with 5-inch 1080p Sharp screen, equipped with 2.3GHz Snapdragon 800 processor, packs with 2GB of RAM and 16GB of storage, the phone is running Android 4.2.2 Jelly Bean operating systems.

The Nubia Z5S smartphone is provide 5 megapixels front-facing camera and 13 megapixel main camera, with f/2.0 aperture, with OIS optical image stabilization, support the industry's highest resolution up to 3840 x 2160 4K ultra HD video capture. It is also built-in NeoVision v3.0 camera applications, with separate white balance technology, independent focus and exposure metering function independently locking technology.
It supports dual audio support for Dolby + dts decoding, capable lossless audio playback. In addition, Z5S also joined the infrared remote control, that support to the 98% of electronic devices, and the 2% is the custom made remote that ready to install in other electronic devices. It also provides a new global one-hand operation mode, the user can  watch the video and playing games with one-handed mode.
Like with the former Z5, Z5S is also has "full CNC" support, dual 4G network, enabling the sturdy  14 Frequency (4G Full CNC). Allegedly Nubia Z5S phone can actually support more than 40 bands, which can basically achieve global network and this phone will working in the whole world. In addition, Z5S also has 5G + 2.4 G dual antenna speed dual Wi-Fi, supports 802.11ac, transmission speeds of up to 433Mbps, is said to be three times the traditional Wi-Fi.
Z5 mini is the mini version of Nubia Z5S smartphone its has 7.6mm body thickness, 120g of weight. Z5S mini packs with 4.7-inch 720p screen, equipped with 1.7GHz Snapdragon 600 processor with 2GB of memory, providing 13 megapixel main camera (not supported by OIS, f/2.2 aperture) and 5 megapixel front facing camera and running with Android 4.2.2 Jelly Bean operating system.
Nubia Z5S mini has variety of color, such as red, yellow, blue and green,While the Nubia Z5S (cattle) has a black and white two color options, the phone will available on the market on November 26th through pre-order. Nubia Z5S Limited Edition is offers with 1999 yuan or around $328 USD price, while the 32GB version of its LTE is priced at 3,456 yuan or around $567 USD ; Z5S mini Limited Edition is offers with 1,499 yuan or arond $246 USD, and 32G version of its LTE version is priced at 2,345 yuan or around $384 USD.
And now we have a teardown picture of ZTE Nubia Z5S and ZTE nubia Z5 Mini smartphone :