Hisense X1 is offcially launch in China with other 4G LTE devices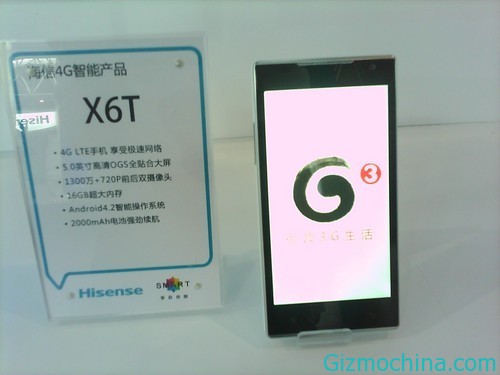 Hisense has been officially launch their new Hisense X1 smartphone for China Mobile subscriber, they also offers another five model in the event at Beijing recently.

Those smartphone is comes with 4G-LTE enabledevices that works with China Mobile network, and the smartphones are: Hisense X1, Hisense X9T, Hisense X8T, Hisense X68T, Hisense X6T, and Hisense X5T.
Those phone has been showing at CES 2014 before, and the phablet category has 6-8 inch screen size while the 7 inch is entering the tablet category.
Hisesne X1 is powered by Snapdragon 800 quad-core 2.3GHz processor and sports with 2GB of RAM, coupled with 13 megapixel rear camera and 5 megapixel front facing camera with 3900 mAH battery capacity.
While the Hisense X9T is the mini version of X1 model, that comes with 5.5 inch screen size and support for 4G LTE connectivity, the phone has 13 megapixel camera.
The other model are Hisense X8T and Hisense X68T, both phone is powered by  quad-core devices. Hisense X8T has a 5-inch display while X68T has a 5.5-inch display.
On the other hand, the Hisense X6T has a 5-inch display while the Hisense X5T has a 5.5-inch display. Both devices have a dual-core processor the specs is lower than others but all six phones is running Hisense GUI 3.0 and Android OS.