iOCean G7 will comes with 6.44 inch screen size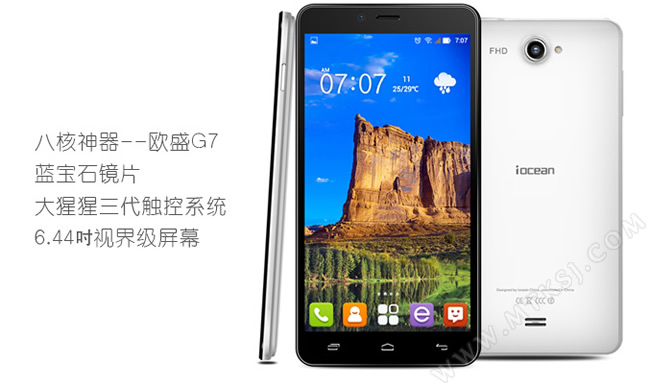 iOCean is one of the Chinese smartphone that always offers a nice products, is now they've already release the iOCean G7 Android smartphone.

Starting today, iOCean G7 is officially release to the market with 1,699 yuan price or around $277 USD price, while the oficial proce is 1,999 yuan or around $326 USD price tag per unit.
The pre-order is opening starting from today at 12:00, March 10th and the user can get the rebates, the iOCean will offers the promotional at their micro-blogging for the user who successfully get the iOcean G7 smartphone to post their own picture or video and share about the phone experience. The winner can get the discount starting from 1 yuan to 700 yuan.
The iOCean G7 is packs with 6.44 inch screen size with FHD display resolution the glass is covered by Gorilla Glass, while the camera lense covered by the saphire. The phone is powered by MediaTek MT6592 1.7GHz processor, coupled with 2GB of RAM and 16GB of internal storage. There is also 5 megapixel front facing camera and 13 megapixel rear camera.
The phone has nice slim body design with 8.9mm body thickness, the phone is also support for OTG USB port and has 3500 mAh battery capacity.