ZTE Nubia X6 has OIS camera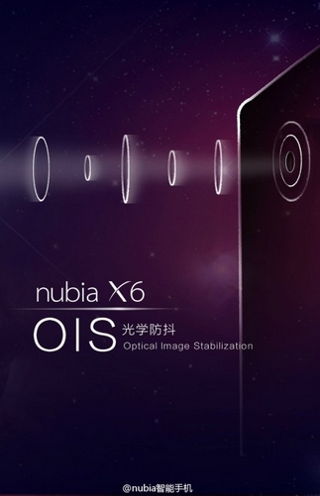 ZTE released the teaser of upcoming flagship smartphone, the Nubian X6. In the teaser, ZTE says that Nubia X6 will be equipped with Optical Image Stabilization (OIS) camera feature.

OIS is a feature that is able to absorb shocks, the image will taken with sharp image without blurry. This feature is commonly embedded in the renowned producer-owned flagship smartphone.
In the teaser, ZTE not mention how the Nubia X6 camera resolution. But from rumors, Nubia X6 will reportedly sports with 13 megapixel camera or 16 megapixel camera. While the upcoming Nubia X6 is ready to bring Snapdragon 801 processor, support by 2GB or 3GB of RAM, and a Quad HD resolution screen (2560 x 1440) with approximately 6-inch landscape display.
ZTE Nubia X6 body cover is made ​​of metal body. The device will reportedly be announced later this month.