60,000 unit of Nibiru H1 smartphone is heading to Chinese market on March 31st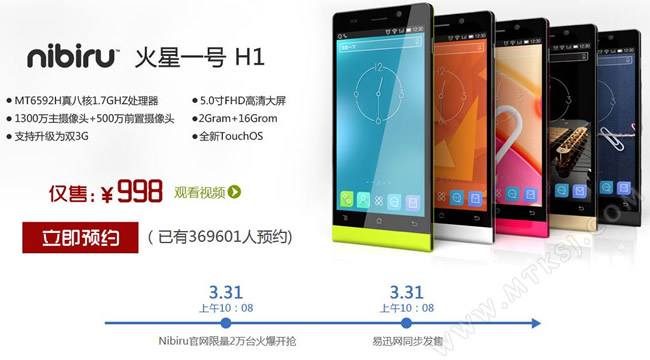 K-Touch has been anounced their new smartphone products family, this phone is uses different brandm Nibiru – Code Mars One and now they also open the pre-orders of this phone.

According to the official statement, Nibiru Mars One is also known as Nibiru H1 smartphone, this phone is now ready to pre-order and the phone will be ready to pick-up on March 31st at 10:08, but the other rumor says that the phone will be ready on March 24th.
Nibiru H1 is support for dual-3G network, Nibiru H1 has confirmed that the new firmware will be launched in the subsequent, currently this phone has support for TD + GSM and can be upgraded to dual 3G support.
The Niboru H1 uses 1.7GHz MediaTel MT6592 octa-core processor, sports with 2GB of RAM and 16GB of ROM, packs with 5 inch screen size with 1080P and coupled with 5 megapixel front facing camera and 13 megapixel rear facing camera, powered by 2000 mAh battery, equipped with a variety of interaction design TOUCH OS.