ZTE Geek II Pro is exposure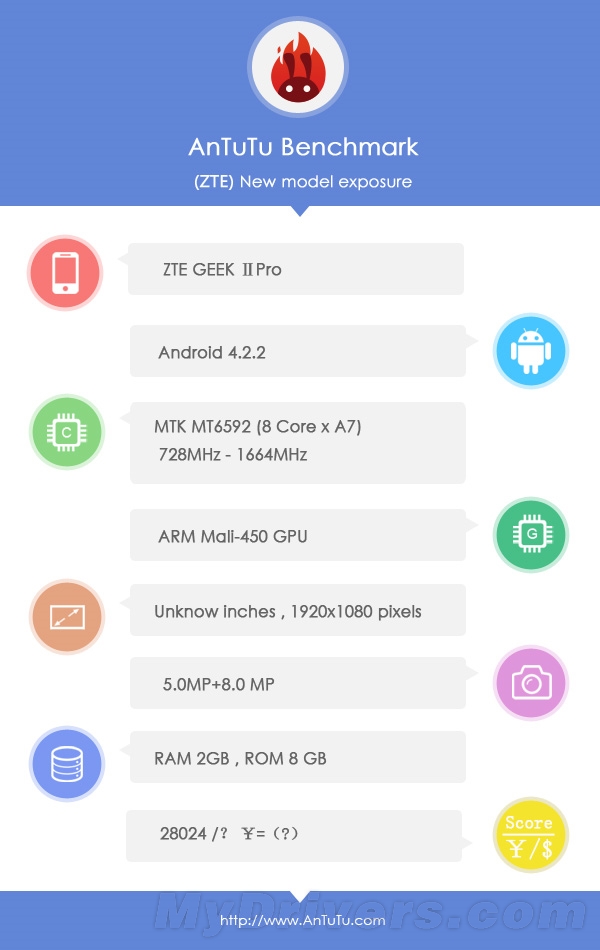 ZTE has officially rlease the ZTE Grand S II flagship smartphone for 1699 yuan price or around $273 USD, while for now we'v got the new information that ZTE is also preparing the new smartphone.

The new upcoming phone is targeting for low-end market s that's why the upcoming smartphone will becoming the budget phone from ZTE, the phone will powered by MT6592 processor, but it also has 1080p screen and sports with 2GB of RAM, and running the new user interface.
The new phone is ZTE Geek II that offers with 799 yuan ($128 USD) but those phone will has octa-core chipset and becoming the cheapest octa-core smartphone on the market.
Interestingly, there is a benchmark test that revealed with the similar specs, the Geek Ⅱ Pro is equipped with 1.7GHz MT6592 octa-core processor with 1080p screen and sports with 2GB of RAM and 8GB of storage space, coupled with 5 megapixel front facing camera and 8 megapixel of rear facing camera.
As we are concerned about the price, there is news that the opportunity this phone will offered with very very affordable price and there is two kind of smartphone model based on memory capacity, dual version with 1GB of RAM will offers around  7xx yuan and the  2GB of RAM will offers with 9xx yuan. Let's wait!.