Moto X+1 willhas 25 color variant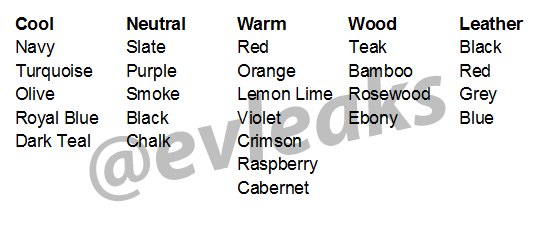 After we've covered the article about the upcoming Motorola X+1 smartphone, is now we have a new information that the Motorola X+1 will has 25 different backplate color variant.

According to Evleaks, the phone will has wood-made backplates (Teak, Bamboo, Rosewood, Ebony), those made from leather (Black, Red, Grey, Blue), and of course an array of plastic options which will be separated by colors – warm (Red, Orange, Lemon Lime, Violet, Crimson, Raspberry, Cabernet), neutral hues (Slate, Purple, Smoke, Black, Chalk) and cool colors (Navy, Turquoise, Olive, Royal Blue and Dark Teal).
And we hope this pone will offers a nice specs than a predecessor with more powerfull processor and has cool features, and the availability of many variant backplates, this will become the good selling point for Motorola.