MediaTek is ready to release new products, that's also wearable device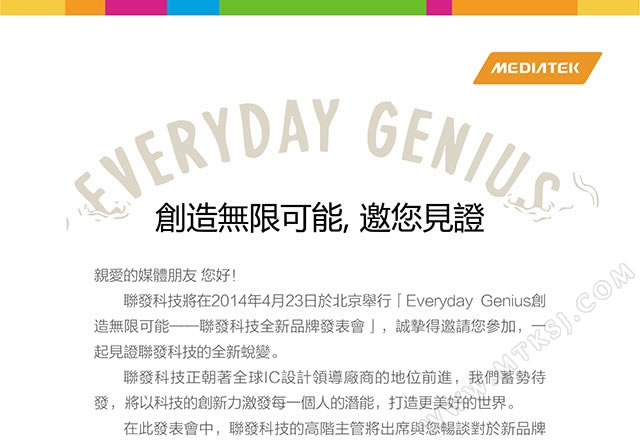 mediaTek is ready to held the big conference, the event has "Everyday Genius, create endless possibilities". And now we have a confirmation that MediaTek is ready to release their new products, in addition to chipset lineup, there is a wearable device too.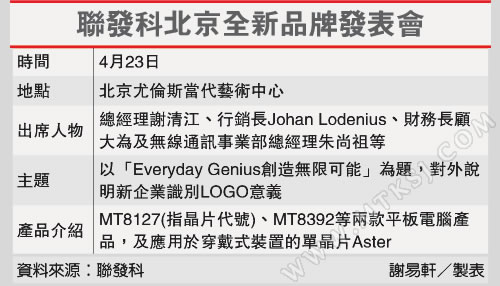 MediaTek has been release their tablet device last year, the company is successfully to sold more than 20 million tablet devices, and in 2014, mediaTek is also reach the good sales in chipset products.
And now MediaTek is also has several new chipset product, the new MediaTek MT8135 has begun shipping alaready, there is also MediaTek MT8127 and MediaTel MT8392 two eight-core new products, those products is targeting for different markets segment.
As the popularity of wearable device, the MediaTek is also ready to release their wearable device in that event. on the Mobile World Congress that held in Barcelona on last February, the copany has introducing the Aster SoC which is an all-in-one solution for smartwatches and other wearable technologies which are so popular these days and the world's first 5-in-1 chip.
Basically, MediaTek will be marketing the Aster for any device that is meant to take advantage of a smartphone but not be a smartphone itself.
All these products will be showing at the MediaTek event this year, so let's wait and let's see, what the possibility that offers by MediaTek for you?