LG G3 Screenshot Leaked: Flattened User Interface
There seems to be a continuous amount of news leaking out regarding the LG G3 this month. The device's design and specifications can be said to be fully revealed. Today, the website: MyLGPhone once again leaked news from operator Sprint's UA profile. They discovered that LG is about to released several new devices, one of the models named "LG-LS990", and could be Sprint's version of the LG G3. According to leaks, the device has 32GB card storage, 2GB internal storage, a 2.4 megapixel front camera and a 16 megapixel main camera. Other than the leaked specifications, the alternative media has also leaked about the new interface, confirmed to be the "Concierge" service.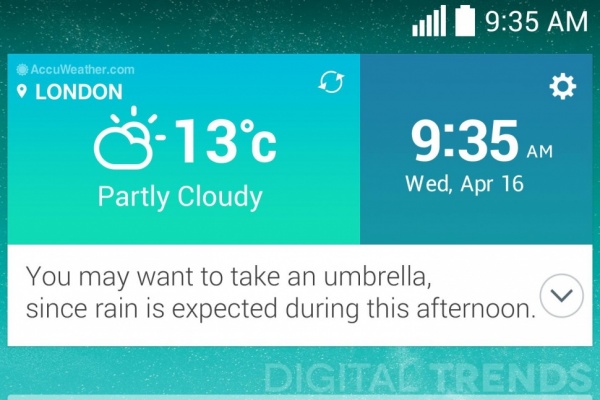 The Concierge service will collect various messages and your phone use habits, and recommend relevant contact to the phone user by following a complicated algorithm .  For example, in the image above, you can see the AccuWeather weather and time widget – the Concierge service will automatically follow the weather for that afternoon and notify the user to bring an umbrella out.
From the newest UA Profile, it was discovered that the device features a WQHD 2560 x 1440 resolution screen, and will run on Android 4.42/M8974AAAAANLYD2145A.1. The above serial code displays the serial code for the Qualcomm M8974, but this does no mean that the build will carry a Qualcomm Snapdragon 800 processor – the alternative media suggests that the LG Company may be using this LG G3 model carrying the Qualcomm Snapdragon 800 processor for testing, and may use a processor as powerful as the Galaxy S5 or the HTC One (M8) for their release version.