Huawei unveils Ascend P7 Flagship Smartphone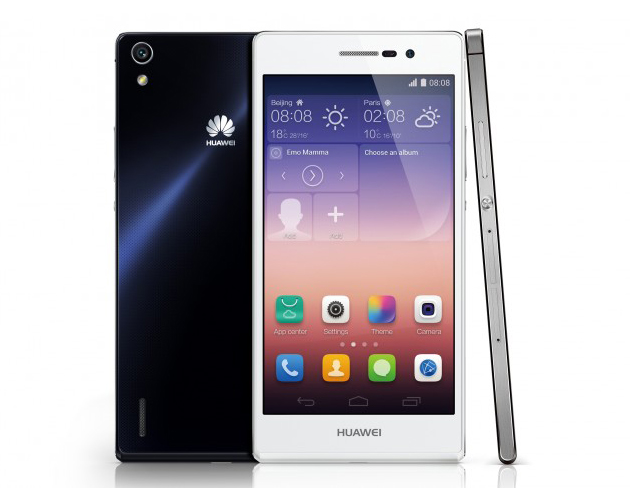 s expected Huawei launched its newest Android flagship smartphone, the Ascend P7. Its design is similar to the previous version Ascend P6. But this model has more features than its predecessor Ascend P6. It has 5" 1080p display. It also boosts 8 MP front camera and 13 MP rear shooter camera with f/2.0 aperture size. the front camera can take panorama images.
It is powered by 1.8 Ghz quad-core processor which is encased in 6.5mm thick frame. It has 2 GB of RAM, Extendable memory to 32GB microSD card. Its original memory is 16GB. The battery is 2500mAh gives long talk time. Gorilla Glass 3 on both the front and rear.
That was hardware specs, now lets look at software. Huawei comes in built Android 4.4.2 KitKat alongside its own Emotion UI 2.3 . This comes with many applications such as Image Signal Processor ISP that gives control over different camera settings.
Also included with Ascend P7 is Super Power-saving mode that will start itself when the battery is less than 10 percent left. Once on the system will dim the screen and allow only vital phone functions like voice call and contacts. Huawei contends this 10 percent battery capacity can last for 24 hours.

The colour of Huawei Ascend P7 will be black, white and pink. It is to be sold at €449. The device will be launch in the market in May in only a few countries which include china, the UK, Germany, Italy, France, Singapore and the United Arab Emirates. The company said that the Ascend P7 will be launched later in other markets, but did not specify as to when it will be launched.
The Ascend P7 includes all of the features that you did expect from a modern front runner Smartphone. The main and front cameras are two biggest features of the device, the exclusive 8- megapixel front- facing shooter and its panorama mode, takes the full responsibility to attract all the self addicts out there.
So now that formally précised what do you think of the Huawei Ascend P7? Will you be interested in buying Ascend P7 when or if it is launched in your home country?