Baidu Antivirus Detection comes as new security in WinRAR file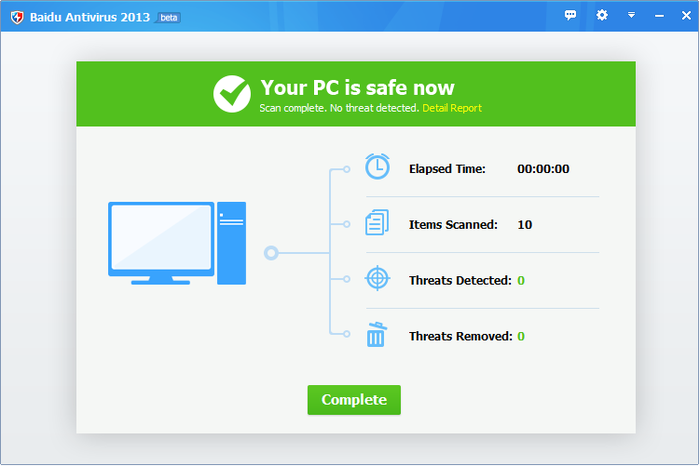 Baidu, known as PC application developer, web, and mobile, which is also the best and most popular search engine  of China, has just announced that their PC products that Baidu Antivirus, can protect users from malicious programs that exploit vulnerabilities of applications in WinRAR 4.x.

The slit makes the virus can run a malware that is disguised as a file in the archive, after that the virus will spread right when extracting archive file their users. Current methods of Baidu Antivirus automatically detect and quarantine the hidden threats, ensure the safety of its users from malicious viruses, Trojans, and others.
Sam Dong, the team leader of Baidu Antivirus said, the hackers can insert their malicious programs to hide behind a false file extension is different. "It's a very vulnerable and dangerous, because the hackers can insert viruses and Trojans look like an image file, documents, movies, and other things that they thought it was safe," said Sam Dong. "Even the instigators of the technology can be easily fooled by this way. Therefore, Baidu team Antivirus respond quickly to ensure users are fully protected from the attack of this hoax. "
Millions of personal computers and corporate users still use the dangerous version of WinRAR, the report obtained from the statistics compiled by Baidu Antivirus Security Center. The report also explained the gap WinRAR come from a variety of operating systems, including Windos 8, Windows 7, and Windows XP. Given the rapid spread of this virus, Antivirus Baidu security experts recommend to update to version 4.X WinRAR WinRAR 5.0 and above, then do a scan on your computer with Baidu Antivirus or similar security applications that have the same protection.
Baidu Antivirus has received many awards for their robust application security. In December 2013, Baidu Antivirus Softonic.com choose a product 'most promising antiviral" in that year. Previously, Baidu Antivirus also received a prestigious award from Virus Bulletin VB100, Checkmark Certification from West Coast Labs, and certification OPSWAT.
Baidu Antivirus can be downloaded for free for Windows XP, Vista, 7, and 8 on their official page: http://antivirus.baidu.com