MTK MT6595 Review Specifications – MHL, USB 3.0, eMMC 5.0
There is always a moment of awaiting for something exited and interesting in technology. Gossips and rumors in technology have been the most exited moment always and now the moment is near to door and it is turning into reality.
When i wrote about the release date for MT6595 then i was sure that this will meet the expectations.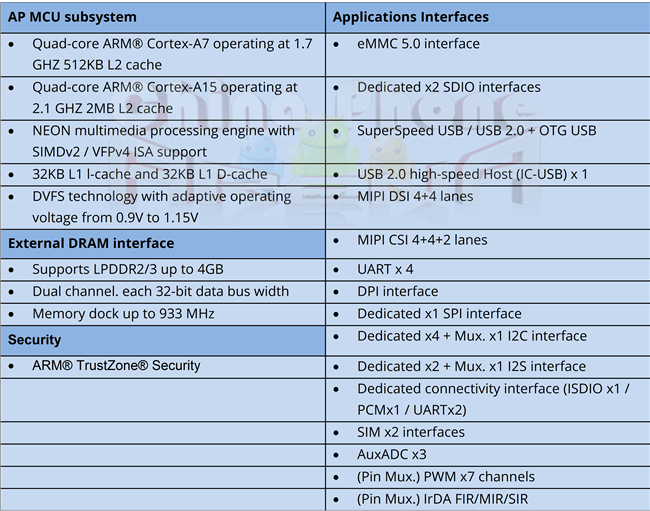 This post contains lots of information that we are seeking and YES! it is amazing.
Now we knew this MTK6595 will be in an 8 core gluing cofiguration Using quad-core ARM Cortex-A7 that can handle our beyond expectation. This can create amazing balance in processing and performance that we need.
Super speed USB 3.0 will be supported out of the box. MT6595 will also support EMMC 5.0 which allows interface speeds of up to 400MB/s giving the great highway to run.
MT6595 will accept 4GB RAM clocked up to 933MHz, and it's reported that MT6595 will be out of the box compatible with MHL 2.0.It is lash with NEON Multimedia processing which will make you feel that you are dreaming multimedia experience. This feature makes this device one of the town hitter compared to other hulks brands in market.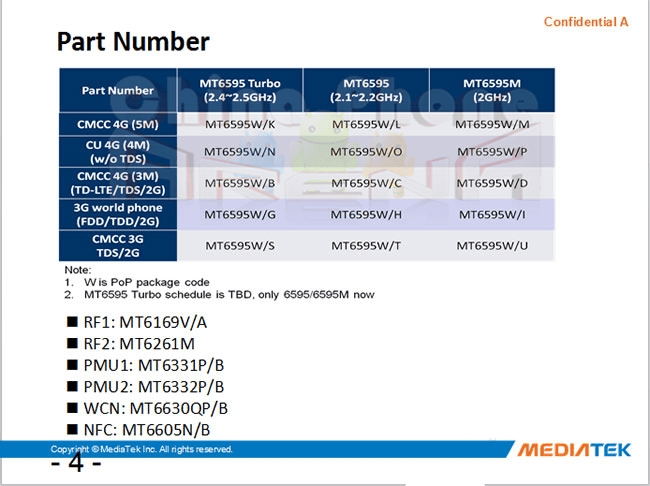 SPEED, ACCURACY, VERSATILITY, all are here with his MTKW6595 lineup, which will be classified according to speed. [email protected], MT6595 [email protected], and MT6595 [email protected] The MT6595 Turbo will be released in Q4 after MT6595 and MT6595M have had time to breathe. This is the booster point here.
Here the models supported:
CMCC 4G
CU 4G
CMCC 4G (TD-LTE/TDS/2G)
3G World Phone
CMCC 3G
Take a look at #4 — 3G World Phone (+FDD+TDD+2G). Very interesting and let's hope all 3G bands are included, as well as the major 4G/LTE bands. It is reported that all models will meet the consumers expectation and it will stand high among its BOND fellow.
You can also see there are more than several modules ready for manufacturers to plug into MT6595:
RF1: MT6169V/A
RF2: MT6261M
PMU1: MT6331P/B
PMU2: MT6332P/B
WCN: MT6630QP/B
NFC: MT6605N/B
This is one giant leap in the field of technology and people will love it. This will be the true technology leap. I love it and I know, i believe you will all love it.