LG official revealed 3 tablets, covering from 7 to 10 inches
by Shine Wong May 12, 2014 7:59 pm0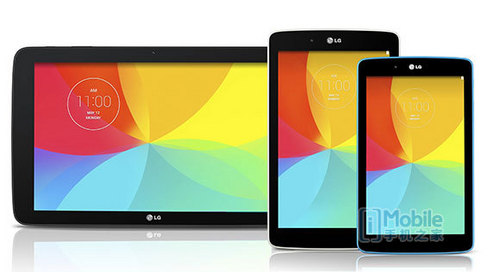 Today, LG entirely renewed its tablet products, forming the LG G Pad series, including LG Gpad 7.0, LG Gpad 8.0 and LG Gpad 10.1, the number coding represents different screen sizes. It is noticeable that 3 tablets are using Android platform, the Optimus UI outwear is inevitable.
The LG has made a wide cover after the launch, users can choose different sizes depending their needs. LG CEO claimed : "Consumer hope to have various choice regarding product's sizes and not be fuzzed." It is the market need itself.
Among them all, the LG G Tab 8.3 has already become one of Google shop, and the G Tab 10.1 is not yet confirmed whether to launch at Google's online shop. It can be seen from the picture that there will be many color choices when LG G Tab series launch, which is specially for women users. It is a pity that the specs are still waiting official release. We will push it to the public the first time we get the news.