Roundup: Top 10 New Features Of iPhone 6
by Shine Wong May 19, 2014 7:53 pm0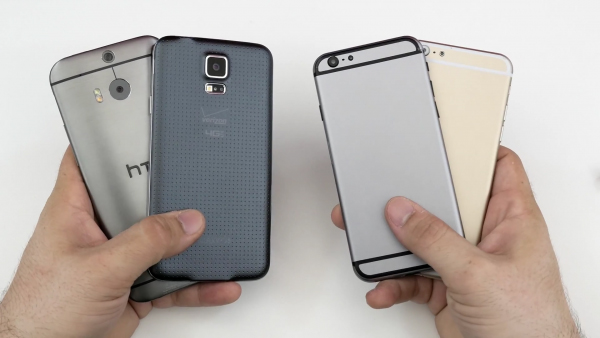 Apple's iPhone 6 has high exposure rate all the time, information from lot of channels make the phone is no secret left. Days before, some foreign tech site has concluded 10 possible features of the new iPhone, which is your most focused?
1. Newly designed appearance
From the old generation iPhone, we can find they seem to follow a "S mode", meaning they are more possible to redesign iPhone's appearance after S types. For example, iPhone 3G and 3GS have almost same design, and so as iPhone 4 and 4S, and 5 paired with iPhone 5S. So the new coming iPhone 6 is certainly to be redesigned. And the industry reckon it will combine features from iPod Touch and iPad Air.
2. Large Screen and Higher Resolution
Although Apple do not follow the trend, but in large screen population trend, Apple will certainly not let its new generation iPhone to be left behind, it is no argument to prepare larger screen. Certainly, to maintain Apple-made Retina screen standard, iPhone6 needs higher resolution in case it has larger screen. By far, most possible iPhone 6 screen resolution is 960 x 1704 pixels, the evidence is to be 3 time resolution to iPhone 's base resolution, the 568×320 pixel.
3. Carrying iOS 8 System
IPhone 6 will carry new iOS 8 system, but the system will not be much different with previous regarding the
4. Support Healthbook healthy application
The IOS8 will main focus on healthy APPs, and exposed Healthbook APP can follow multiple healthy and fitness data, including heartbeat rate, moisture content, blood pressure, body movement, nutrition, blood sugar, sleeping, breath rate, oxhemoglobin saturation and weight etc. In case of the source of these data, it is possible from Apple's futuristic wearable device , the iWatch.
5. Lighter, Thinner
Apple's iPhone has pursued light and slim for long time, this has been continued by iPhone 6. From the information we know, the iPhone 6's body thickness is between 6.1 to 7.6 mm, and the border will be narrower too.
For the sapphire glass has better anti-scratch function, which can resolve smart devices screen from been scratched or damaged. So the sapphire screen has been Apple's pursue. However, compared to popular solution of lens and TOUCH ID, Apple seems planning to make the whole screen by sapphire glass. This made huge need, and Apple is going to purchase to control the sapphire industry chain.
7. Improved 64 bit A8 processor
iPhone 5S has the industry's first 64 bit processor, which has shaken the industry, especially 1.3GHz duo core structure, Apple's A7 processor has shown amazing performance. And now, Apple's iPhone 6 is going to build better A8 processor, main change is said to be lowing the energy consumption, which can improve previous iPhone's poor endurance.
8. Better resolution iSight camera
Although iPhone 5s 's 8MP is good, but it is not improved in next generation many may be disappointed. So it is loud voice to change it. But you may not expect this too much, even the rumored optical anti-vibration will not apply, because this will make the camera module too large for the silim iPhone body to carry.
9. High quality music
Apple has planned to purchase Beats Audio, the medias have lot explanations. But refered to iPhone6 , it may be utilizing Beats Audio tech to improve the phone's sound quality, and another possibility is change the earphone that come together within iPhone's pack.
10. Water resistant and dust resistant function
Smart phone is popular to add anti water and dust feature, brands include Samsung and Sony has put out related products. Although iPhone 6 is low possibility to add the function, but related rumor has come out. So the possibility is still unknown.