Huawei has released their new Huawei Haas true octa-core processor, ready to compete with Snapdragon 805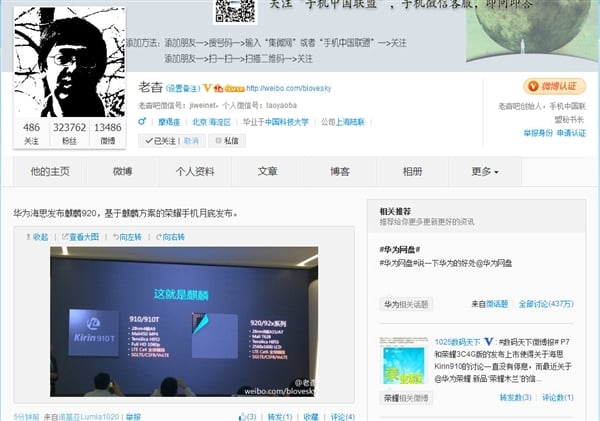 Huawei has rumored to released their own octa-core processor, and today Huawei has officially release their new Huawei Haas Kirin 920 and Kirin 910T processor.

According to Mobile China League Secretary said through his microblogging site that Huawei Haas was released their new Kirin 920 mobile processorm this is the true octa-core processor from Huawei.
The new chipset is based on 28nm manufacturing process, the Kirin 920 is using big.LITTLE architecture that itegrates the eight core processor which contain four-core of Cortex-A15 and four core of Cortex-A17. This new processor is also support by mali-T620 GPU, this is the latest GPU that uses latest ARM architecture that support for 2560 × 1600 resolution display.
The new Kirin 920 is also support for LTE Cat 6 and support for global band, it's also supports SGLTE / CSFB and VoLTE voice calls such as 4G way. According to the picture that posted on microblogging site, the new Huawei Haas Kirin processor is also appeared as Kirin 92x and this mobile processor seems ready to compete with another mobile chipset on the market, such as Snapdragon 805 processor.