Rockchip release Chromebook looks like Apple Macbook Air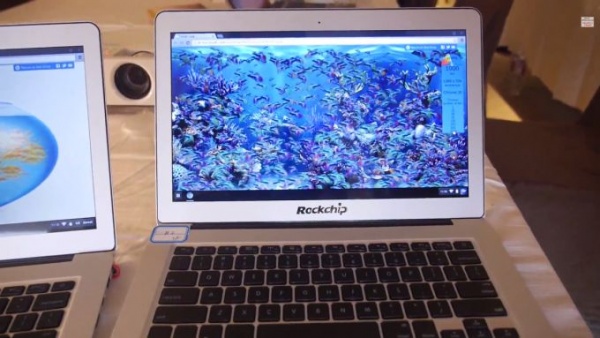 Intel has been announced that they ready to entering low-end market, the company has been partneship with Rockchip, and Rockchip is also doing partnership with Google to develop ChromeBook laptop.

During the Computex 2014 in Taipei, Rockchip has been showing their first ChromeBook laptop, while for now, those laptop has not officially release yet.
The Rockchip ChromeBook laptop is powere by Rockchip RK3288 processor, and here is the demo video of the laptop:

The laptop has 13.3 inch screen size with 1366 × 768 pixels, the laptop design is look slim and remind us to Apple MacBook Air. While we writing this article, there is no detail information about the body material, wether the laptop is using metal or plastic body material.
As we mentioned in recent paragraph, this laptop is powered by Rockchip RK3288 processor, the chip based on ARM Cortex A12 architecture design and integrated Mali-T764 GPU. There is 2GB or 4Gb memory option while the internal storage is using 16GB of SSD, packs with HDMI interface, USB 3.0, WiFi connectivity and Bluetooth.
Unfortunately, ther is no detail information about the release date, but Chromebook with Rockchip RK3288 chip should be released in the third quarter of 2014, this laptop will be offered with only $149 USD price tag per unit.