HiSilicon's Kirin 920 costs 100 RMB (16.02 USD) in Taobao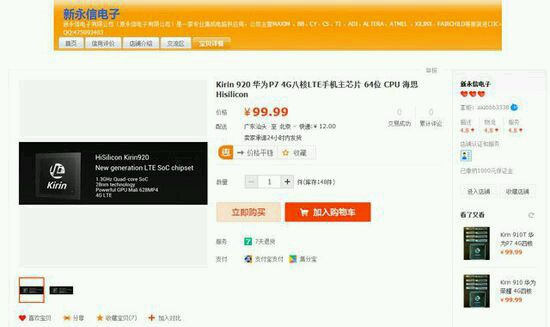 A lot of internet users are already used to shopping online and their first choice is always Taobao with their good prices and such. Recently, as people talked about HiSilicon's new 64-bit computer chip, the chip suddenly appeared in Taobao.
Based on reports, a store called Xinshui Telecommunications is currently releasing HiSilicon's newest chipset, the Kirin 920.
The chip might be designed as an octa-core chip. It also hasn't really been confirmed if the 99.99 RMB chip in the photo is really the new HiSilicon chip because based on the photo, the Kirin 920 uses a 1.3GHz quad-core design and doesn't mention being 64-bit. Could this be fake? Hopefully, HiSilicon will surprise us.