Simple, fun, and high-tech, Oppo O-band fitness tracker unboxing!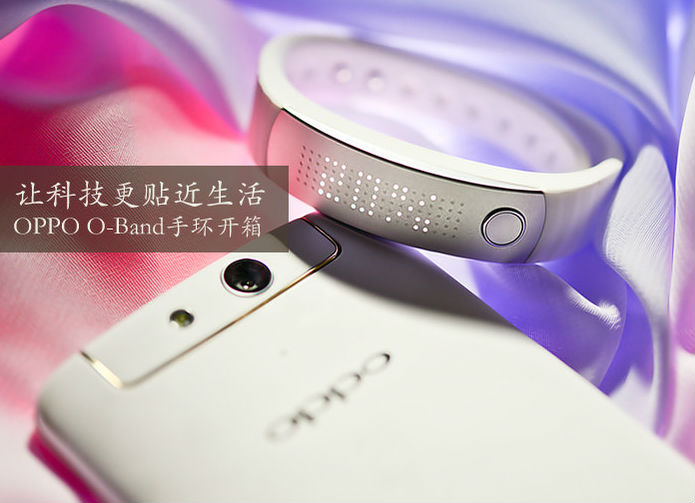 The debut of Oppo O-Band smart wristband was at the Oppo Find 7 press conference, while many famous brands such as TCL and Sumsang already unveiled their own smart wristband, most of the functions are basically the same. Besides daily communications, the major and mostly used functions also include daily communication, health monitoring and remote controlled camera. At present, the price of O-band in its official website is 598 RMB. In addition to time display, it also has a remote shutter (so you can take photos with your phone from a distance) and can monitor your exercise, and it can track your sleeping pattern, as well as push reminders such as call reminders and alarms.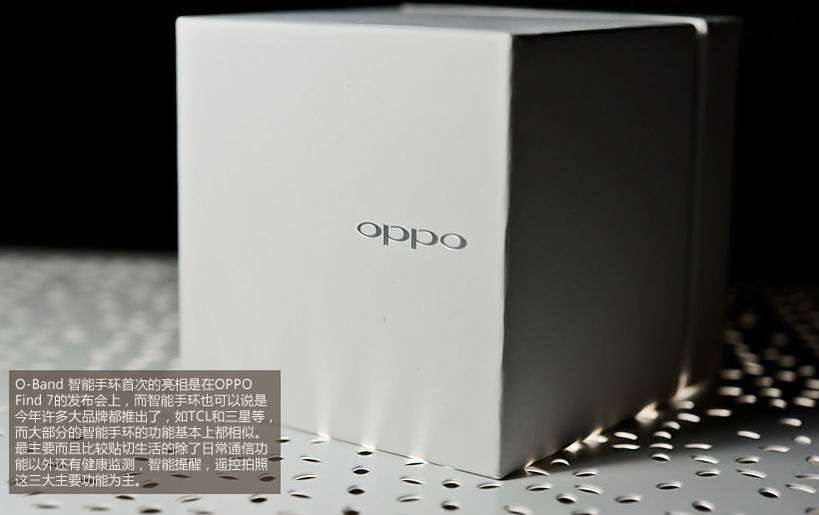 O-band was jointly launched by OPPO and Baidu dulife. Being packaged in a simple cubic package can be said to be a continue of the simple style of OPPO, and the wristband uses 55 mAh lithium battery and 5 x 19 LED Dot-matrix display; besides, it also supports Bluetooth 4.0.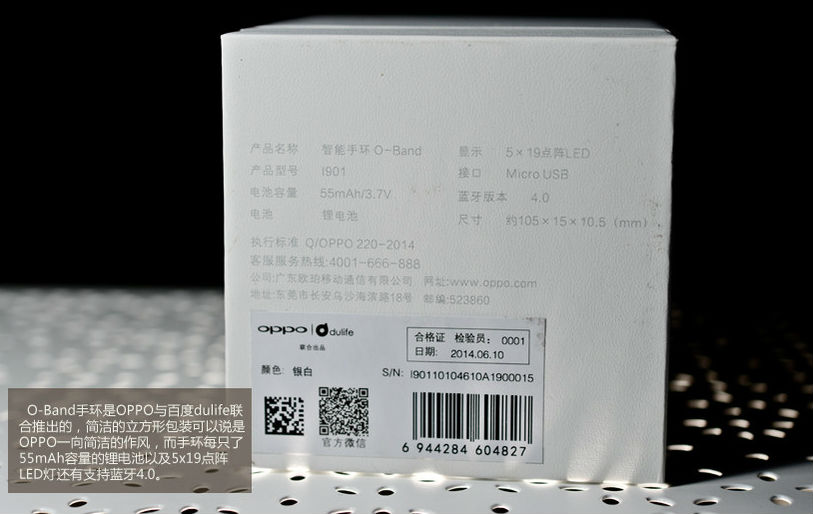 A brief view of the accessories.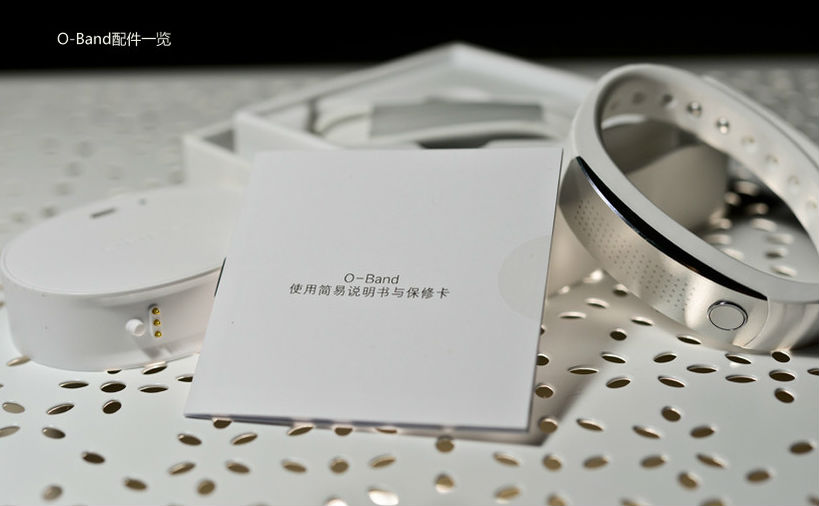 Recharge stand of O-band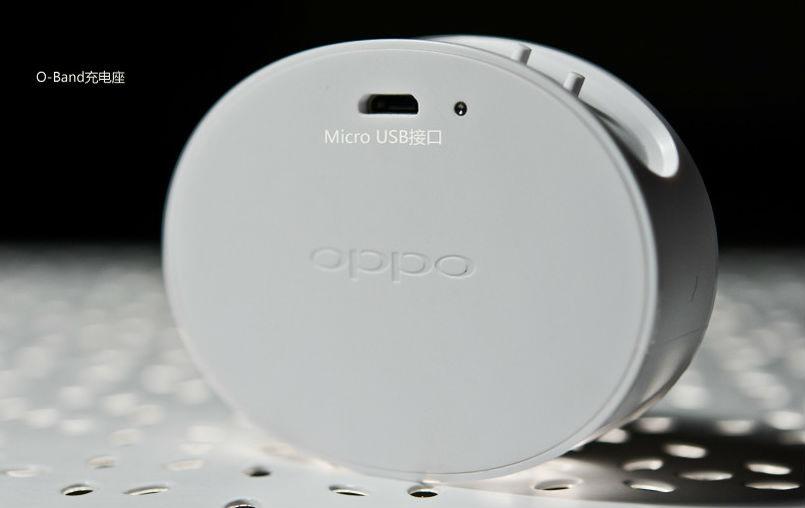 The recharge stand of O-Band has three metallic contacts, which can be used to interlock with the three metallic contacts in the wristband, so when you want to charge, just interlock the recharge stand and the wristband.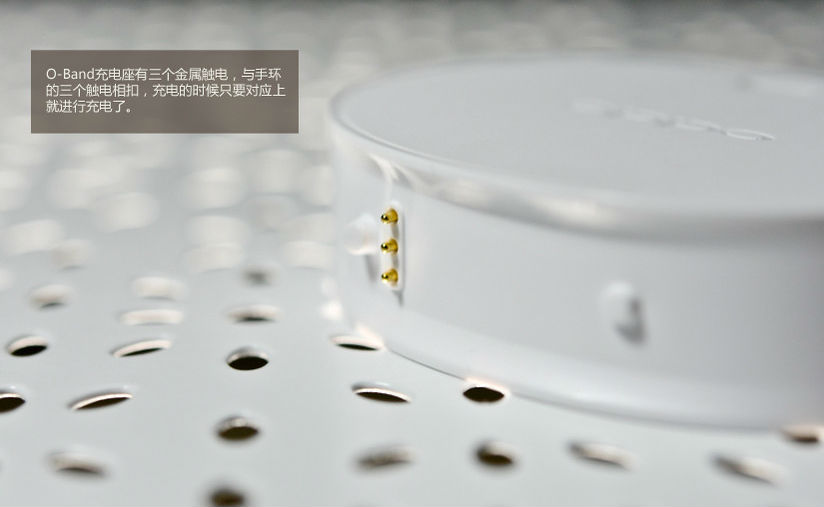 Display area uses high-gloss aluminum peeling process, and is displayed using LED dot matrix display. Metal feel is similar to Apple notebook, thus the style of the whole wristband becomes more high tech because of the metallic area and LED doc matrix display.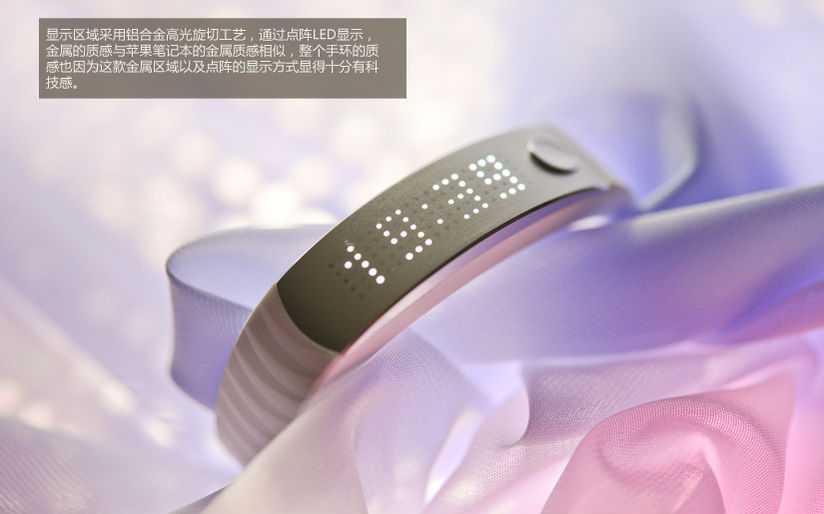 O-band wristband is made of eco-friendly skin safe silicone, and its surface is specially spayed with baby skin-like paint, giving you extremely comfortable wearing experience. Super light weight together with the refreshing silicone texture, makes it especially suitable to wear in hot summer.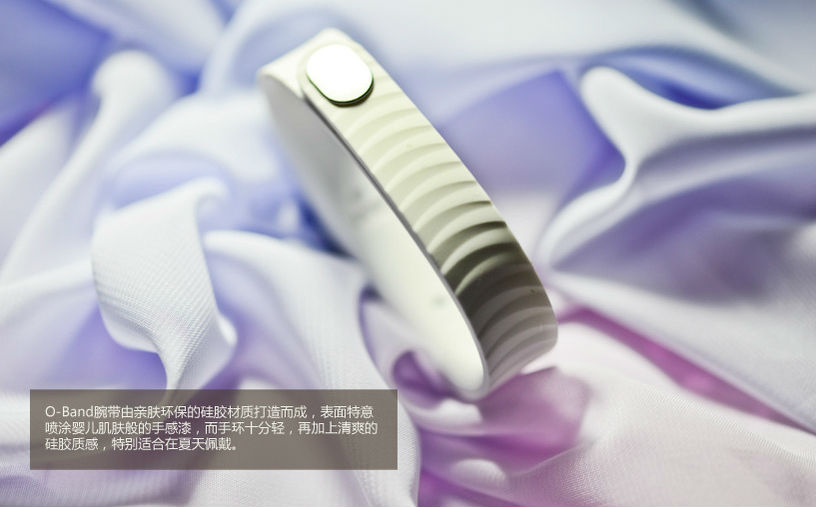 Charging position in the back of the wristband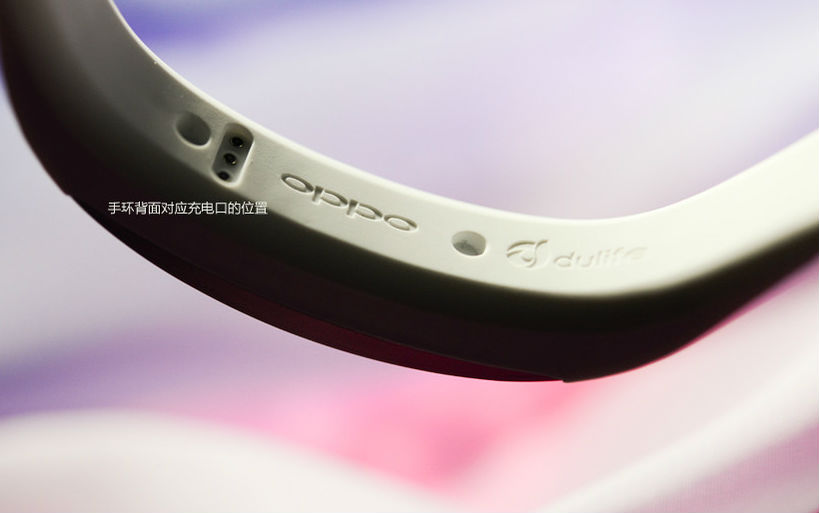 From the overall metal radian design to texture, OPPO O-band continues the pursuit of beauty in OPPO design style. The simple chic metal round key is used to control the display content of the wristband.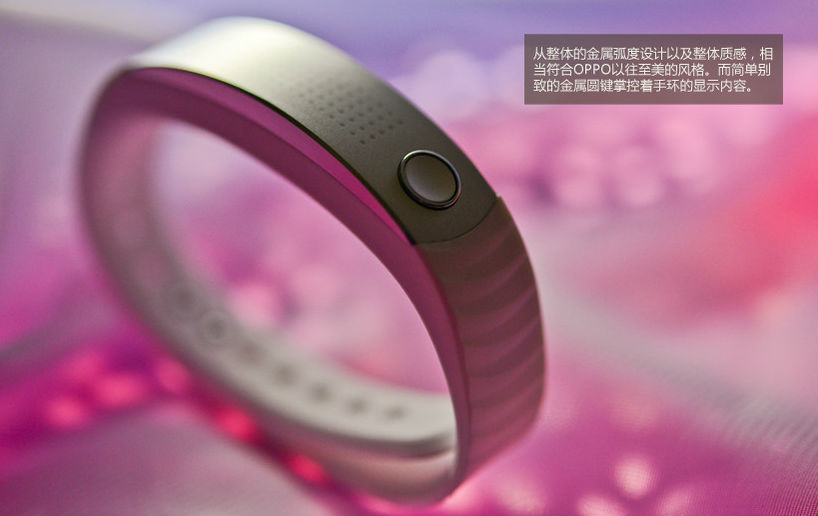 Sleep Mode
Before going to bed,  switch to sleep mode, and then you can check your sleep quality of last night in the next morning. O-band is also specially equipped with scientific wake-up function, through setting up the alarm in mobile app, it will wake you up via slight vibration.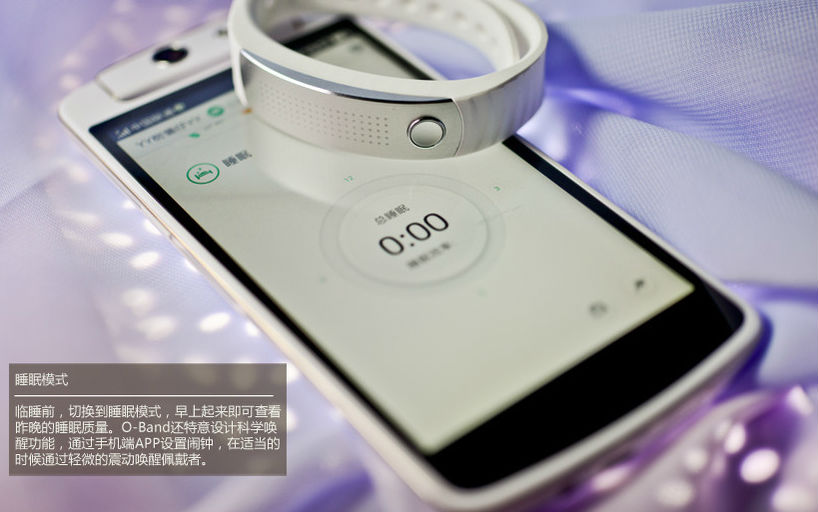 Exercise estimation
You can set up daily exercise target based on personal configurations like height and weight etc. It can monitor your daily physical activity, and display intuitively and clearly using target completion percentage,  steps statistics and calorie consumption.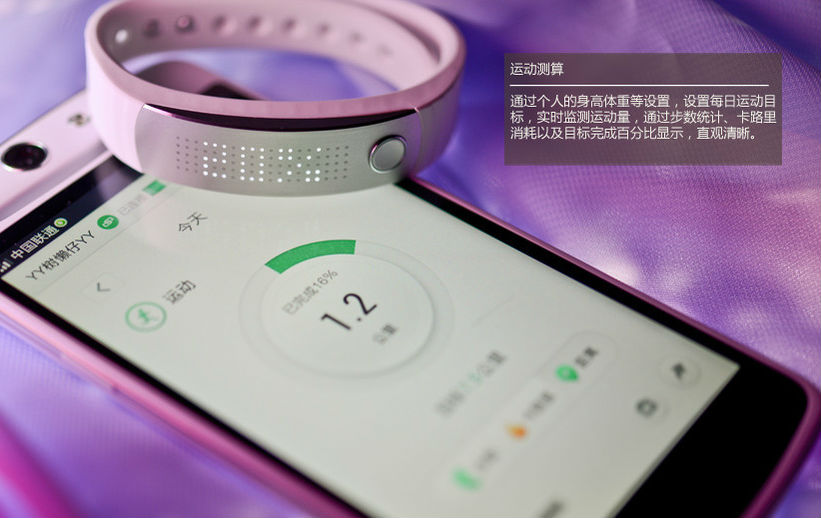 Meditation reminder
In sedentary state, you can set up reminders every 30 minutes, 1 hour or 2 hours, stand up, shake arms, twist waist, do some stretching, which makes you feel good and healthy.
Phone locator
Where is your phone? double click the wristband button to call your cell phone at any time. When your cell phone is more than 5 meters from your wristband, it will vibrate to make sure your phone is just on your side.
Phone call reminder
When your cell phone rings more than 8 seconds, O-band wristband will vibrate. You will no longer need to worry about missing important calls while putting your phone in your bag. Communication, should never be missed.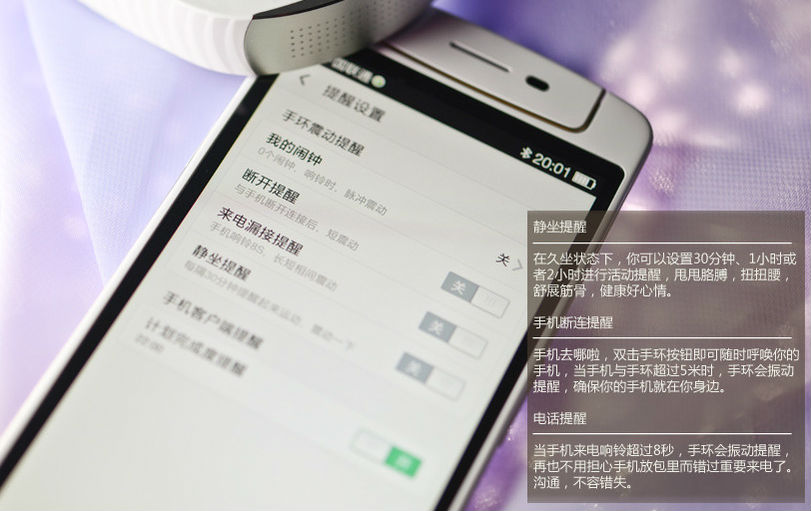 Remote shutter
With remote shutter, you can take a phone using your phone from a distance. Choose the "Take photo" option from the interface of the wristband, and then push the wristband button,  you can now take a photo for yourself or with the others.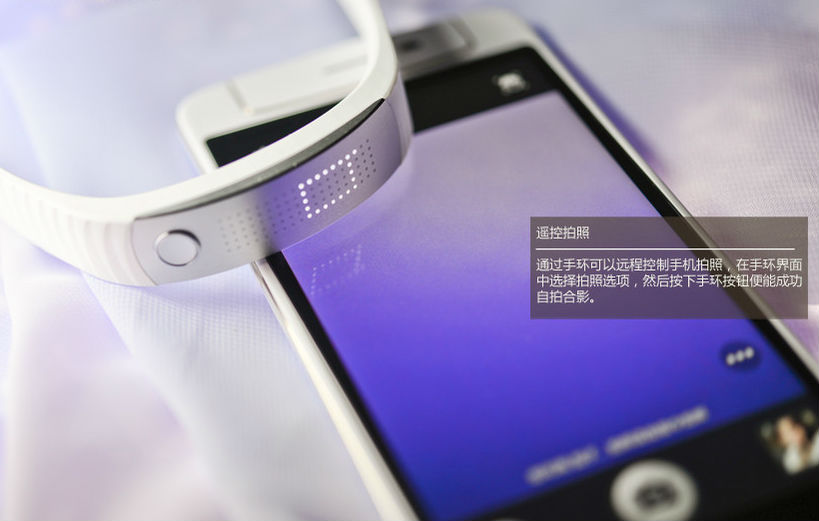 Service area, integrate several apps
The service area integrates services like sleep helper, fitness trainer and diet assistant, and provides special services for women, such as period tracker.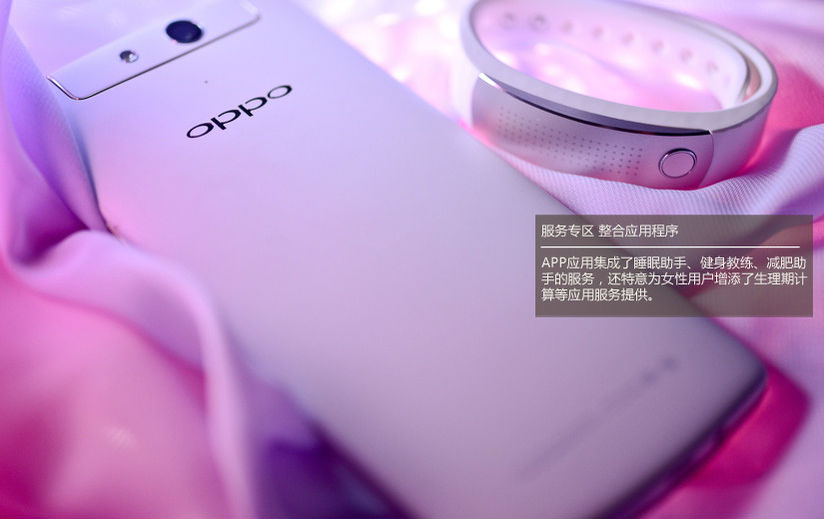 At present, the price of O-band in its official website is 598 RMB. Except for time display, O-band has more functions like remote shutter, incoming call reminder and exercises estimate, etc. Comparing with the wristband from Sumsang Gear 2, O-band has its unique characteristics. The simple dot matrix display makes it look more high tech, and the right vibration brings great user experience to users.