ZTE Nubia Z7 series released: the Difference Between Nubia Z7, Nubia Z7 max and Nubia Z7 mini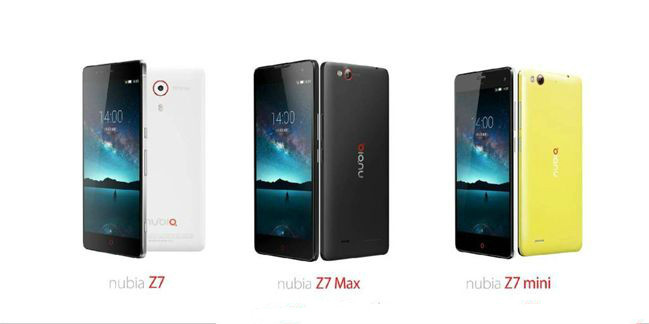 At a launch event in Beijing this afternoon, ZTE Nubia revealed a series of phones in their new Nubia Z7 series. These are the Nubia Z7, Z7 Max, and Z7 Mini. Here's an analysis on the similarities and difference between the three:
ZTE Nubia Z7
It sports a 5.5-inch 2K screen (2560 x 1440) and 13mp rear-facing camera. It is also the first phone to have a RAM-supported auto-refresh function for its 2K screen.
The Nubia Z7 uses the Snapdragon 801 quad-core processor, not the 805 as previous reports have said. It has a main frequency of 2.5GHz and has 3GB RAM and 32GB internal memory storage. It also quick recharging and supports MHL 3.0.
As for its camera, it has a rear-facing camera with 13mp and supports a f/2.0-f/22 aperture. Its photo software is the new Neo Vision 4.0.
ZTE Nubia Z7 Max and ZTE Nubia Z7 mini
It also sports a 5.5-inch display screen but its resolution has been decreased to just 1080p (HD). The Mini version only has a 1080p screen.
Similarities:
All three use the Snapdragon 801 processor. They support internet networks provided by China Mobile, China Unicom, and China Telecom. They also support TD-LTE, FDD-LTE, TD-SCDMA, WCDMA, EVDO, and GSM internet as well as dual-SIM 4G internet.