MTK MT6595 chipset scores 43149 in benchmark test
In the last two years, MediaTek has worked hard on producing great processors for Chinese phones and have even received orders from foreign brands like Sony and LG. As they continue to produce new chipsets, they are closing in on Qualcomm. Early this year, MTK finished their first LTE chipset, the MT6595, and will ship it to companies this month. So how is MTK's first LTE processor?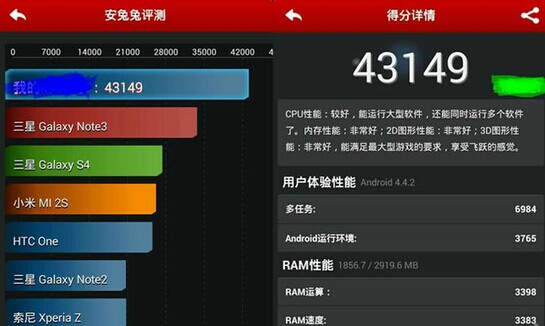 Today, a snapshot of the Antutu benchmark test results of devices that use the MT6595 chipset came out. Surprisingly, this device scored 43000.
The MT6595 chipset uses four Cortex-A17 cores and four Cortex-A7 cores. It is an octa-core chipset that uses the big.Little design. It has a built-in PowerVR G6200 series GPU core. As a result, its GPU is in the same series as Apple's A7 processor's GPU, so it should not have bad performance. It's CPU is compose of the Tubro High-Speed Edition (2.4-2.5GHz), the standard version with 2.1-2.2GHz, and a slower version with just 2GHz.
Interestingly, in the MT6595 chipset, only the Cortex-A7 has 1.7GHz. The device has 3GB RAM and uses the Android 4.4.2 OS.
It is not clear why the MT6595 scored so high. It is also not clear what device was used to test the MT6595. It is very likely that it is Chinese-made.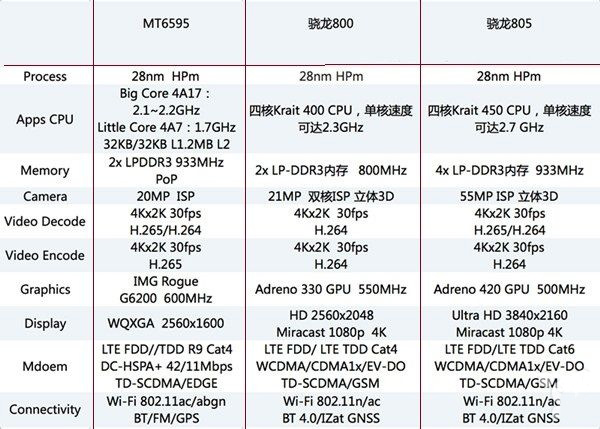 Another highlight of the MT6595 is 4G. This chipset supports LTE Release 9 Cat.4 internet (50Mbps-150Mbps), 4G dual-mode (TD-LTE and FDD-LTE). It is also compatible with DC-HSPA+42Mbps, TD-SCDMA, and EDGE/GSM.
The MT6595 also supports 20mp camera resolution, 2K display screens, and H.265 4K x 2K codec. MediaTek has boasted that the MT6595 has better performance, cost-performance ratio, and power consumption rate than even Qualcomm's Snapdragon 800/801. We'll just have to wait until the second half of the year to see if they were just talking big.