GIVE AWAY—Android Virtual Reality Headset: DIY or Purchase Google Cardboard for Only $7.99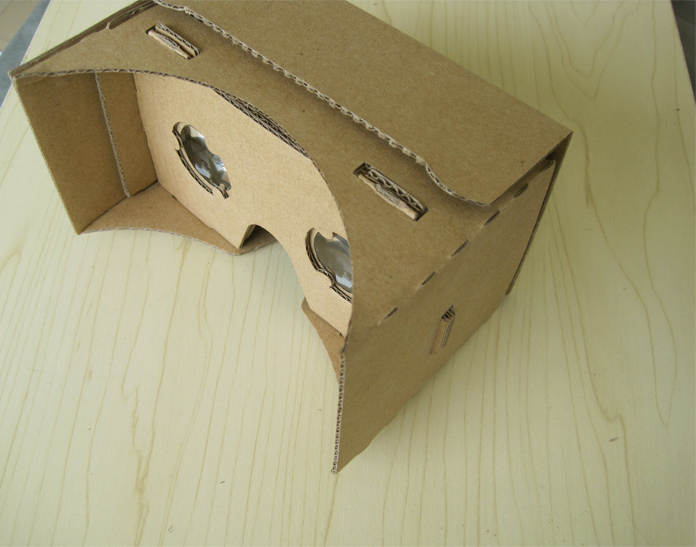 Are you, like many virtual reality enthusiasts tired of waiting for the price of the popular Oculus Rift to drop to something more reasonable; more affordable? If you find yourself without a lot of spare cash (as many of us are right now) but you still really want to experience your Android with a virtual reality headset; you've definitely come to the right place. While most of the existing models of virtual reality headset available on the market today are rather expensive, Google has recently provided consumers with an incredible and affordable new option called Google Cardboard. Android has provided this app to allow any Android user to transform their smartphone in to a virtual reality headset.
How, you may ask? You have two options. You can purchase the pre-constructed Google Cardboard headset for only $7.99 with this $2 coupon code: V2K8S. Or, if you are more of a do it yourself project oriented individual, you can assemble your own virtual reality headset with just a few supplies; cardboard, lenses, magnets and Velcro (See the pics below for how to construct your own).
So what are you waiting for? Go hit your local hardware store to pick up some corrugated cardboard (recommended by Google). Follow the directions, and construct your headset. Then hop on your Android and visit the Google Play Store to download this cool new app and prepare for your own virtual reality adventure!
The tutorial on the Cardboard site is very quick and easy to follow. They give you step by step instructions on how to assemble your chosen piece of cardboard; which the average person should be able to complete in less than a minute. After it is constructed, you place your Android phone along the back panel, strap it into the Velcro holder and voila you are in virtual reality!
When you first place the Google Cardboard headset on, you will be presented with a horizontal arrangement of apps to choose from. Scrolling is as simple as turning your head! The washer along the side of the headset is used to click on your selections. It's really a neat concept over all, and can be used for many different sites; including but not limited to; Google Street Viewer and YouTube. Those were the first two things that I thought to check out when I finished putting my Google Cardboard headset together. Both ran very smoothly; with a panoramic view that didn't have any obvious lag. The Android's every impressive gyroscope comes in handy once again; making the visual transition as you turn your head very smooth and functional.
After trying it out myself, I am confident in saying that this is a great new tech toy for any of you gamers and fellow geeks out there looking for an affordable virtual reality experience on their phone. Obviously the higher resolution that your Android has, the better the experience will be. I was really impressed, and definitely recommend making or buying one for yourself. You can purchase a pre-constructed model for only $7.99 with $2 coupon code: V2K8S at http://www.tabletland.com/neje-zb02-diy-google-cardboard-mobile-phone-resin-lens-virtual-reality-3d-glasses-for-iphone-android-brown.html.
 The last person who left comment before GMT+8 24:00 16th August will get this gadget for free.
UPDATE:the winner's tracking number:RX194512975CH  www.swisspost.com