Xiaomi Mi4 or Samsung Galaxy Alpha: Which one is better?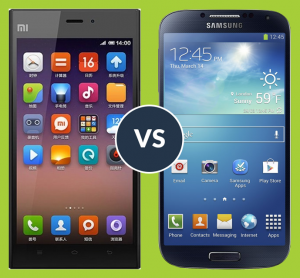 Samsung and Xiaomi, both the names are not new in the smartphone market. Both have proved and established as the real players of the android smartphones. Samsung is a South Korea based company and has captured the global market. Recently, Samsung took hold of 32.2% share of the global LTE smartphone market in Q2 2014 (April – June) with the help of Samsung Galaxy S5. Reports of the Strategy Analytics suggest that this sale have taken Samsung a step ahead of Apple.  Xiaomi is not behind in any way from Samsung and this China based giant has shown its presence in smartphone market by hitting the sale of 20,000 Mi 3 smartphones in just 2.4 seconds in India. Samsung Galaxy Alpha from Samsung and Xiaomi Mi 4 from China's Apple are ready to face off each other in the android smartphone market.
Samsung has changed Galaxy by introducing a metal casing in their new Galaxy Alpha. Samsung Galaxy Alpha has a 4.7-inch super AMOLED screen display with 720 x 1280 pixel resolution, Exynos 5430 chipset, 32GB internal storage, Android 4.4.4 Kitkat, 12 megapixel camera at the back and 2.1 MP front-facing camera. The Galaxy Alpha has some really cool and highly sophisticated features like a fingerprint scanner and S Health and connectivity support for Galaxy Gear.
On the other hand, Xiaomi Mi 4 has all the high end specifications and features and a very user friendly price tag. Xiaomi Mi 4 has a 5-inch Full HD screen, Qualcomm Snapdragon 801, 64GB internal storage, Android 4.4.3 Kitkat, 13-megapixel back camera and 8 MP front camera.
Xiaomi Mi4 surely scores over Samsung Galaxy Alpha in terms of screen size and camera. So which is your next pick???