Is Gionee Elife S5.5 the World's slimmest phone? Maybe Not!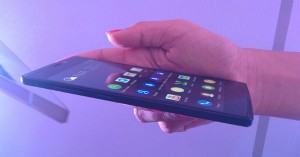 Anorexia and zero figures are receiving rave comments and criticism all over the world but here in the mobile world slim is the latest catch word. Gionee boasts of manufacturing the world's slimmest smartphone, the Elife S5.5, with a thickness of just 5.5 mm. However, the company has decided to challenge its own record and launch a successor to this phone with a thickness of merely 5 mm. The teaser launched by the Chinese smartphone manufacturer shows the slimmest phones over the years – Moto V8 at 11.9mm (2007), iPhone 4 at 9.3mm (2010), Moto XT910 at 7.1mm (2011), and Elife S5.5 (2014). Finally, the latest contender is displayed which will surely beat the thickness of the Elife S5.5.
The current Elife S5.5 has a 5-inch AMOLED display with 1080p full HD resolution and is powered by an octa core processor. A drop in thickness to around 5 mm would surely require significant engineering innovation because of the number of components that are put together in a smartphone. It might strain the battery which occupies most of the space. Moreover, the phone is touted to possess a Corning Gorilla Glass screen which puts up the question of how the thickness has been cut down. Another issue would be that of handling as an extremely thin phone would be prone to accidental falls.
Only time will tell how this smartphone will perform but it is needless to say that a large hype has been created by the teaser. The trend of slim phones is just a temporary fad or a statement that is here to stay will be decided by the users as they will judge this newest entrant.