World's slimmest phone is here – Leaked specs of Gionee Elife S5.1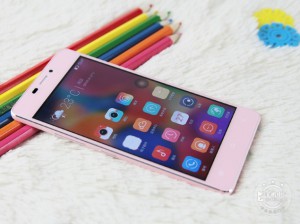 Gionee has broken its own record of the handset Elife S5.5 as the world's slimmest smartphone with the Elife S5.1. The company has created quite a buzz in the market with leaked images of the Elife S5.1 before the official launch. The specifications of this are yet to be announced officially but we have a leaked version of the specifications.
As per the leaked images, the Elife S5.1 looks a lot like its predecessor, the one which it I set to dethrone. While the world awaits the official launch of the phone, Gionee has teased the customers every now and then by giving them a glimpse of the new phone. The latest Elife S5.1 is being proclaimed to have a thickness of just 5 mm.
Recently, a website has proclaimed that it has got its hands on the phone and has leaked the specifications. According to this leaked report, the Elife S5.1 has a 4.8 inch full HD AMOLED display. This might be a price that the phone has had to pay due to its reduced thickness because the Elife S5.5 has a Super AMOLED full HD display. It also says that the phone's dimensions are 139.8 X 67.4 X 5.15 mm. The phone is powered by a quad core Snapdragon 400 processor and 1 G RAM. It supports a micro sim and also supports 4G LTE. It ha an 8 mega pixel rear camera and a 5 mega pixel front camera. The phone also has 16 GB internal memory which is not expandable. It is fuelled by a 2100 mAh battery and runs on Android 4.3 topped with Gionee's own, Amigo 2.0 interface.